Author Mark M. Bello Lends A Voice In Fighting Intolerance and Bigotry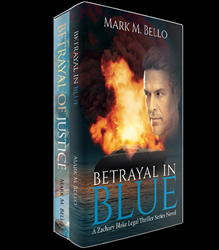 One might think that America is a very different place than it was when
Harper Lee
wrote To Kill a Mockingbird over 50 years ago, but is it really?
Despite civil rights laws in this country, not much has really changed, according to Michigan attorney/author Mark M. Bello. "The truth is that racism, bigotry, and other forms of discrimination have yet to be eradicated," says Bello. "The country took a great leap forward from 1868-1870 and again made significant strides in 1964, but the long-term results have been underwhelming. Today, we still face many of those same controversial issues. Every year, people are victimized by hate crimes - criminal expressions of bigotry that terrorize entire communities and fray the social fabric of our country."
Bello says that he has always sought to uncover, not just the facts, but the real issues behind a story. In recent years, he has been using his creative side to tackle ripped-from-the-headlines topics such as clergy abuse, immigration reform, and domestic terrorism. His second novel, Betrayal of Justice, tackles the current immigration conversation intertwined with prejudice and strikingly realistic political corruption.
One reviewer wrote: "Betrayal of Justice…will keep you on the edge of your seat wondering what is going to happen next. It is well written, well plotted, and damn frightening due to how real it relates to what is happening in our society today. …Bello is spot on!"
First released in September 2017, Betrayal of Justice is now being republished with Bello's third novel, Betrayal in Blue, to meet renewed interest in our current political climate as a result of events that continue to unfold. Betrayal in Blue brings the return of attorney Zachary Blake and police captain Jack Dylan as they fight law enforcement itself in picturesque Manistee, Michigan. When the white supremacy leader evades the FBI's dragnet, Jack goes rogue and hunts him down. Unfortunately, his plans go awry, and Jack finds himself arrested for murder. As in Justice, Blue concludes with a dramatic showdown, as has become Bello's trademark.
"Mark M. Bello has crafted an exciting mixture of a crime and legal thriller which takes the reader on an exciting journey through the investigation, the chase, the deception, and then the legal trial, so just when the reader thinks the story is done, more is to come." - Readers' Favorite
Bello's legal experience and sociopolitical activism can also be seen in his Justice for All blog, which serves as a vehicle to discuss the latest developments in the laws impacting all citizens. As to his hope for his novels Bello says, "if I can enlighten at least one person, or at the very least entertain them for a while, then that's all I can ask for."
For a limited time, both e-books are available through Amazon for $4.99.
For further information, editorials, or speaking engagements, please email 8grandpublications(at)gmail(dot)com or contact Mark directly at info(at)markmbello(dot)com.
Related Articles View More Books

Stories
More Hot Stories For You