A Fictional Journey from Rags to Riches and Redemption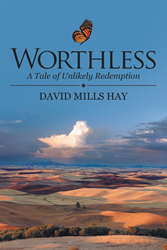 Spanning three decades and set in eastern Washington,
David Mills
Hay's novel "Worthless" follows Jason Knightbridge's rocky road to redemption, as he goes from rags to riches to rags again - finally culminating in a rather unlikely fate.
An athletic dynamo and naturally talented winemaker, Jason ascends to stratospheric heights within the Walla Walla Valley. But years of selfishness and self-adulation leaves a scorched trail of broken relationships. When Jason loses everything - both by misfortune and his own self-destructive tendencies - he wonders if the label his mother slapped on him long ago was right the whole time: Worthless.
Only when he's seemingly lost everything, Jason discovers rock bottom isn't truly a dead end. An old friend, one troubled teenager, and a brush with the unexplainable propel him onto the path to redemption.
"Although Jason himself is a fictional composite of a lot of guys I've known, 'Worthless' contains many real-life elements based on my background and interests, including the Jubilee Youth Ranch," says Hay, who was formerly a board member. "The booming wine industry in eastern Washington and our realization that we can't explain everything there is to know about this world figure prominently as well."
Another element of Hay's background and interests reveals itself in the novel's vivid scene-setting, sharp dialogue and the pace in which the story unfolds: Hay once studied cinema and film-making as an undergraduate. "Yeah," he grins, "after all these years, I still picture stories first as movies. And I know who I'd cast as Jason Knightbridge. But who the reader might pick depends on which part of Jason's life impacts them most: the kid with the chip on his shoulder, the winemaker who thinks he's Walla Walla Valley royalty, the guy on the ropes, or the one who gets a lot of help finding his way back out."
"Worthless" is available at the Archway Online Bookstore, Amazon and Barnes & Noble
Worthless
By David Mills Hay
ISBN: 9781480854000 (softcover); 9781480854017 (hardcover); 9781480853997 (electronic)
About the author
David Mills Hay has been involved in the investment business for nearly forty years. After lengthy stints at two Wall Street firms, he purchased a majority interest in Evergreen Capital in 2002. He is currently Evergreen's chief investment officer and primary author of its widely-circulated newsletter, the Evergreen Virtual Advisor. David and his wife, Mindy, have two sons, six grandchildren, and an American bulldog. They live in Bellevue, Washington.
General Inquiries:
LAVIDGE - Phoenix
Bryan Beach
480-306-6554
bbeach(at)lavidge(dot)com
Review Copies & Interview Requests:
LAVIDGE - Phoenix
Kiersten Woglom
480-998-2600 x 586
kwoglom(at)lavidge(dot)com
Related Articles View More Books

Stories
More Hot Stories For You