BWW Interview: THE BETSY CARMICHAEL CHRISTMAS SPECIAL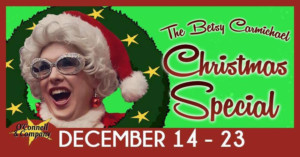 The Betsy Carmichael Christmas Special is in town! Now that is a wonderful Holiday gift to Buffalo.
MCL: Ms. Carmichael, very nice of you to do this? Do you do many interviews?
MS. C: It's my pleasure. Thank you for having me dear. Yes, actually the more I travel with the BINGO Palace, the more interviews I do.
MCL: How did you get the name "The First Lady of Bingo"? How did you discover bingo? Why do you Love it so much?
MS. C: I was raised in a BINGO family. You see my father was a wonderful man and a great provider but because of that we didn't get to see him as much as we'd like to. On the weekend he called BINGO at our parish and our mother would bring us there to watch our father so we could spend more time with him. Daddy loved BINGO and everyone there loved him.
Why? I'm not sure there is just one answer. The excitement and anticipation, the community of relationships that are forged, the whir of the BINGO blower, the smell of pizza and daubers and of course my father's love of the game to name a few.
For years I helped my father as a card check girl but the turning point was when father was stranded helping a patron during a Buffalo snow storm and he couldn't make it to the BINGO hall and I stepped in and broke the glass ceiling as the first female BINGO caller in the Buffalo diocese. We soon discovered I had a unique style and I took the show on the road making it my life's mission to bring BINGO to the masses.
MCL: How did you get involved with the USO?
MS. C: At the time I was touring the country as Betsy Bingo bringing my love of BINGO to every corner of the country and I just wanted to do more, so I enlisted with the USO and created a BINGO show called "Under the G and the I", which is incidentally where I spent most my free time.
MCL: Any juicy stories happen when involved with the USO?
MS. C: Not exactly juicy. War time is always tough for obvious reasons. It felt so rewarding to bring a little bit of home to the boys. My big break was when Joey Heatherton took ill and Mr. Bob Hope asked me to fill in on The Bob Hope Christmas Special. I learned so much from Bob. He was a gentleman and a legend.
MCL: You've met many Presidents. Talk a little about each? Did Mr. Clinton behave himself?
MS. C: I've hosted BINGO many times at the White House starting with the Kennedy's (Rose Kennedy had met me hosting BINGO at the Cape and convinced her son to have me at the White House) and most recently with the Obama's. They have all been great men with fantastic ladies beside them. Jack and Jackie were beautiful and magical. Almost too good to be true. I had a very special bond with Lyndon and Lady Bird. After he was elected when he was having a rough day he'd say, "Lady Bird, get my BINGO lady here". Lady Bird dubbed me the First Lady of BINGO with Lyndon's consent. She was thrilled that she didn't have to pull his balls. Then BINGO at the White House became a tradition. I'm not sure Nixon like me because I had to double check his card, Ron and Nancy were glamorous, George H Bush was one of the most intelligent and charismatic men I've ever met, Bill too...and he was a perfect gentlemen. He and Hillary recently came back to the BINGO Palace during the last election (Hillary comes frequently incognito. George W. Bush is really very funny and has a great sense of humor. He painted me a few years back and the Obama's reminded me so much of Jack and Jackie. Very youthful, smart and elegant and so tall! I've not yet been to the White House with President Trump, they've been busy.
MCL: In the seventies you lived in Vegas? You must have so many great tales? Did you ever meet Elvis or Humperdinck?
MS. C.: Vegas was a glamorous time. Everyone was doing Vegas residencies. The King was magical and still makes me swoon. Liza, Cher, Judy, Frank, Sammy...we all played a few BINGO games together.
MCL: You've been a well-known draw for Buffalo audiences. Tell us about some of your favorite shows?
MS. C: Because of the nature of the show (interactive) every show is different and anything could happen. I'm fortunate loyal followers, my dears one particular one name Ruth, who is easily in the top 5 of the fan club is 94 and comes to the show with her daughters and granddaughters (approximately 16 people) and she wins frequently. At a recent game the entire BINGO Palace exploded in the chant, RUTH, RUTH, RUTH! That warms my heart. On the flip side we had a night were the patrons may have been REALLY feeling the spirit at the bar during intermission and when they returned where a bit energized. So as the lights went down for act 2 and they lowered the intermission music we quickly realized the keyboard wasn't getting any sound! The stage management brought the music back up and like the Gremlins singing along to Snow White the entire audience sang along to Christmas music at the top of their lungs passing around ribbon candy that was won in the previous BINGO game. Exciting and terrifying. I ended up doing the second act acapella because it seems a patron kicked out my speaker cord. LIVE THEATRE!
MCL: You are presently working on a show with Joey Bucheker. How did you two meet?
MS. C: We initially met playing BINGO. Most people don't know this but Joey also started playing BINGO in his youth. Well, one day I was playing BINGO, incognito and Joey sat down next to me and we formed a bond and became friends. I was in semi-retirement and he encourage me to return to the stage.
MCL: Has the working relationship been smooth or has it been rough at times?
MS. C: He's an old spirit and he gets me and I trust him. Things have been marvelous dear.
MCL: What is this new show? Details, please.
MS. C: The Betsy Carmichael Christmas Special has been described as a cross between the old Judy Garland Christmas Special and the Pee-Wee Herman Show and I like that! You are invited into my home at the BINGO Palace with my family and friends and we get into the holiday spirit together with some songs, and games, and stories and of course interactive BINGO! It is two hours where you can escape and just laugh and be filled with the magic of Christmas.
MCL: Finally ... What's coming up for you in 2019?
MS. C: No official announcements yet but back on the road with Betsy Carmichael's BINGO Palace and I'm working on a news show.
FOR MORE INFORMATION ON Betsy Carmichael:
https://https://www.buffalovibe.com/events/theater/the-betsy-carmichael-christmas-special/13832
https://https://www.youtube.com/watch?v=iNVglBf5ja0
http://http://oconnellandcompany.com/site/portfolio/limited-engagement-at-sheas-smith-theatre-the-betsy-carmichael-christmas-special-dec-14-23/