Exponential Festival 2021 Announces Week Two Lineup
The festival opens this Thursday night with Joshua William Gelb and KatieRose McLaughlin's Theater in Quarantine.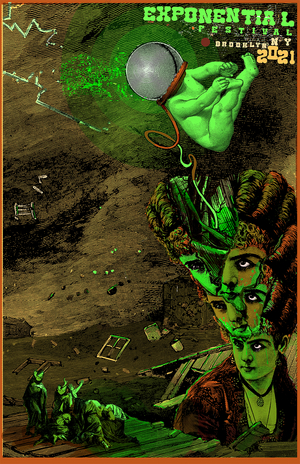 The Exponential Festival presents and promotes experimental performances created by New York-based artists working across all mediums. The works will premiere this January on Exponential's YouTube channel for a suggested donation, with 100% of proceeds going to the artists.
The festival opens this Thursday night with
Joshua William Gelb
and KatieRose McLaughlin's
Theater in Quarantine
. The rest of the week's line-up includes:
Sunny Hitt
's
ON VIEW: WFH
, Teresa Braun's
Virtual Queerality (VQ) Live
, Kennie Zhou's
A Blueish Fever Dream
, Tina Wang's
¿comfortidades' e??ae??e???
, Object Collection's
Look Out Shithead
.
Lineup:
January 13 at 9pm EST - Nic Adams + Lee Rayment's 'Stiff Drink!?' with Dr. Eustice Sissy (Psy.D.), presents: Corona Cam Show: Dating-advice cabaret iconoclast Dr. Eustice Sissy brings his spectacular to a new audience!
January 13 at 9:30pm EST - Leonie Bell's Einst träumte ich von dir: A Maybe-Myth of Runny Nuns" (transl. Once, I Dreamed of You: A Maybe-Myth of Runny Nuns): A mumbling, grumbling jumble of nuns reconvene to save something.
January 14 at 8pm EST - an_outskirt's Mga Stasyon: Questioning the ground on which I stood I tried to divine the meaning of all the lives I've lived.
January 15 at 8pm EST - Fringe and Fur's Madge Love: An interactive theater-film hybrid written in a series of lyrical monologues and voice over that tells the story of two teenagers.
January 16 at 9pm EST - Nathan Repasz's The Unquestioned Interiority of Humankind: a Comprehensive Corporate Compendium of the Corporeal and A-Corporeal Realities of the Anthrosphere, compiled by the Bureau of Conceptual Designation in accordance with the Source Code: A PowerPoint presentation on findings related to corporeal and a-corporeal anthropogenic realities.
January 16 9:30pm EST -
Jess Barbagallo
's
The Puzzlers Return, Tentatively?
: Two short-films that adapt approximately two-and-a-half pages of Beckett's first text.
January 17 at 5pm EST - Deepali Gupta's perverse reverie forever: A filmed album project concerning the limbic and the liminal.
More Hot Stories For You