Tony Award Winner DANCING AT LUGHNASA Opens At Gloucester Stage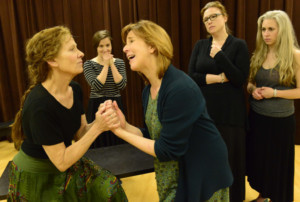 Gloucester Stage Company continues its 39th season of professional theater with Brian Friel's Dancing at Lughnasa from June 8 through July 8 at Gloucester Stage Company, 267 East Main Street, Gloucester, MA.
Dancing at Lughnasa received the Tony Award for Best Play in 1992. Set in County Donegal in 1936 during the Celtic harvest festival, Dancing at Lughnasa, chronicles the five Mundy sisters and their brother Jack, who has returned home from the missions after 25 years away. Brian Friel's award winning Irish masterpiece reunites veteran director Benny Sato Ambush with Academy Award nominee and Gloucester resident actress Lindsay Crouse. The pair collaborated on Gloucester Stage's critically acclaimed productions of Driving Miss Daisy in 2014 and Lettice and Lovage in 2016. The five Mundy sisters are Lindsay Crouse as Kate; Jennie Israel as Maggie, Bryn Austin as Agnes, Cassie Gilling as Chris, and Samantha Richert as Rose. The reminder of the cast includes Paddy Swanson as Father Jack, Ed Hoopman as Michael, and Chris Kandra as Gerry.
Brian Friel's Dancing at Lughnasa runs from June 8 through July 8 at Gloucester Stage. Performances are Wednesday through Saturday at 7:30 pm; Saturday and Sunday at 2:00 pm. Following the 2 pm performances on Sunday, June 17; Sunday, June 24 and Sunday, July 1, audiences are invited to free post-show discussions with the artists from Dancing at Lughnasa. There is no performance on Wednesday, July 4. Single ticket prices are $35 to $45 with discounts available for Preview Performances, Cape Ann Residents, Senior Citizens and Patrons 18 years old and under. In addition to regular reserved tickets, Pay What You Wish tickets are available for the Saturday, June 9 matinee at 2 pm. Pay What You Wish tickets can only be purchased day of show at the door. All performances are held at 267 East Main Street, Gloucester, MA. For more information about Gloucester Stage, or to purchase tickets, call the Box Office at 978-281-4433 or visit www.gloucesterstage.com
More Hot Stories For You