Photo and Video Flash: Huntington's 10th Anniversary Calderwood Pavilion Celebration
Two hundred and fifty guests including former Boston Mayor Thomas M. Menino joined Huntington Theatre Company Chairman Carol G. Deane, President Mitchell J. Roberts, Managing Director Michael Maso, and Artistic Director Peter DuBois, as well as Boston Center for the Arts Chairman Philip W. Lovejoy and Executive Director Veronique Le Melle on Monday, September 29 for a ribbon-cutting, rededication, and celebration in honor of the 10th anniversary of the Stanford Calderwood Pavilion at the Boston Center for the Arts. Bank of America was the presenting sponsor of the event. Scroll down for photos and video!
The Calderwood Pavilion is the Huntington's home for new play development and provides a much-needed resource for the local theatre community by offering a world-class facility and services at rates subsidized by the Huntington to dozens of Boston's small and mid-sized theatre companies.
Among the other attendees were Calderwood Charitable Foundation Trustee John Cornish, Paul Grogan of The Boston Foundation (2014-2015 Calderwood Pavilion Innovation Sponsor), J. David Wimberly, former Huntington chairman and naming sponsor of the Virginia Wimberly Theatre, former Huntington president William P. McQuillan, Ed and Nancy Roberts, naming sponsors of the Roberts Studio Theatre, Huntington Trustees Gerald and Sherryl Cohen, the City of Boston's Chief of Policy Joyce Linehan, former BRA director Harry Collings, Scott Wilson, Scott Butler, and Bruce Hermann of Wilson Butler Architects, Anita Walker of the Massachusetts Cultural Council, Catherine Peterson of ArtsBoston, Huntington Playwright-in-Residence Melinda Lopez, playwright Lydia R. Diamond, SpeakEasy Stage Company Producing Artistic Director Paul Daigneault, Company One Theatre Artistic Director Shawn LaCount, Codman Academy Charter Public School Executive Director Meg Campbell and Principal Thabiti Brown, and Boston finalist and National August Wilson Monologue Competition Champion Ashley Herbert.
Following a public ribbon-cutting under the marquee located at 527 Tremont Street, guests assembled in the 370-seat Virginia Wimberly Theatre for a rededication program featuring remarks from a number of the building's benefactors, beneficiaries, and affiliated artists, and entertainment by The Skivvies and artists from SpeakEasy Stage Company.
"I know that Stan and Norma Jean [Calderwood] would be as pleased as we are with this facility, the outstanding productions that have been presented here, and the contributions that the Huntington and this building have made to this community," said Calderwood Charitable Foundation Trustee John Cornish. "The investments they made in the Huntington during their lifetimes, and those that the foundation has made to the Huntington thereafter, have produced truly amazing returns for the arts, American theatre, and the local community."
Playwright Lydia R. Diamond spoke about the Huntington's commitment to developing and producing new work and to being both of and for its community, "The Huntington does it better than anybody else," she said. "I can't tell you how unusual it is for a theatre company to produce a local artist. Most don't grow artists from the ground up. I'm appreciative to the Huntington for not just talking the talk. They put their money where their mouth is. The Huntington knows that theatre is made for everyone, and it's better when everyone sees it."
"In this building, in this theatre and in these halls, magic happens every day," said Meg Campbell, executive director of Codman Academy Charter Public School, of which the Huntington is a founding partner. "The Calderwood Pavilion is a place that offers promise to young people in our community where they get to take center stage within these very walls."
"Boston has artists and an audience that other cities would die for. What we have here is a building that is an integral part of its neighborhood, its cultural community, and its city - a building that has served over one million people in its first decade alone," said Huntington Managing Director Michael Maso. "We have succeeded because of the dedication and generosity and collaboration of everyone in this theatre tonight."
Named #3 on Boston.com's "Biggest Arts Stories of the Decade" (December 2009), the opening of the Calderwood Pavilion marked the first new theatre to be built in Boston in more than 75 years, and helped to revitalize city's South End neighborhood and make it a "new cultural hub" for the arts. In its recent report, The ArtsFactor, ArtsBoston commended the Calderwood Pavilion for being a model of collaboration, acknowledging, "The Calderwood Pavilion has hosted thousands of performances and events by more than 90 different organizations. In addition to having a positive impact on the Boston arts scene, the Calderwood has helped catalyze the development of the South End into one of Boston's most desirable and dynamic neighborhoods."
Recipient of the 2013 Regional Theatre Tony Award and named Best of Boston 2013 and 2014 by Boston magazine, the Huntington Theatre Company has developed into Boston's leading professional theatre and one of the region's premiere cultural assets since its founding in 1982. Bringing together superb local and national talent, the Huntington produces a mix of groundbreaking new works and classics made current to create award-winning productions, runs nationally renowned programs in education and new play development, and serves the local theatre community through its operation of the Calderwood Pavilion at the BCA. Under the direction of Artistic Director Peter DuBois and Managing Director Michael Maso and in residence at Boston University, the Huntington cultivates, celebrates, and champions theatre as an art form. For more information, visit huntingtontheatre.org.
Photo Credit: Paul Marotta

Huntington's 10th Anniversary Calderwood Pavilion Celebration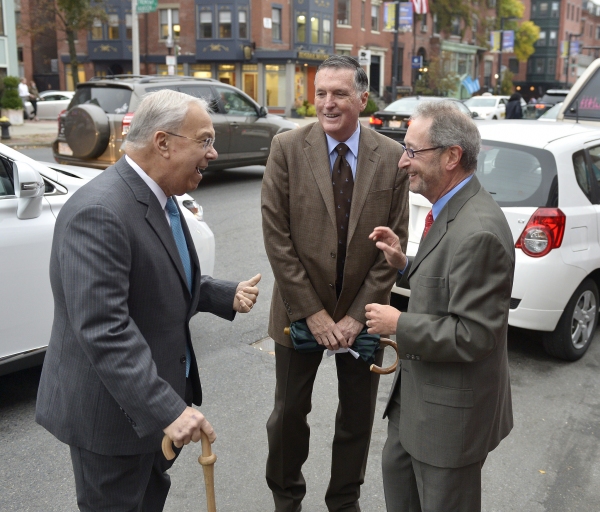 Former Boston Mayor Thomas M. Menino, Harry Collings (formerly of the BRA), and Huntington Managing Director Michael Maso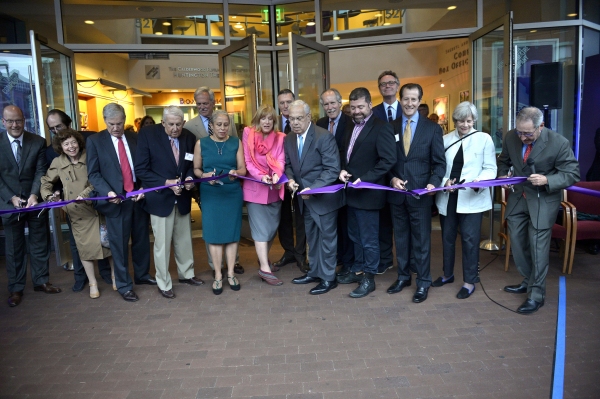 Calderwood Pavilion at the BCA 10th Anniversary Ribbon Cutting: (L-R) BCA Chairman Philip W. Lovejoy, Huntington Trustees Gerald and Sherryl Cohen, Calderwood Charitable Foundation Trustee John Cornish, former Huntington chairman J. David Wimberly, (behind) Paul Grogan of The Boston Foundation, BCA Executive Director Veronique Le Melle, Huntington Chairman Carol G. Deane, (behind) former BRA member Harry Collings, former Boston Mayor Thomas M. Menino, Bank of America Massachusetts State President Robert Gallery, Huntington Artistic Director Peter DuBois, (behind) former Huntington president William P. McQuillan, Huntington President Mitchell J. Roberts, Nancy Roberts, Huntington Managing Director Michael Maso,

Calderwood Pavilion at the BCA 10th Anniversary Ribbon Cutting: (L-R) BCA Chairman Philip W. Lovejoy, Huntington Trustees Gerald and Sherryl Cohen, Calderwood Charitable Foundation Trustee John Cornish, former Huntington chairman J. David Wimberly, (behind) Paul Grogan of The Boston Foundation, BCA Executive Director Veronique Le Melle, Huntington Chairman Carol G. Deane, (behind) former BRA member Harry Collings, former Boston Mayor Thomas M. Menino, Bank of America Massachusetts State President Robert Gallery, Huntington Artistic Director Peter DuBois, (behind) former Huntington president William P. McQuillan, Huntington President Mitchell J. Roberts, Nancy Roberts, Huntington Managing Director Michael Maso

Huntington Theatre Company Managing Director Michael Maso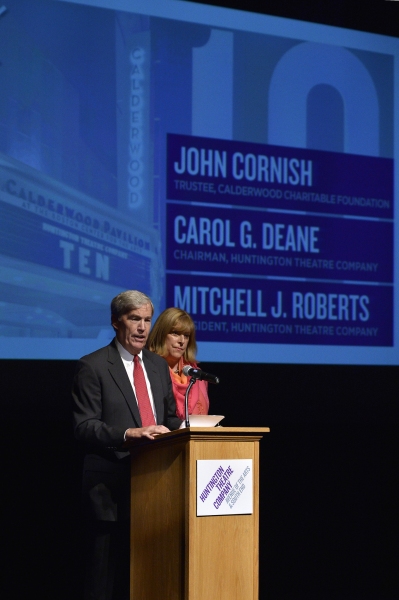 Calderwood Charitable Foundation Trustee John Cornish and Huntington Chairman Carol G. Deane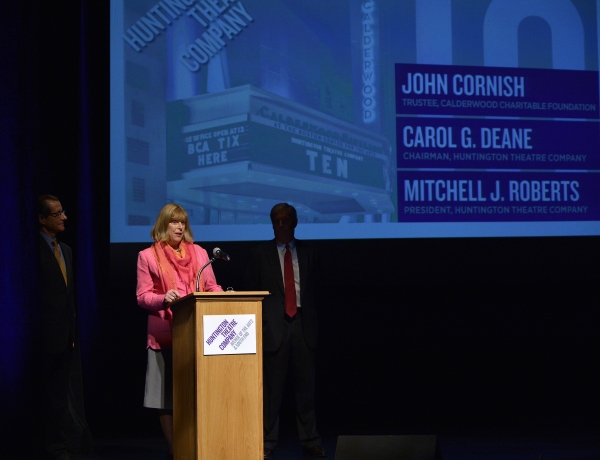 Huntington President Mitchell J. Roberts, Huntington Chairman Carol G. Deane, and Calderwood Charitable Foundation Trustee John Cornish

Huntington President Mitchell J. Roberts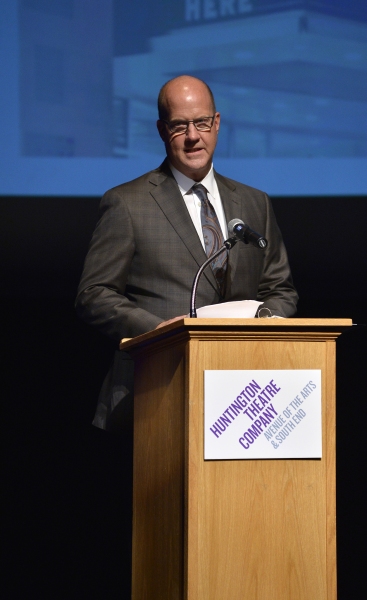 Boston Center for the Arts Chairman Philip W. Lovejoy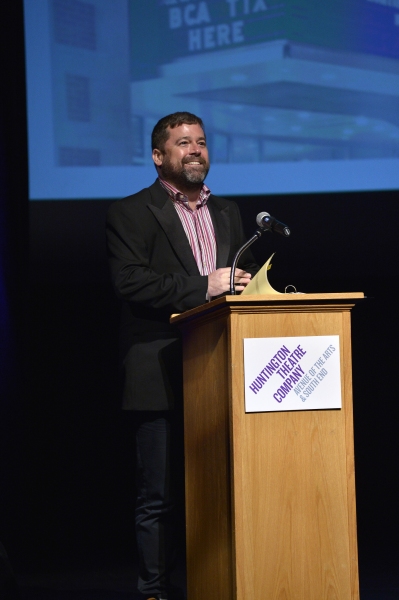 Huntington Theatre Company Artistic Director Peter DuBois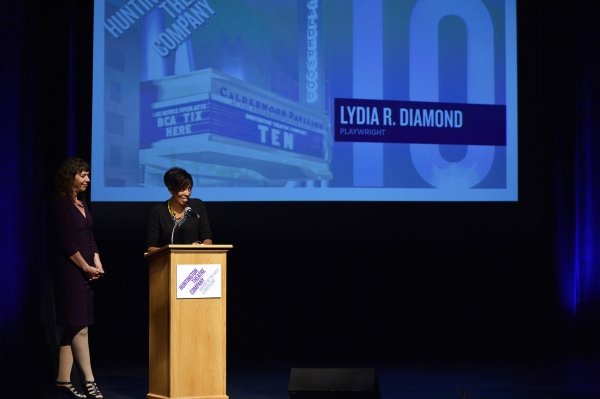 Huntington Playwright-in-Residence Melinda Lopez (BECOMING CUBA, SONIA FLEW) and playwright Lydia R. Diamond (SMART PEOPLE, STICK FLY)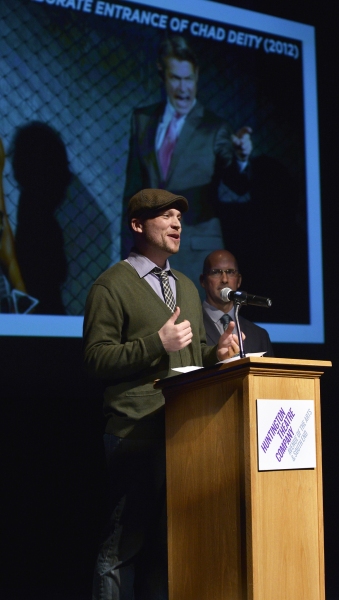 Company One Theatre Artistic Director Shawn LaCount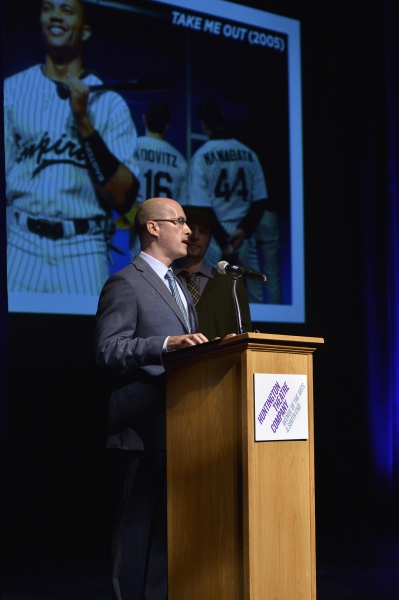 SpeakEasy Stage Company Producing Artistic Director Paul Daigneault

Amy Barker, Jordan Ahnquist, Jared Troilo, and Valerie Sullivan perform from SpeakEasy Stage Company's [title of show]

Codman Academy Charter Public School Principal Thabidi Brown and Executive Director Meg Campbell

Boston Finalist and National August Wilson Monologue Competition Champion Ashley Herbert

Huntington Theatre Company Managing Director Michael Maso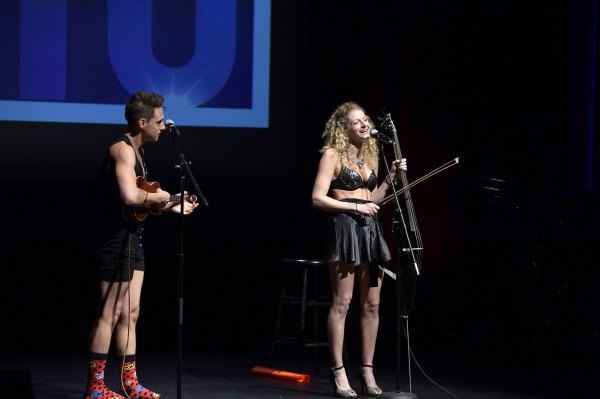 The Skivvies - Nick Cearley and Lauren Molina

The Skivvies - Nick Cearley and Lauren Molina