BWW Review: ONEGIN: Russian Romantic Collusion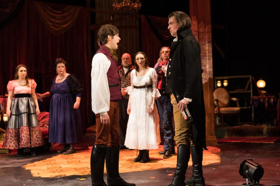 Onegin
Based on the Poem by Pushkin and the Opera by Tchaikovsky, Written by Amiel Gladstone and Veda Hille; Director, Weylin Symes; Music Director, Steve Bass; Choreographer, Ilyse Robbins; Scenic Designer, Katheryn Monthei; Lighting Designer, Jeff Adelberg; Costume Designer, Deirdre Gerrard; Sound Designer, John Stone; Production Stage Manager, Deirdre Benson; Properties Master, Emme Shaw
CAST (in alphabetical order): Peter Adams, Christopher Chew, Kerry A. Dowling, Josephine Moshiri Elwood, Mark Linehan, Michael Jennings Mahoney, Sarah Pothier
Performances through March 31 at Greater Boston Stage Company, 395 Main Street, Stoneham, MA; Box Office 781-279-2200 or www.greaterbostonstage.org
The scene is 19th century Russia. The melodramatic story about a notorious rogue who toys with the emotions of his friend's fiancée, with total disregard for anyone's feelings, is mostly sung-through. Set design includes an onstage band, catwalks, and a handful of seats on the stage to bring the audience into contact with the actors. If you guessed Natasha, Pierre & The Great Comet of 1812, you'd be off by seven years and several degrees of separation between that 12-time Tony-nominated adaptation of a portion of Tolstoy's War and Peace and the U.S. premiere of Onegin, based on the poem by Pushkin and the opera by Tchaikovsky. The Greater Boston Stage Company introduces this new musical by Amiel Gladstone and Veda Hille after Canadian productions in Vancouver (2016) and Toronto (2017).
The pop rock score by Gladstone and Hille takes flight on the wings of Music Director Steve Bass, leading a five-piece band, and the noteworthy vocals of every member of the ensemble. With a sung-through libretto, not all of the lyrics rise to the same lofty level as the music as they are often tasked with conveying exposition and conversation, rather than the traditional mission of songs in musical theater to express sentiment. However, feelings are never in doubt when the principals, Michael Jennings Mahoney (Lensky), so delightful in Being Earnest, Mark Linehan (Onegin), and Sarah Pothier (Tatyana), are doing the emoting.
Cynical, rakish Onegin arrives from St. Petersburg to the country estate he inherited from his uncle, but is bored by his new lifestyle. The eager young poet Lensky takes his friend to meet his lively, violin-playing girlfriend, Olga (Josephine Moshiri Elwood), and her shy, bookish sister, Tatyana, who live next door with their gregarious mother, Mme. Larin (Kerry A. Dowling). Tatyana is smitten with Onegin in a way she has only read about, and naively spills her heart in a letter to him. Despite having feelings for her, Onegin is not made for a life of marriage and settling down and rejects her, breaking her heart.
At a later date, Lensky invites Onegin to a name-day celebration at Larin's house where he shows his true colors by moving in on Olga. Jealousy, drinking, and bad behavior ensue, leading to a break between friends and lovers and the familiar Broadway resolution (see Hamilton and The Great Comet): a duel. Someone dies, the other guy feels terrible and disappears for several years, eventually returning to society in St. Petersburg. At a grand soirée, a beautiful woman catches his eye and his host Prince Gremin (Peter Adams) sings of finding his unexpected young love. The prince proudly and graciously introduces Onegin to his wife, Tatyana. Their meeting is somewhat awkward, but each has the chance to express their feelings, with Linehan and Pothier making the most of this moment of role reversal and unrequited love.
The bones of the story are ripe for a musical theater treatment, posing the question, "Do you see someone worth dying for?" Clearly, Lensky, the romantic, embodies the affirmative answer from the get-go, but Onegin is slow to come around, unless self love counts. He is not a sympathetic guy, making it hard to root for him, and the attraction that Tatyana feels is believable only in the physical sense. Onegin is portrayed as a rock star/sex symbol, but the title character needs to have greater dimension to live up to his hype and her interest in him.
Artistic Director Weylin Symes puts his vision on the stage with fine work by his design team of Katheryn Monthei (scenic), Jeff Adelberg (lighting), Deirdre Gerrard (costume), and John Stone (sound). Choreographer Ilyse Robbins blends styles to create contemporary dance moves with a Russian flavor, well-executed by the company. (Audience members who sit on the stage should be forewarned that they are called upon to partner in a dance with a couple of the actors, but they seem to enjoy it.) Speaking of contemporary, there are at least three times during the show that Symes sneaks in anachronistic props, the most blatant involving Christopher Chew, as Onegin's second at the duel, taking a selfie with his cell phone. It is over in a couple of seconds, but it had the effect of pulling me from the scene and asking what's the point. I think it is possible to tell a classic story in a modern way without resorting to such tricks and it wouldn't take too much tweaking to elevate the caliber of Onegin.
Photo credit: Maggie Hall Photography (Josephine Moshiri Elwood, Kerry A. Dowling, Michael Jennings Mahoney, Peter Adams, Sarah Pothier, Christopher Chew, Mark Linehan)