BWW Review: LONELY PLANET: Hope in the Face of Loss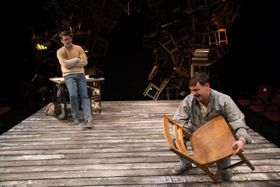 Lonely Planet
Written by Steven Dietz, Directed by Jim Petosa; Scenic Designer, Jeffrey Petersen; Lighting Designer, Matthew Guminski; Costume Designer, Becca Jewett; Sound Designer, Lee Schuna; Stage Manager, Brian M. Robillard; Assistant Stage Manager, Elizabeth Y. Ramirez
CAST: Michael Kaye, Tim Spears
Performances through March 4 by New Repertory Theatre and Boston Center for American Performance in the BlackBox Theater at the Mosesian Center for the Arts, 321 Arsenal Street, Watertown, MA; Box Office 617-923-8487 or www.newrep.org
Thank goodness for the humor. We can certainly use it now to help us get through the daily slog of living in a divisive society. Taking a look back at the height of the AIDS epidemic in Steven Dietz's Lonely Planet, the humor might be characterized as being of the gallows type, yet it drives home the message that, as a coping mechanism, it is of the utmost importance. The play is being revived in a co-production by New Repertory Theatre and Boston Center for American Performance to commemorate its 25th anniversary. While AIDS is no longer a guarantee of a death sentence, it remains among the highly-politicized health care issues of our time, right up there with birth control and abortion. Lonely Planet encourages us to look beyond the disease and focus on the human factors, especially the need for community.
Ultimately, Dietz uses the AIDS epidemic as the background for his story, but he is much more interested in exploring the friendship between two men whose lives are impacted by the constant loss of life. Jody (Michael Kaye) is a quiet, cautious man in his 40s who owns a small map store where he does his best to insulate himself from the outside world. Carl (Tim Spears) is a bit younger, flamboyant, and wildly imaginative, regaling Jody with stories, mostly fabricated, about what's going on in their (unnamed) city. One would be hard-pressed to find two more diverse characters to pair, but their mutual admiration society is a source of hope and keeps them both going despite their underlying despair.
In the intimacy of the blackbox theater space, Kaye and Spears have no difficulty drawing the audience in and engaging us in the story. We become like flies on the wall of Jody's shop, seeing his sadness and fear, watching his paralysis grow, and feeling the walls closing in every time that Carl brings another chair to him. The empty chairs are representational of absence, the loss of another friend made tangible, and their increasing mass throughout the course of the play threatens to overwhelm Jody, if not us. Kaye's performance is tightly controlled, but he tells us so much about Jody's internal life with his eyes. Spears is more energetic and expansive, but that is Carl's way to submerge his difficult emotions. As a tandem, the actors inhabit their characters and give us a window into a very touching relationship.
Artistic Director Jim Petosa directs Lonely Planet with a smooth ebb and flow, keeping our focus on the heartfelt dialogue between the actors. Jeffrey Petersen's scenic design features an archway of mismatched chairs connected with each other, seemingly hanging in space, and Matthew Guminski's lighting design contributes an ethereal element. Lee Schuna's sound design includes some relevant Joe Cocker music and well-synched phone ringing. Costume design is by Becca Jewett. Kudos to assistant director/props master Zachary Rice for outfitting the map store and the impressive collection of chairs.
Lonely Planet is being performed in repertory with Statements After an Arrest Under the Immorality Act by Athol Fugard as part of New Rep's Statements of Survival Series. One thing that these plays drives home is the need to acknowledge what's happening outside - in our communities, our cities, our nation, and the world. Only then can we engage, participate, and help to change the things that need changing.
Photo credit: Andrew Brilliant/Brilliant Pictures (Michael Kaye, Tim Spears)