BWW Review: A CHORUS LINE High Kicks Reagle Music Theatre's 50th Season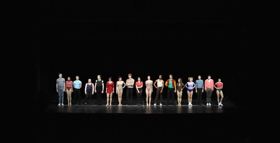 A Chorus Line
Conceived and Originally Directed and Choreographed by Michael Bennett, Book by James Kirkwood and Nicholas Dante, Music by Marvin Hamlisch, Lyrics by Edward Kleban, Originally Co-choreographed by Bob Avian, Orchestrations by Jonathan Tunick, Bill Byers, and Hershy Kay; Producing Artistic Director, Robert J. Eagle; Direction and Recreation of the Original Choreography by Leslie Woodies; Music Director, Dan Rodriguez; Original Costume Design, Theoni V. Aldredge; Scenic Design, Richard E. Schreiber and Peter couchette; Lighting Design, David Wilson; Assistant Director/Assistant Choreographer, Lauren Gemelli; Wardrobe Supervisor, Amelia Fitch; Production Stage Manager, Sarah Goshman; Production Manager, Lori E. Baruch
CAST (in alphabetical order): Bernie Baldassaro, Holly Bourdon, Victoria Byrd, Emma Clinch, Ian Costello, James Spencer Dean, Thomas Doelger, Aimee Doherty, Taavon Gamble, Lauren Gemelli, Rosario Guillen, Makai Hernandez, Charlotte Hovey, Marshall Joun, Ashton Lambert, Kirsten McKinney, Sydney Parra, Evan Pouch, Ansley Speares, Julia Springer, Cindy Tsai, Matthew Michael Uriniak, Scott Wahle, Paul Watt-Morse, Suzi Weisberg
Performances through June 17 at Reagle Music Theatre of Greater Boston at Robinson Theatre, Waltham High School, 617 Lexington Street, Waltham, MA; Box Office 781-891-5600 or www.reaglemusictheatre.org
Reagle Music Theatre of Greater Boston, celebrating its 50th Anniversary Summer Season, was still in its first decade when A Chorus Line opened on Broadway in 1975, kicking off its run of 6,137 performances. The groundbreaking musical was nominated for twelve Tony Awards, winning nine, and took home the 1976 Pulitzer Prize for Drama. Forty-three years later, it remains a classic for elevating the nameless boys and girls who toil on the line to marquee status. Without the singers and dancers in the chorus, there could be no musical theater; and without musicals, the theater world would be a quieter, more subdued place.
The good news is that Reagle's production not only has all the chorus boys and girls in position, but also a full-throated, 16-piece orchestra conducted by Music Director Dan Rodriguez. He returns to the podium to team again with Director/Choreographer Leslie Woodies as they did in 2012, but only two of the cast members (Aimee Doherty, Matthew Michael Uriniak) are reprising their roles. The ensemble consists of a total of 25 actors, with an astounding number of representatives from the Boston "farm team" colleges, also known as The Boston Conservatory at Berklee (8) and Emerson College (3). A handful have been on the Reagle stage before, but most are making their debuts in Waltham with A Chorus Line, and it is precisely this high degree of anonymity that adds to the impact of the 2018 rendition.
When you consider that the premise of the show is a group of Broadway hopefuls vying for a spot in a new musical, either to get their first break or extend a career that might have an approaching expiration date, packing the line with fresh, young faces is a brilliant choice. That being said, the troupe is talented, synchronized, and professional in every aspect, with a couple of jaw-dropping performances in key roles. Sydney Parra (Diana Morales) exudes the Bronx toughness of the girl with a chip on her shoulder, but really wows when she sings, making the signature song ("What I Did For Love") her own. I've seen A Chorus Line more than a dozen times, but Parra's interpretation left me with wet eyes. On par with her, Makai Hernandez (Paul) squeezed every ounce of pathos and pain out of his monologue about his character's parents' discovery of his secret life as a performer in a drag show. One marvels at the depth he achieves when he is only a rising senior at BOCO.
One of the familiar faces is Taavon Gamble, whose Richie, the former basketball star, is electrifying. Ansley Speares proudly struts her stuff and captures Val's attitude, yet also shows off a strong voice ("Dance: Ten, Looks: Three"). The tap dance kid (Mike) is joyously brought to life by Ashton Lambert, and the ballet trio by Sheila (Lauren Gemelli), Bebe (Suzi Weisberg), and Maggie (Victoria Byrd) is poignant and beautifully sung. Emma Clinch (Judy), James Spencer Dean (Greg), and Thomas Doelger (Al) deserve mention for their vocals, as well. Standouts in the dance department include Bernie Baldassaro (Larry), Charlotte Hovey (Kristine), and Kirsten McKinney (Cassie), whose solo with the mirrors is everything you hope it will be. McKinney also conveys Cassie's longing to go back to where it all started for her and the realization that time is running short.
As Zach, Scott Wahle's voice talent is especially effective as his character is unseen for much of the show. When he is onstage, he and McKinney are convincing as the estranged couple, but their age difference requires some suspension of disbelief. However, Wahle modulates his demeanor nicely as he relates to the others during the audition process, encouraging some to relax, while reining in others. The strongest pushback comes from Sheila, the hardened veteran dancer who doesn't take to this unusual tryout. Doherty reprises the role, but was unavailable on press night, allowing for her alternate Gemelli to step into her character shoes. It is no commentary on the size of Doherty's extremities to say they are big shoes to fill, but Gemelli was outstanding in her own right. As assistant choreographer, there was no question that she could excel in the dance part, but she also nailed the timing, the posture, and Sheila's attitude.
A Chorus Line benefits immeasurably from Woodies' experience with the show, both as the director here in 2012 and as she played Cassie, under the direction of Michael Bennett. There are many moving parts and her direction is seamless, and the recreation of the original choreography is spot on and well performed by these dancers. As is often the case at Reagle, the players wear the original costumes (Theoni V. Aldredge), and both the scenic design (Richard E. Schreiber and Peter Doucette) and lighting design (David Wilson) "mirror" the original concepts. It's a blueprint that has worked for over forty years, so why mess with it? Producing Artistic Director Robert J. Eagle and Reagle Music Theatre have a tried and true formula, too, melding Actors' Equity Association pros with less-seasoned performers. It's a win-win combination, and the result is definitely a singular sensation. Only four performances remain until you can kiss this show goodbye.
Photo credit: Herb Philpott (Ensemble, A Chorus Line)
Related Articles View More Boston

Stories

Shows