Review: SMOKEY JOE'S CAFE Is Hot, Hot, Hot in Ogunquit's Off-Broadway Preview
Words and music by Jerry Leiber and Mike Stoller; directed and choreographed by Joshua Bergasse; music supervision and new arrangements by Sonny Paladino; scenic design, Beowulf Boritt; costume design, Alejo Veitti; lighting design, Jeff Croiter; sound design, Peter Fitzgerald; wig design, Charles G. LaPointe; production stage manager, Pamela Edington
Cast in Alphabetical Order:
Dwayne Cooper, Emma Degerstedt, John Edwards, Dionne D. Figgins, Nicole Vanessa Ortiz, Kyle Taylor Parker, Jelani Remy, Max Sangerman and Alysha Umphress
Performances and Tickets:
Now through June 9, Ogunquit Playhouse, 10 Main Street, Route 1, Ogunquit, Maine; tickets are available by calling the Box Office at 207-646-5511 or online at www.ogunquitplayhouse.org. Smokey Joe's Café transfers to NYC immediately following the Ogunquit production, opening Off-Broadway July 6 at Stage 42, 422 West 42nd Street. For information, visit www.smokeyjoescafemusical.com.
90 minutes, no intermission
An unequivocal hit is currently heating up the Ogunquit Playhouse in Ogunquit, Maine in preparation for its transfer Off-Broadway to Stage 42 in NYC July 6. Featuring a veritable goldmine of 40, count 'em, 40 rock 'n' roll, blues, and R&B classics, SMOKEY JOE'S CAFÉ: The Songs of Lieber and Stoller is a stunning revival of the landmark musical revue that makes all other juke box musicals pale by comparison.
"Treat Me Nice," "Fools Fall in Love," "Kansas City," Poison Ivy," "On Broadway," "Yakety Yak," "Along Came Jones," and so many more indelible songs of the 1950s and '60s sound pleasantly familiar yet also somehow brand new in this fresh, high-octane treatment by music supervisor and arranger Sonny Paladino and director/choreographer Joshua Bergasse. Paladino's inventive musical treatments, plus Bergasse's brilliant character development and staging, turn this non-stop catalog of hits into a fully developed story of love, friendship, romance, and empowerment. No dialog is necessary as the interpretations of and transitions between the cleverly sequenced songs tell us everything we need to know about the nine friends who gather, connect, and wistfully reminisce about what was, and could have been, at SMOKEY JOE'S CAFÉ.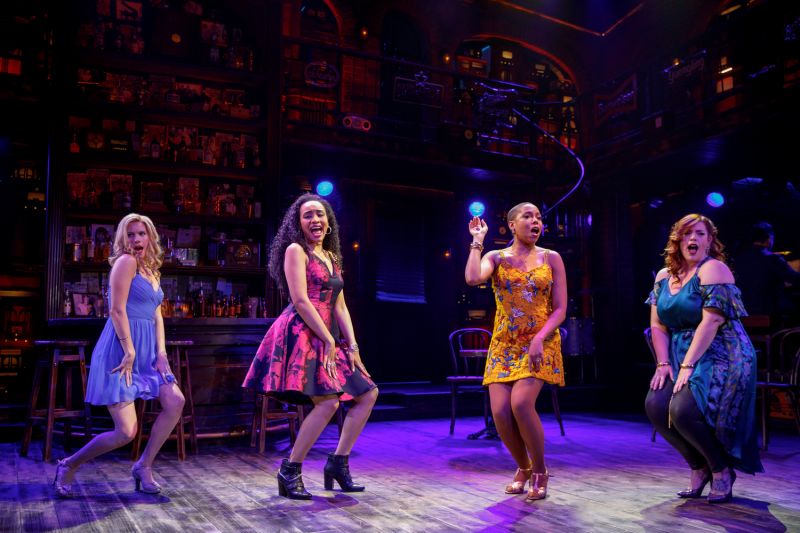 Of course, such a cavalcade of all-time great pop music hits needs exceptional voices to do them justice, and this New York-bound cast is truly remarkable. Dwayne Cooper, John Edwards, Kyle Taylor Parker and Jelani Remy combine countless times to deliver exquisite four-part harmonies in the best under-the-street-lamp, Doo-Wop tradition. Kyle unleashes an endearing comic side as an over-eager but lovelorn suitor in "Love Potion #9." Max Sangerman brings an Elvis-like bravado to "Ruby Baby" and "Loving You," and Dwayne shows just how low he can go in "Along Came Jones" and "Charlie Brown." Jelani showcases his vocal and physical acrobatics in "Jailhouse Rock" while John achingly pines for a true love lost in the potent "I Who Have Nothing."
Emma Degerstedt, Dionne D. Figgins, Nicole Vanessa Ortiz and Alysha Umphress demonstrate that they, too, are forces to be reckoned with as they combine to make "I'm a Woman (W-O-M-A-N)" a take-no-prisoners highlight of the night. In solos, Dionne sizzles in the sultry ""Dance with Me" and "Spanish Harlem." Nicole turns the usually testosterone-laden "Hound Dog" into a bluesy, defiant rejection of the men who have hurt her. Alysha delivers palpable pain and regret in the torchy "I Keep Forgettin'" and "Pearl's a Singer." Emma proves she can shake, rattle and roll all at the same time as she flexes her spine and her spangles in "Teach Me How to Shimmy."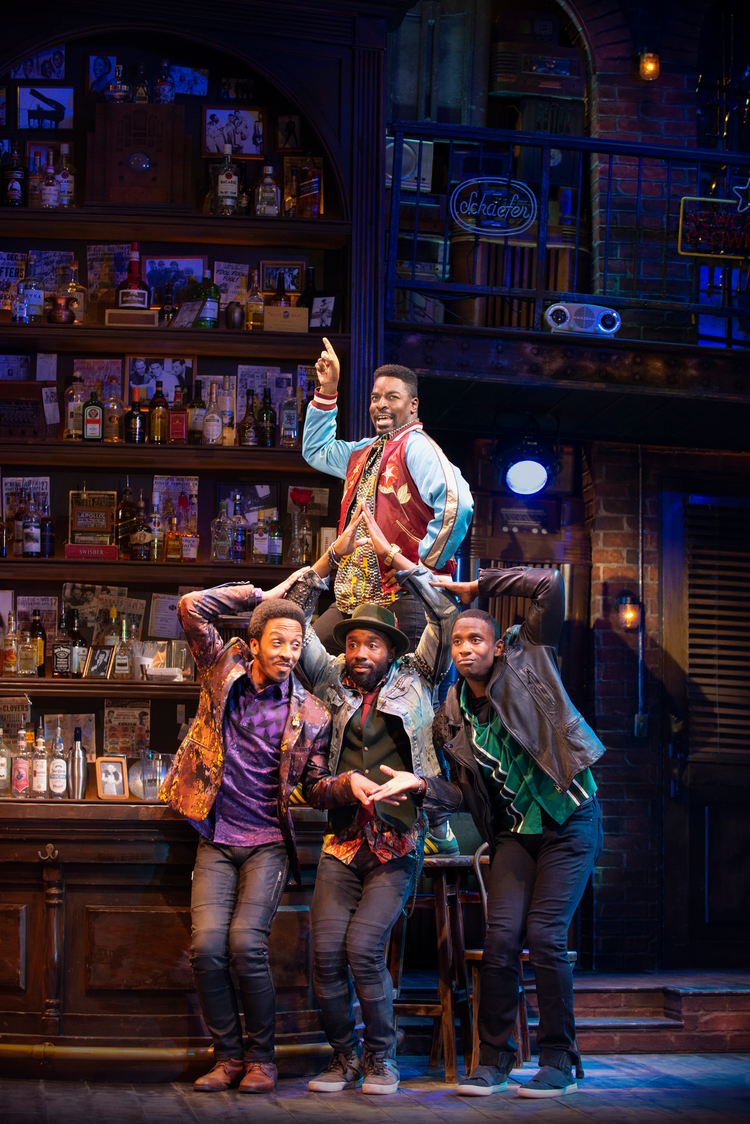 Just when you think SMOKEY JOE'S CAFÉ can't keep topping itself, it does - with back to back showstoppers at the finale. John leads the company in a rousing, gospel-inspired version of "Stand by Me" while Nicole harnesses what can only be described as other-worldly powers in a spiritually revitalizing "Saved."
The gorgeous set by Beowulf Boritt becomes a character in its own right as it harks back to a time when neighborhood bars were true gathering places. Two-story brick walls adorned with old-fashioned radios, license plates and neon beer signs create a welcoming home away from home for its regulars. A huge circular mahogany bar, towering dark wood panels, three wrought-iron spiral staircases and old-fashioned cane chairs and bistro tables create a perfect New Orleans or other music city vibe. Alejo Veitti's costumes are also pitch-perfect. Note the subtle mesh and black striped T-shirt and blue suede shoes that Jelani wears for "Jailhouse Rock." John's well-worn faded denim jacket also tells a quiet story.
With this superb production of SMOKEY JOE'S CAFÉ, The Ogunquit Playhouse has joined the ranks of noteworthy regional theaters known for prepping shows for NYC transfers. Given the quality of this production, let's hope it's the first of many more to come.
PHOTOS COURTESY OF OGUNQUIT PLAYHOUSE: John Edwards, Jelani Remy, Dwayne Cooper and Kyle Taylor Parker; Jelani, Kyle, John, Dwayne and Max Sangerman; Emma Degerstedt, Nicole Vanessa Ortiz, Dionne D. Figgins and Alysha Umphress; Kyle (top), Dwayne, John and Jelani.