BWW Review: 'Extra, Extra!' NEWSIES is a Runaway Hit at Red Mountain Theatre.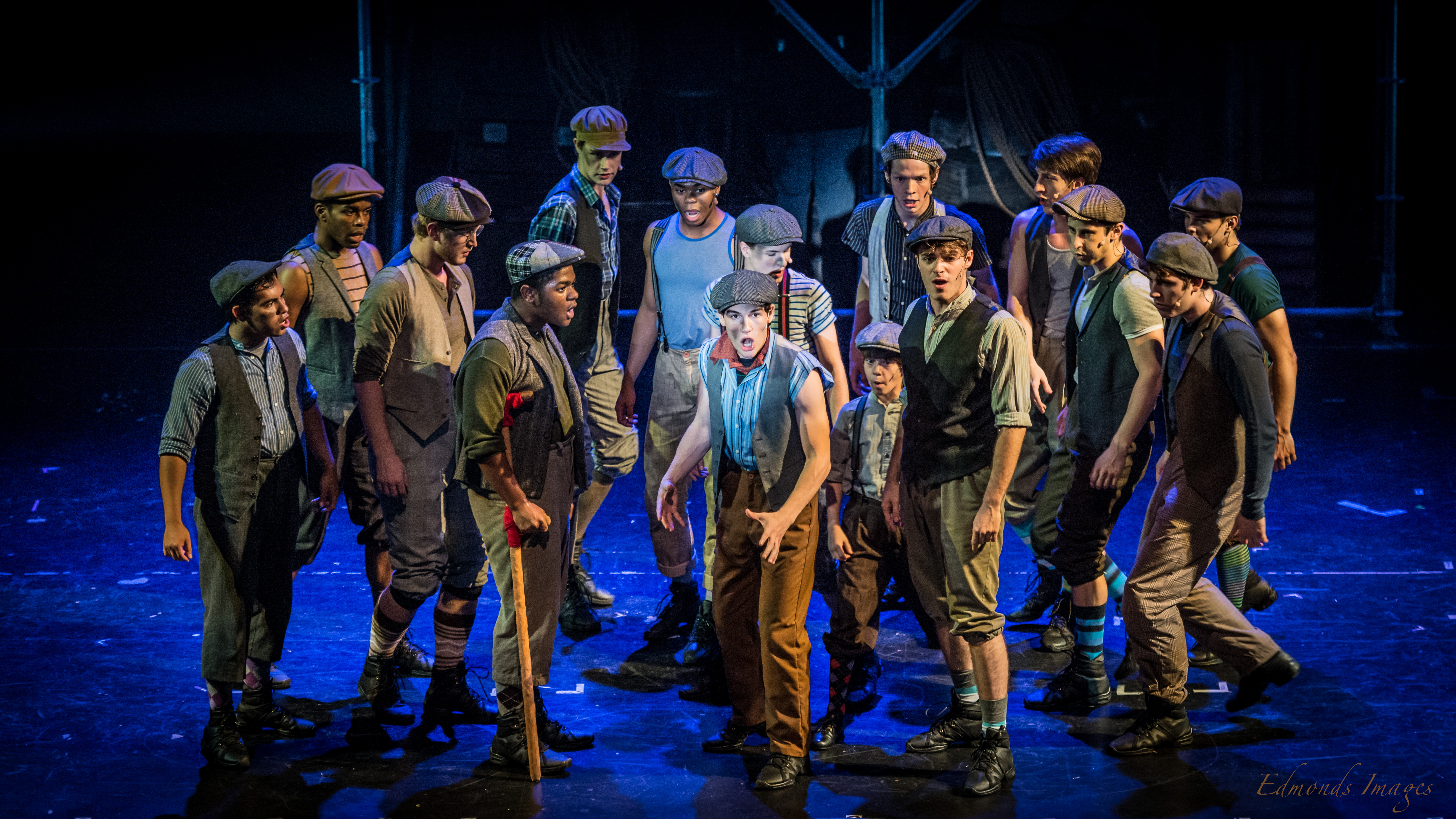 At risk of putting you into a social media withdrawal, imagine an era where there are no smartphones. Imagine being in New York City in the late 1880's. An era when the daily paper was the pulse of the city. It was a connection to world. Fortunes were made on paper and ink. The print moguls were flying high on millions in profits but the newsboys were the ones holding them up. Young kids on corners, hawking "papes" to passers by for a dime. Hoping to earn a dollar by days end. These kids were hustlers who were young, scrappy and hungry. Disney's "Newsies " is inspired by the 1899 Newsboy strike and is an adaptation from the 1992 feature film. This musical is a roller coaster with that live action Disney magic and is full of pure talent. The pumped up music is by legendary composer Alan Menken. He brought us the music from "The Little Mermaid", "Beauty and the Beast" and "Aladdin." Lyrics are by Jack Feldman, and a book by Harvey Fierstein.
The plot centers on seventeen-year-old newsboy Jack Kelly (Trevor Berger). A streetwise kid who's a mix of Ferris Bueller and the Artful Dodger. Jake runs with a hodgepodge crew of newsboys all selling The Globe newspaper. Jakes best bud Crutchie (Marcus Gladney) is a cherub of a kid with a bum leg but a rich heart. They share a dream to escape all hardships of the city and move to Santa Fe. Alas, they are struggling to make it with the rest of the kids in the tenements.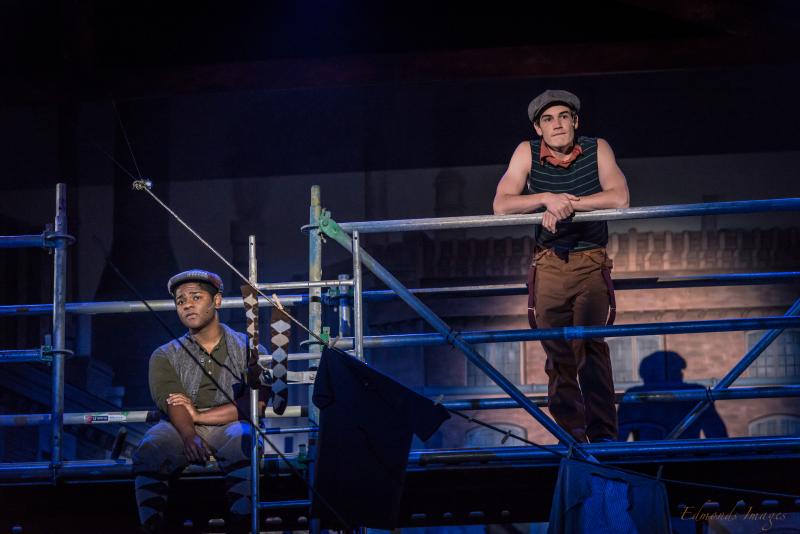 The antagonist of the story is the owner of The Globe, Mr. Henry Pulitzer (Mike Stephens) He decides to replenish his falling profits by raising the newsboy's fee per paper they sell. This ruinous and unfair hike causes the gang to organize and stand up to the sinister Pulitzer.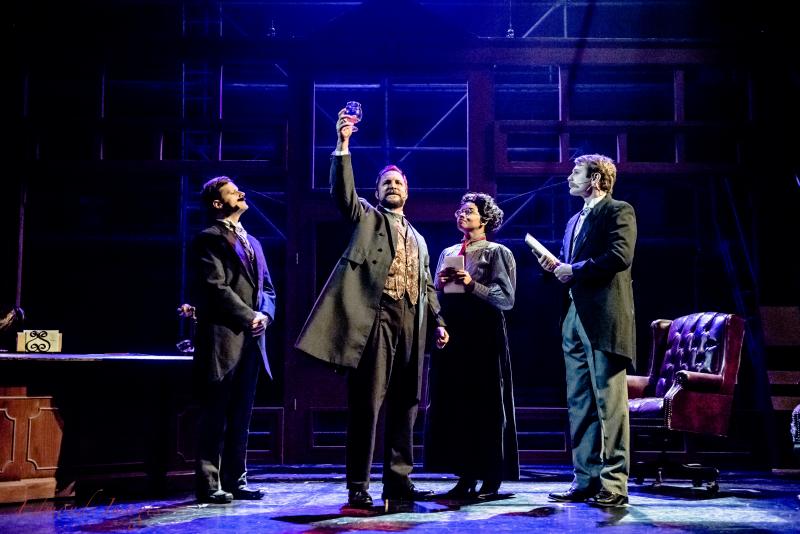 As in all great stories of this era, in walks a spunky reporter played with gusto by Juliette Redden (Katherine) At first she comes off as a woman searching for an urchin who can give her ideals. When her path crosses with Jack she becomes an ally for the boys struggle. She also is struggling against their growing attraction.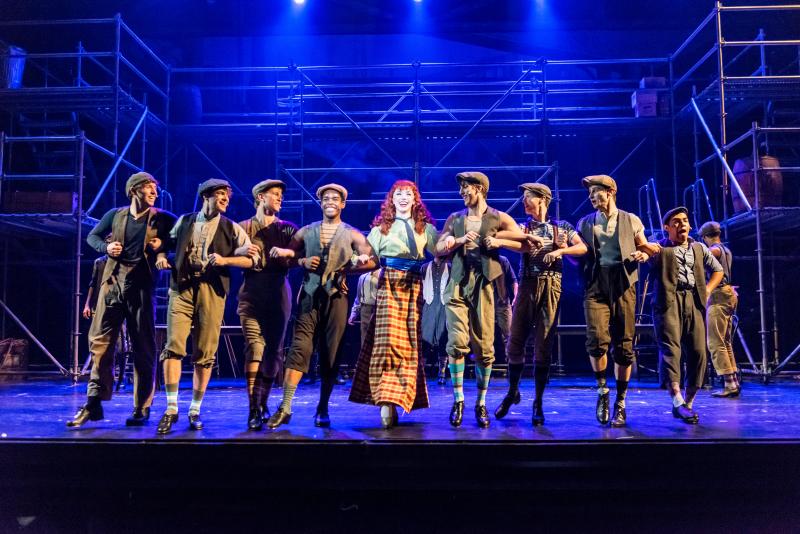 The show is built on the timeless plot structure of David and Goliath. The true power of "Newsies" is its connection to frustration of being taken advantage of, something everyone has had or is going through. Granted it's not acceptable to break into song and dance in an HR exit interview. However imagine if you could? That feeling of explosive emotions is conveyed in every number in this entertaining song and dance production. This is more than just a show about street kids. "Newsies" is a very relatable story of standing up for what's right and fighting for a cause. Making a stand against an adversary and working to make a resolution. Robin Lewis pulls double duty in "Newsies" as both director and chorographer for the play. He brilliantly encapsulates characters explosive emotions and molds them into amazing dance sequences. I haven't seen dance numbers this expressive and energetic since Jerome Robbins choreography in the 1961 film West Side Story.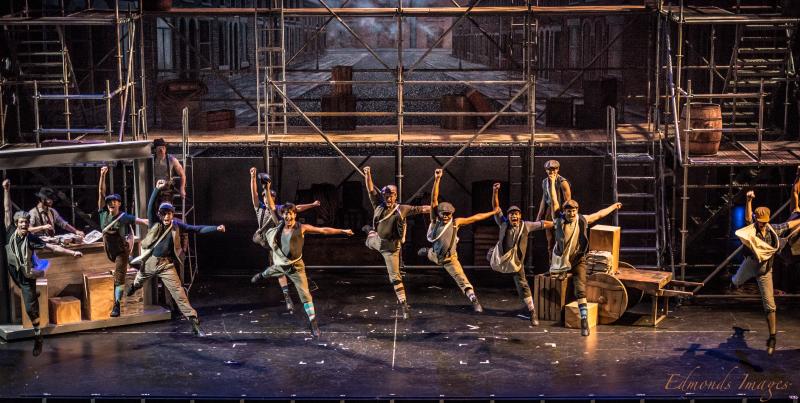 Musical director Randi Ellen Rudolph conducts the team of singers and musicians with precision. The end result fills the stage flawless performances. Each note and voice is in unison with impressive pitch and projection. There is a Cirque du Soleil element of the stage by scenic designer Stephen Fiaher's set and lighting director Brad Cozby. Their work transforms the vast Dorothy Jemison stage into a series of locations without relying on clunky pieces. The sets are simple and expressive. Transitions are so seamless you hardly notice.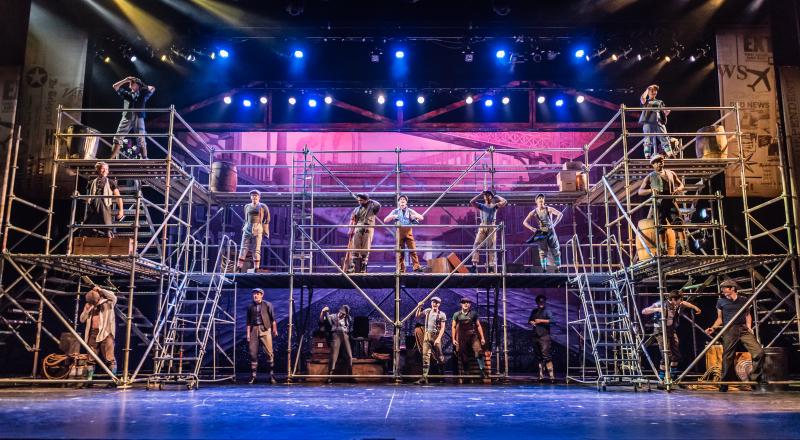 The cast is a gallery of driven and inspirational performers. Trevor Berger brings Jack Kelly to life with a seemly endless supply of energy. His connection to the character is seamless. I was moved to tears and laughs during his energetic performance. Crutchie is a role Marcus Gladney seems to be born for. His cherub presence and angelic voice combine to make a honestly emotional performance. Juliette Redden gives her performance of Katherine a fresh and brassy Lois Lane delivery. She is an impressive triple threat with impeccable comedic delivery.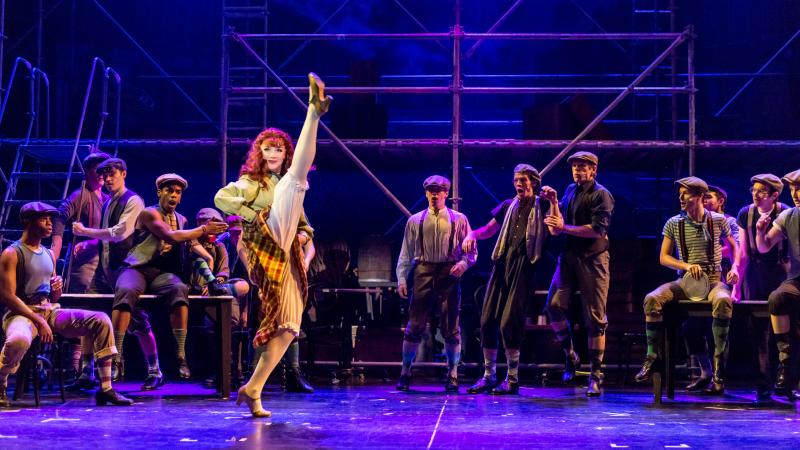 Veteran actor Saxon Murell plays Wiesel, the hard-edged newspaper distributor. It is always a joy to watch Murell work for he gives a master class performance in every role. His character work is always full of range and expressive nuances. Mike Stephens gives life to the villain Joseph Pulitzer. He delivers a voice ripe with inflection and greed. Tracy Winborn plays Medda, the bawdy theater owner. Winborn gives the show a jolt of electricity within her first line of dialogue. She has a powerhouse voice with stage presence to back it up. You will find it hard to stay still when she sings.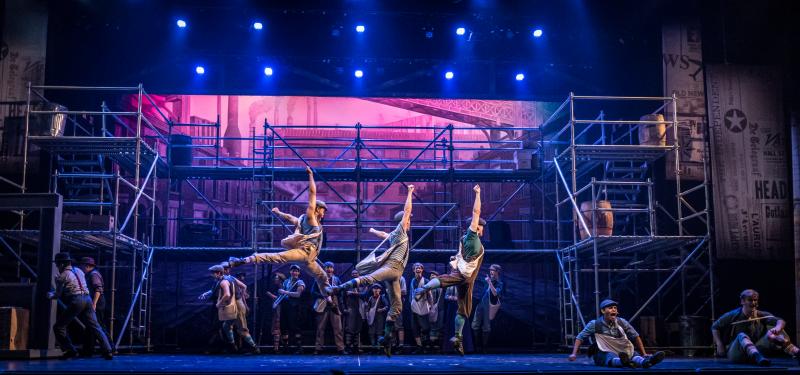 Credit and kudos are well deserved to the energetic song and dance cast playing the "Newsies." CK Anderson, Jonathan Bryant, Peyton Davis, Anthony Lloyd Fania, Jordan Oliver Graham, Javon King, Jeremiah Porter, Sam Purkey, David Ritchey, Cooper Snodsmith, Will Vickers, Jared Max Wright, Victoria Yeager. Their talent and commitment to the performances deserves the standing ovations you receive. These performers song and dance skills are up in caliber with any show on Broadway.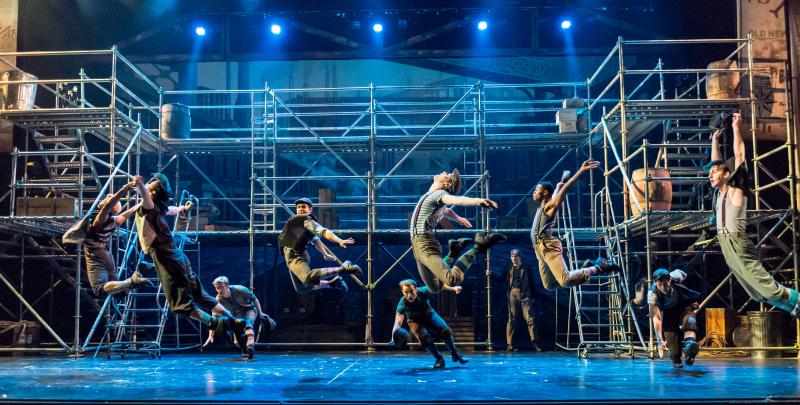 Red Mountain Theatre Company has once again raised the bar and delivers a production in Birmingham that is outstanding. "Newsies" is a special edition not to be missed. It's packed with quality musical structure and delivers the goods. Hurry and "Seize the Day" with tickets before this "pape" has its closing performance on July 30th.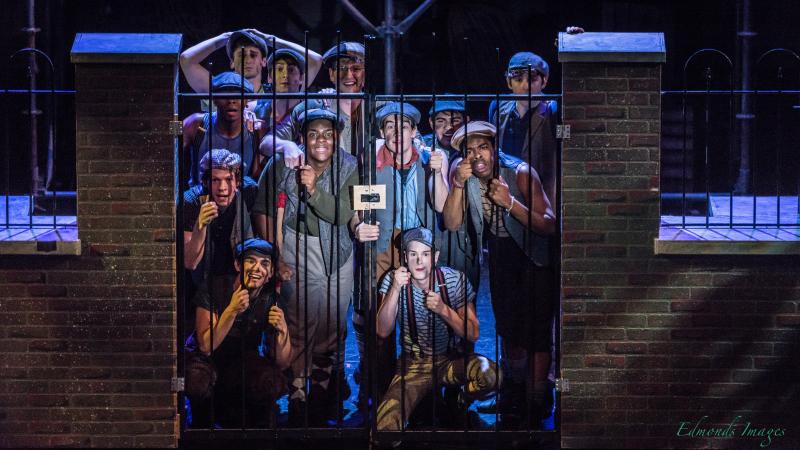 Disney's "Newsies"
Music by Alan Menken. Lyrics by Jack Feldman. Book by Harvey Fierstein.
Director/ Choreographer - Robin Lewis
Music Director - Randi Ellen Rudolph
Tickets and info at redmountaintheatre.org or (205) 324-2424
Tickets start at $25
Fri, July 21 - 7:30 PM
Sat, July 22 -2:00 PM / 7:30PM
Sun, July 23 - 2:00 PM
Tue, July 25 - 7:30 PM
Wed, July 26 - 2:00 PM
Wed, July 26 - 7:30 PM
Thu, July 27 - 7:30 PM
Red Mountain Theatre Company
The Dorothy Jemison Day Theater at Alabama School of Fine Arts
800 19th Street North Birmingham, AL 35203
Photo credit © Edmonds Images - Stewart Edmonds