Best Theatres In Annapolis, Maryland: A Guide To The Top Local Theatres
A guide to the top venues in Annapolis, how to buy tickets, and more!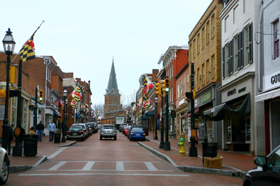 BroadwayWorld prides itself on our vast and expansive coverage of theatre in over 250 cities all over the world.
We know our readers love to take in theatre when they travel, be that just to another city, or abroad to another country.
To help them out, we're working with our local theatre experts to launch theatre guides in all our local cities!
Check out our list of some of the top venues to check out when visiting Annapolis below!
Colonial Players (108 East Street | Annapolis, MD 21401)
According to their mission statement, Colonial Players provide facilities, education, training, and encouragement to all members of the community who are interested in participating in the dramatic arts and further to educate the community to the appreciation of the dramatic arts by providing a variety of dramatic entertainment.
With a focus on works by classic and new playwrights, they also produce musicals.
Upcoming Shows: A New Brain (April 12 - May 5) and Towards Zero (May 31 - June 22)
Annapolis Summer Garden Theatre
(143 Compromise Street | Annapolis, MD 21401)
ASGT opens each summer in May and closes again in September. They perform 3 musicals throughout the summer under the stars in their open-air theatre.
Upcoming Shows: Crazy For You (May 23 - June 15), Songs for a New World (June 27 - July 20), and Mamma Mia! (August 1 - September 1)
Annapolis Shakespeare Company
(1804 West Street | Annapolis, MD 21401)
According to their mission statement, ASC produces bold, re-imagined, entertaining and accessible interpretations of classical works, contemporary plays, and musicals with a core commitment to the works of Shakespeare and other major dramatists.
Upcoming Shows: Pride and Prejudice (March 15 - April 21) and Oliver! The Musical (May 11 - June 9)
Compass Rose Theater
(1623 Forest Drive | Annapolis, MD 21403)
Compass Rose is a professional theater in the heart of Annapolis focused on producing musicals and plays of the highest caliber. Though they're in the process of finding a new home, they are currently performing in the PowerHouse Building in the Hotel Annapolis (126 West Street | Annapolis MD, 21401)
Upcoming Shows: Man of La Mancha (March 1 - March 31), Red (April 19 - May 19) and The Wizard of Oz (May 31 - June 30)
Related Stories
Kristen first discovered theater by way of Jesus Christ Superstar in elementary school and fell madly in love with the idea of singing and dancing. After a disastrous turn as Sandy in Grease in an ... (read more about this author)