Review: Take Time To Smell, See, And Especially Hear The Roses In GYPSY At Toby's In Columbia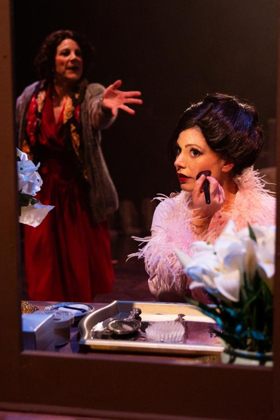 Full of catchy tunes, powerhouse vocalists, lively choreography and adorable children, Toby's Dinner Theatre in Columbia's production of GYPSY is an impressive crowd-pleaser. Ostensibly extracted from the memoirs of Gypsy Rose Lee, famed exotic dancer, most of the show's focus is on the dancer's mother, Rose. And oh, what a Rose!
The original stage musical by Arthur Laurents was titled GYPSY: A MUSICAL FABLE, and was based on the memoirs of Gypsy Rose Lee. The music, by Jule Styne, is catchy and hummable, and Stephen Sondheim's clever lyrics provide entertainment value even to songs that fail to move the plot. In fact, several of the songs have become, musical theatre standards, which speaks to the strengths of the individual songs, regardless of their impact on the show as a whole. Shortly before intermission, I realize I've been viewing the show as a young Judy Garland vehicle, with, curiously, Liza Minnelli cast as Momma Rose.
The multi-tiered seating around the floor at Toby's accommodates a large crowd, and the Sunday Brunch crowd is robust. Seating is snug-ish; don't bring the giant coat. The brunch buffet, which features pancakes, French toast, bacon and pastries, is different from the dinner buffet, though the sturdy salad bar is still included. Toby's signature spinach dish, Spinach Funque, also appears at the "lunch" end of the buffet, alongside delicately seasoned fish, the usual carving station and other items.
The special show-themed drink is a raspberry pina colada, topped with a molded candy rose. It's not overly sweet, as the raspberry retains some of its signature tartness. Jeffrey Shankle, stalwart actor and server extraordinaire, keeps the coffee hot, fresh and full right up 'til showtime.
It is a credit to the talent pool of Toby's regular performers that the Ensemble is full of experienced leading men and women who blend beautifully and never upstage the leading actors. David Bosley-Reynolds brings devotion touched by a hint of desperation to his role of Herbie. As Louise, MaryKate Brouillet manages to look about fourteen years old for most of the show, and her sweet voice in "Little Lamb" is a calm moment amid more frantic action sequences. She shines again in "All I Need Is The Girl," her expressive face wordlessly communicative while Shiloh Orr as Tulsa displays his smooth dancing skills. Louisa Tringali as Louise's younger sister Dainty June brings warmth to a smaller role, and their duet, "If Momma Was Married," is a harmonic treat.
Madeline Ellinghaus returns to Toby's as Baby Louise with a strong and self-assured performance, and newcomer Nina Brothers as Baby June is fabulously annoying, and sweet as a lollipop banana split upside-down cake with marshmallow frosting and rainbow sprinkles. She also nails her dance moves with plenty of energy. Ensemble children Hannah Dash, Cooper Trump and Jackson Smith are plucky and charming, have strong voices and great dance skills.
Momma Rose is personified with astounding vocal prowess and brilliantly nuanced performance skill by Cathy Mundy, who had me from her first note in "Some People." She creates a faceted character with depth, backstory and motivation, so real I recognize her. She engages the audience whole-heartedly, and reads as overly invested rather than actively self-serving. Her finale solo, "Rose's Turn," becomes an anthem of enlightenment.
Directors Mark Minnick and Toby Orenstein work with confidence, experience and imagination, and handily exploit the strengths of the players as well as the playing space. Their characters are believably human, with clear motivations and personal conflicts. Music director Ross Scott Rawlings, who also conducts the live mini-orchestra, injects the songs with harmony and depth, empowered by a strong cast of vocalists. Costume Designer Janine Sunday outfits all the characters beautifully with thoughtful attention to social and economic status, and is especially playful with "You Gotta Get A Gimmick," a song that illustrates the notion of being different in exactly the same way. A nod to goes to Tina DeSimone for her bugle work.
GYPSY is not your standard rom-com of musical theatre. It's got legs, and teeth. It's a very human show. Anybody who has ever felt overwhelmed by their mother, anyone who has had unrealistic hopes for their children, anyone who has ever felt sidelined by a loved one's aspirations, will find those tensions spotlighted in this emotional production. The producers and performers of Toby's understand the drama in "family drama," and embody the family part.
Run Time: Two hours and 25 minutes, including ~20 minute intermission. GYPSY plays at Toby's through March 17th, 2019.
Toby's Dinner Theatre is in Columbia, Maryland, easily accessed from 29 Southbound, with plenty of free parking all around the building. To counteract delays stemming from construction or whomever is playing at Merriweather, budget a little extra time into your travel plans.
Toby's Dinner Theatre of Columbia
5900 Symphony Woods Road
Columbia, MD 21044
For additional information including pricing, buffet menu and directions, visit www.tobysdinnertheatre.com.
For tickets, phone the box office at 410-730-8311,
301-596-6161 or 1-800-88-TOBYS from 10 am - 9 pm.
Doors open at 6pm Tuesday through Saturday evenings, with dinner from 6:30-7:20 for an 8 pm showtime. For Wednesday and Sunday Matinees, the buffet is 10:30-11:50 am for a 12:30 pm show. Sunday evening supper is at 5:30 pm, with a 7 pm showtime.
Photo: Cathy Mundy and MaryKate Broulliet; Photo Credit Jeri Tidwell Photography