BWW Review: THE QUICKENING at Fells Point Corner Theatre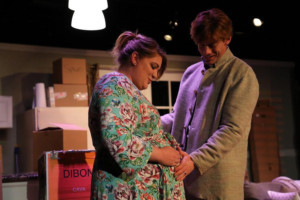 On the scale of modern day stress, pregnancy is high on both joy and tension. Add a move to a Southern paranormal hotspot with a clueless husband who sometimes seems to love civil war re-enactment more than real life. On top of that, he appears in rebel soldier regalia just as you are getting acquainted with your new African-American neighbor. Plus your dog disappears. Then there are odd noises and unsettling events. And who is that strange kid lurking around the neighborhood?
This is the spooky web woven in THE QUICKENING written by Baltimore playwright Mark Scharf and receiving its premiere in locally haunted Fells Point. A good ghost story scares you and makes you think. Here, the playwright poses an intriguing question on the nature of consciousness. The idea bookends the action, but it is left to the audience to ponder the answer.
The camps of paranormal belief are presented in the form of the scientific but inquisitive Philomena Johnson (Debbie Bennett), open-minded emotive Beth Wells (Amanda Spellman), "that stuff is crazy" Matt Wells (David Shoemaker) and gifted supernaturalist Rosemary (Marianne Angelella), who is also Beth's mother.
The female perspective dominates as Beth, Philomena, and Rosemary desperately try to stop spiritual disaster from overtaking them. As Beth, Spellman is the strongest point of the play. She projects emotions with ease and empathy. You care about what happens to her and, boy, can she scream. Though why she offers that creepy, rather large kid a glass of milk and a seat inside, we'll never understand. When the dog disappears, and her husband asks her to go search even though she is about to give birth yesterday, that's another thing we'll never understand. Nonetheless, Shoemaker does a good job with the rather callous husband. As the two wise women, Bennett and Angelella prove to be effective storytellers especially as they both tell a story within the story, directly to the audience.
In breaking the fourth wall, Scharf and director, Ann Turiano invite us in rather like summoning us to gather round the fire to hear tales of terror on a dark night. Turiano does a fine job eliciting performances that avoid stereotypes and tying all the elements together like the innovative lighting and sound ( by Tabetha White and Devyn Deguzman), the detailed set which goes from moving boxes to cozy home to séance scene to normal but feels like Rosemary's Baby. Scharf manages to combine local flavor and existential philosophy with his ghosts.
The play's frightful moments are offset by its normal beginning, almost too normal. The play might benefit from some tightening and pacing. Still, just when you think nothing is going on, you may find yourself jumping in surprise. A good startle produced by local talent in the creative cauldron of Baltimore theatre is just the aerobic exercise your heart may need, hon.
THE QUICKENING plays now through July 1st at the Fells Point Corner Theatre, 251 South Ann Street. For ticket information call (410)276-7837 or go to www.fpct.org
Related Articles View More Baltimore

Stories

Shows