BWW Review: Kookoo For the BAROCOCO Poufs of Happenstance at Theatre Project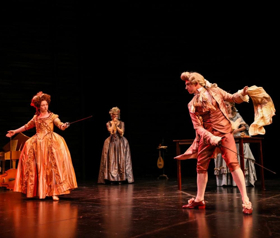 Hurry, you still have time to catch Happenstance Theatre's newest show, BAROCOCO, winner of Best Comedy in 2018's Capital Fringe Festival. Less episodic than previous Happenstance productions, BAROCOCO is all-of-a-piece, a day in the life, or perhaps a year elapses. It's hard to tell. It's a study in contrasts, a lace-trimmed veil across the face of Godot. It's resplendent and silly, ridiculous and desolate, hilarious and horrible. It's also well-researched, making it at once historic and metaphoric.
The steeply raked seating of Theatre Project assures a good view no matter where you sit, and the cast carefully pays attention to all portions of the audience, not just the folk in center front. And they DO pay attention to you- BAROCOCO directly demands your engagement. Well, except for Baroness Constance Blandford Plainview, who abashedly accepts it, and quickly looks away.
As the Baroness, Gwen Grastorf is distractingly self-conscious, Alex Vernon, playing Duc Leslie Pamplemousse de Citron-Presse is haughty and affected. Sarah Olmsted Thomas as Dauphine Marionette is desperately frivolous; as the Countess, Sabrina Mandell is furious and brittle- her castanet work is remarkable- and as Astorio Cavalieri, Mark Jaster is bemused, resourceful and occasionally smug.
The multi-talented cast proves their worth also as musicians, with instruments or vocally. Designated Accompanist Caleb Jaster, a newcomer to the group, handles harpsichord and other musical instruments (one of which I can't even identify) with dexterity and skill, proving equal to the compositions and arrangements of prior Happenstance mostly-musical member Karen Hansen.
Lighting by Kris Thompson provides mood change, focus and drama, without drawing attention to itself, perfectly timed at each cue. It highlights a pared-down set, which consists of a chunk of furniture, a few accent pieces and musical instruments. All the bits of the set work ingeniously together, most playing multiple roles, while meanwhile being quite lovely to observe.
Sabrina Mandell, responsible for designing costuming that accommodate the motion-based performances of the pantomimetic group, triumphs with swanky duds that capture a period-appropriate look, resulting in a splenifriptacular wardrobe that silently elucidates the nature of each character. The shoes are lovely; the handkerchiefs, profound; the wigs, elaborately stunning.
There are two sets of steep stairs for accessing the performance space at Theatre Project, with a lift apiece for accessibility. The ladies' room has an accessible stall and one other; I'm guessing the mens' is similarly equipped. Parking can be found on the street, or in the lot conveniently across the street. It's been "cash only" before when I've passed; I don't know that it always is. While you're in the neighborhood, you may enjoy a pre-show bite at Soup's On, half a block away on Preston Street. In addition to soup, they offer sandwiches and Turkish coffee. A full tummy and empty bladder are advisable for a one-hour show with no intermission.
Happenstance Theatre's offerings are always high quality evocative entertainment. This time around, with BAROCOCO, they're also making Important Social Commentary. A historic piece which is currently relevant, beautiful and funny is a rarity in the world. Treat yourself to this fabulously stunning morsel of meaningful ephemera.
Run Time: One hour, no Intermission.
Happenstance Theatre's BAROCOCO http://www.theatreproject.org/barococo/ plays at Theatre Project, 45 West Preston Street, Baltimore, MD 21201 through November 11th. November 9, 8pm, November 10, 3pm, November 10, 8pm, November 11, 3pm For tickets, phone the box office at 410-752-8588 or visit the website to buy tickets online.
Photo by Kintz

Related Articles View More Baltimore

Stories

Shows
Cybele Pomeroy graduated from Loyola College, before it had grown up and become Loyola University, where she studied writing, literature, education and drama. She never (read more...)