BWW Review: VANITY FAIR at Shakespeare Theatre Company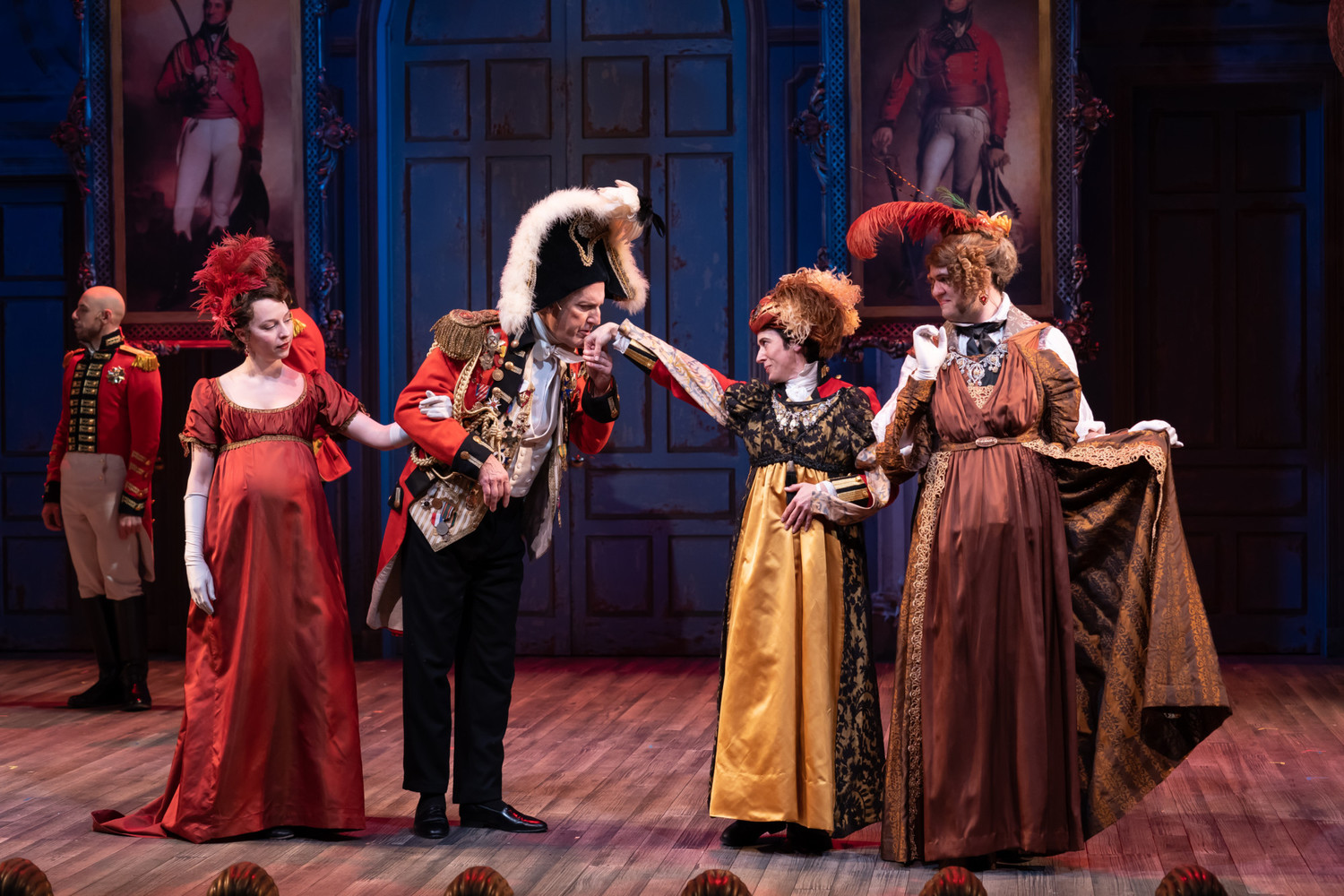 Mean Girls, Big Little Lies, Heathers, Broad City, Thelma and Louise, Parks and Recreation, Sex and the City...These are some of the better known vehicles for female friendship that inhabit our pop culture universe. Paling in comparison to the numerous portrayals of male friendships and "bromances", too often these relationships center on competition or jealousy, on getting the guy. Very few take a deeper, more comprehensive dive into the complexity of female companionship. Even fewer are the product of female authors, directors, playwrights, etc.
That is what makes Shakespeare Theatre Company's Vanity Fair such a welcome breath of fresh air. Adapted from William Makepeace Thackeray's original novel by Kate Hamill, the play centers on the lives of two school chums: Becky Sharp (Rebecca Brockman) and Amelia Sedley (Maribel Martinez). Becky, who hails from humble beginnings as the social climbing daughter of an artist and an opera singer, is the requisite "whore" to Amelia's "Madonna". As in Thackeray's original, the Hamill adaptation reminds the audience throughout that no one is all this or all that and that there lie shades of gray in all of us.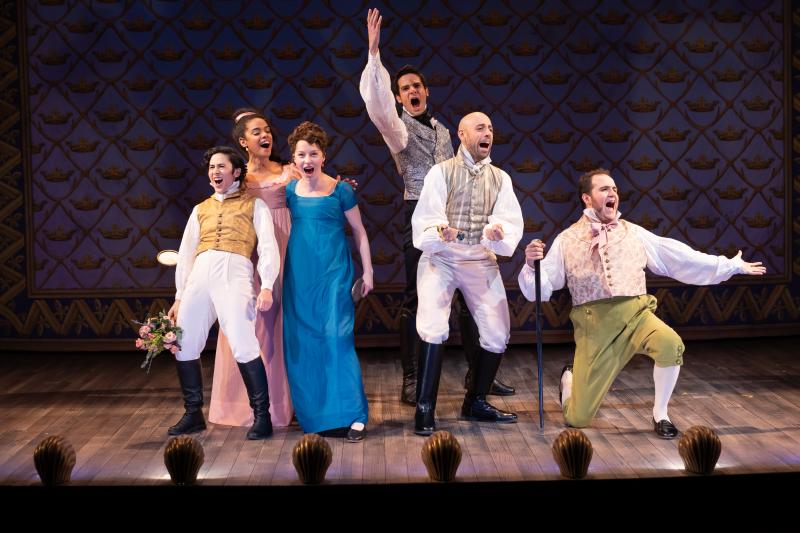 The small ensemble of seven is admirably helmed by director Jessica Stone. Stone employs a Victorian burlesque approach to frame the production. "It's a mode of performance from the early to mid-19th century when there was a fertile cross-pollination between traditional theatre and English music hall," she writes in her Director's Note. "These scrappy companies would lampoon literary works with the aid of music and a playful, metatheatrical sensibility that still took advantage of beautiful painted scenery...The principle element of Victorian burlesque is the perception of something beautiful right next to the ragged reality."
This approach is well served by Alexander Dodge's scenic design, which evokes a sense of the "professional amateur" theatrical and hints at the moral rot beneath society's veneer. Jennifer Moeller's costume design is playful, colorful, and, most importantly, flexible. Her designs are well suited to the many quick changes required by an ensemble playing multiple roles, some of them gender-bending. Fitting a novel that spans over a thousand pages and a thirty-year time span is no easy task. David Weiner's lighting design helps keep the action on pace and lucid, as scenes change quickly and several sets of characters interact simultaneously. In keeping with Stone's Victorian burlesque, sound designer and composer Jane Shaw, assisted by choreographer Connor Gallagher, gives us a few fun musical numbers that manage to convey the satirical nature of Thackeray's original and propel the story forward.
Dan Hiatt is in perfect form here, playing the Manager (an emcee type role), the elderly Miss Matilda Crawley, and the licentious Lord Steyne. He puts on each character as easily as he changes costumes, both often done in full view of the audience. Adam Magill is a dashing and romantic Rawdon, among his other characters. Rawdon is clearly reckless and superficial, the perfect co-conspirator for Becky, yet Magill masterfully portrays his growing agitation with her and true pain at her final betrayal.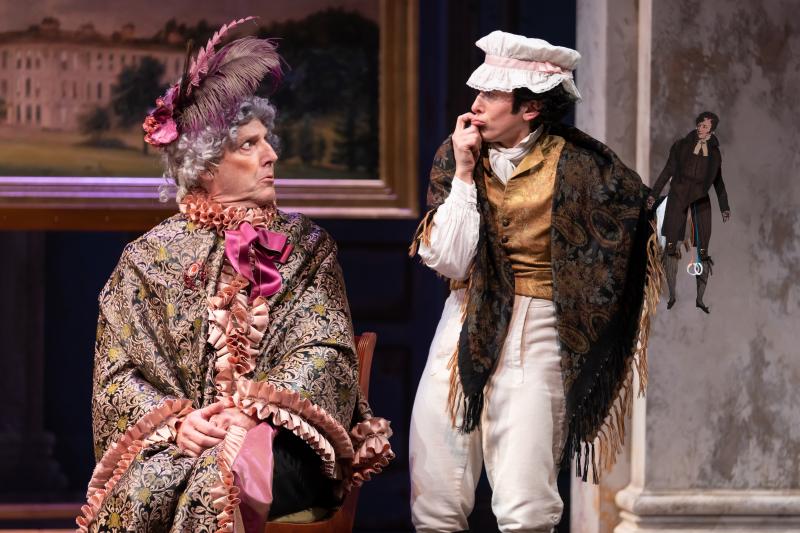 Anthony Michael Lopez, first introduced to us as the pious Miss Pinkerton, spends
most of the performance as William Dobbin, ever-suffering best friend to George Osborne and mostly unrequited lover of Amelia. As Dobbin, Lopez brilliantly telegraphs the weight of responsibility that encumbers his shoulders and his growing dissatisfaction in his friendship with Amelia. Alyssa Wilmoth Keegan (who also serves as dance captain for this production) brings a blazing energy to her many roles throughout the evening. As the philandering and drunken George, the audience want to hate her, but she is infinitely sympathetic in her (not entirely financial) regret over falling out with her father. Whether playing the shy Jos Sedley, the bombastic Pitt Crawley, or one of his other memorable roles, Vincent Randazzo (who also serves as fight captain for this production) is in his element.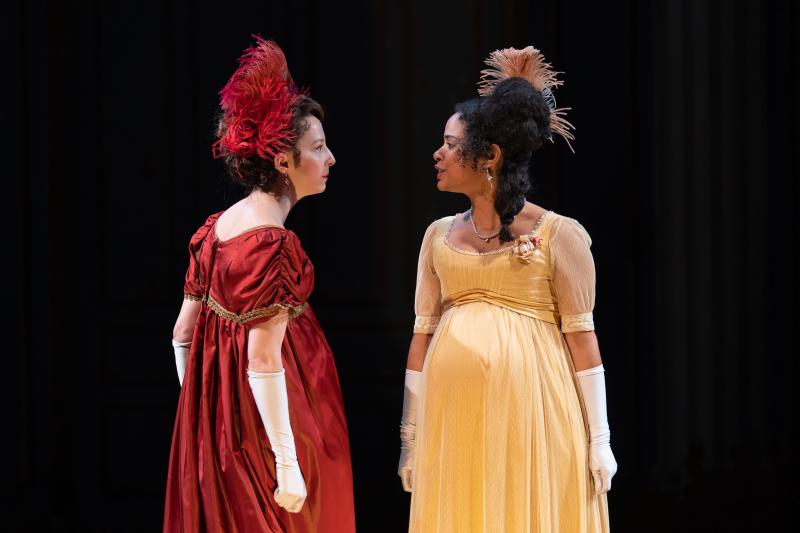 As Becky and Amelia, Brockman and Martinez are exempt from playing multiple roles, anchoring the two friends at the heart of the story. With such a dynamic ensemble surrounding them, however, their performances appear flat. Brockman is at her best when she is breaking the fourth wall to engage the audience or in hysterical moments of, ahem, enthusiasm for her intended prey. Never meant to be a likeable character, the audience nonetheless cheers, if begrudgingly, for Becky's "resurrection" at the play's conclusion. Martinez, as the privileged daughter sunk to low circumstance only to rise again, plays the more believable emotional journey. The audience's sympathy for Amelia is tempered by her devotion to a deceased rake of a husband and her callous disregard for the sentimental Dobbin. While Becky is portrayed as an uninterested at best mother, Amelia struggles over how best to raise her young son, setting up an interesting plot line that does not get its full due here.
While some of the more satirical points may not linger after you leave the theatre, Hamill's adaptation and Stone's direction have combined to create an admirable romp that audiences will thoroughly enjoy. It is a welcome addition to the canon of women-centered and women-driven theatre.
Vanity Fair runs through March 31, 2019 at STC's Lansburgh Theatre (450 7th Street NW). Run time is approximately 2.5 hours, with one 15-minute intermission.
For more information and to purchase tickets, please visit http://www.shakespearetheatre.org/events/vanity-fair-18-19/