BWW Interview: ZJ Fang, the Chinese Soloist In ABT: How Injury Gave Me A Second Chance In Ballet at Lincoln Center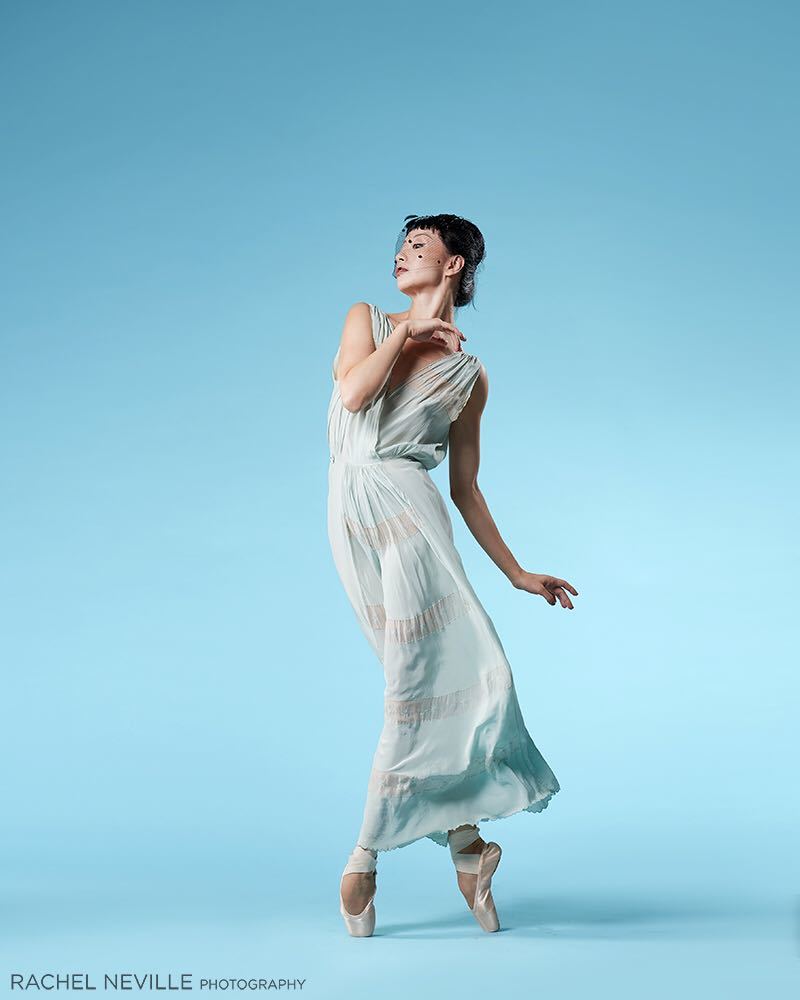 Her fans call her ZJ, an abbreviation of her first name, Zhong-Jing, When I was with a group of fans at the backstage door of the American Ballet Theatre performance on May 31, 2018, many of these fans waiting for Misty Copeland expressed their great admiration of ZJ, which surprised me. It seems they know her work well.
A month later, on June 29, 2018, she was promoted to soloist at the American Ballet Theatre, the first Chinese ballerina to be promoted to soloist since Yan Chen in 1993. Knowing about the devastating injury that she had in 2009, everyone in the company stood up and applauded her. Almost ten years ago, when she was 25 years old, Zhong-Jing tore the posterior tibial tendon during a rehearsal. Doctors told her that the chances of her returning to the stage were extremely slim.
Now 35 years old, and currently working on Ratmansky's Song of Bukovina and Balanchine's Symphonie Concertante, ZJ sat down to have a conversation with me at the beginning of July in downtown LA. She flew in with the ABT for a La Bayadere performance. She shared her excitement and struggle honestly, as honesty is a high priority quality for her as an artist. Staying true to herself, true to others, and true to every performance has been a trusted recipe for her success.
BWW: Where are you from and how did you become a ballet dancer?
ZJ Fang: I was born in a suburb of Shanghai, China, in September 1983. My father was an engineer, taught martial arts as hobby and my mother worked for local government. I was always an active girl, I love martial arts and dancing. On a regular Sunday in 1992, my mother saw an advertisement in a newspaper, Shanghai Dance School was recruiting new students at my age. A very attractive benefit for my working class family was that accepted students didn't need to pay for the tuition. All of the expenses would be covered by the school, which meant it would be funded by the government. So I attended the audition, along with 2000 other kids! I got into the second round, with 1000 other kids, and at the third audition we had 500 finalists. Ultimately, only 12 students were accepted officially, and the school kept an additional 6 students as backups. I was one of the backups. Backup students had six months training for free, and if we passed the final exam, we would become an official student. If we failed, then we would need to pay the tuition fee to stay in the school.
When I left home and started living in the school, I was about to turn ten years old. I was homesick, and I didn't fit in. The first exam came three months later, and I found myself second from the bottom. My teacher talked to my father and my father asked me if I wanted to continue studying or not. I said yes. That was the first time that I made a decision for myself. Because I said yes, all of my energy went to that goal. When the six months free training was over, I was in the top three. I became an official student and my parents didn't need to pay any tuition fees.
BWW: Your name has been quite well-known by Chinese ballet dancers. They said that you became famous at a very young age in China. How did it happen?
ZJ Fang: I think I learned an important lesson when I was ten years old that we can only win in life by having a clear goal and being committed to hard work. I practiced days and nights so much and so often that my toes bled and my ballet shoes were red, but I was still unstoppable. Ballet became my only goal in life. Our school is very prestigious and advanced; they sent us to compete internationally. I later won multiple international awards in ballet competitions, including the first prize in Prix de Lausanne in the category of 16/17-year-old, in 2000.
BWW: When and how did you come to America?
ZJ Fang: I came to New York in 2002, and became one of the twelve dancers in the American Ballet Theatre Studio Company.
BWW: How was the life there?
ZJ Fang: The Studio Company life was kind of easy in comparison to later. Although my English was not as good, I was sensitive and quick in dance. I loved dancing so much that I stayed backstage at every performance just to observe. With very hard work, my dancing soon gained teachers and coaches. They gave me one-on-one training. I stayed in studio company for eight months and joined the Met season as a substitute in May 2003.
BWW: When did you join the American Ballet Dancers officially?
ZJ Fang: I joined ABT's corps de ballet in 2004. Life in the company was very different. It's a big company. There were not so many young dancers any more, and all of them were more experienced and talented. I needed to soak things in quickly, be independent and stay competitive in the new environment. My life turned to a new episode like the movie Center Stage. I couldn't think of anything else but to practice, more and more, harder and harder. That was what I knew about life, and that's how I approached things to win my life. I basically lived in the theater and only went to bed for sleep. I had no private life. I was so focused on dancing that I even didn't care about English studying.
BWW: How did you survive in such a tense environment?
ZJ Fang: The coaches gave me a lot of courage. Sometimes they would point at me in front of other experienced dancers, and explain why the head should be like mine, or why the move I was doing was preferred. As an apprentice, this was so encouraging! I knew I had hope, so I worked extremely hard, and that's how my hard working led to the injury during a rehearsal.
BWW: Tell me more detail about your injury.
ZJ Fang: From 2008 to 2009 I didn't even take a day off. Seven days a week, and 10 to 12 hours a day, I threw myself into the studio for practicing. I always arrived at the studio one hour earlier than the class, and stayed longer after classes or rehearsals. It was May 2009, I practiced from 10AM to 5PM without rest, and I had a 15 minutes' rehearsal at 5 pm, so I kept going. During the rehearsal, I felt my right insteps was a bit over bent on a pointe position, but that was it. I didn't feel pain, I kept dancing. Once the rehearsal was over I felt some unusual pain. The teacher advised me to get some rest and apply ice. It was not until the next morning that I saw my right ankle was swollen like a melon and I could barely move. I was unable to get on the floor. I got an ultrasonic scan in the medical room and the result didn't show anything wrong. Back then American Ballet Theatre was preparing for an important China trip in November and I was really looking forward to go, as were my supervisors. They asked me to get more rest and hoped that I could still make the trip. I spent a week in bed and my ankle didn't get better at all. The doctors insisted that I needed to have an MRI, and it turned out that my posterior tibial tendon of my right ankle was torn.
Three of the best sports MDs in the world met up and discussed my case, and they decided that I needed surgery. The surgery was to repair a partial tear of the posterior tibial tendon. The tear was in the "avascular zone". This means poor blood supply and thus poor prognosis for healing. This injury is not common in ballet. Dr. Hamilton, my major surgeon told me after I recovered that in his nearly eighty-year-old life, he had only seen three cases like this. The other three patients were also ballet dancers and they never returned to the stage. My case was the worst, and I was the only one who ever returned to the stage. He called me the "miracle girl"!!
I cried twice during this two year break. The first time was six months after surgery. I had been staying in bed for six months, and when I accidentally touched the floor the pain was unbearable. I cried hard. It was not the pain itself that made me burst into tears but the accumulated pressure and frustration. The second time was the moment the doctor told me in 2011 that I was the only one who ever returned to the stage among his four patients.
BWW: What did you do during the surgery and recovery from 2009 to 2011?
ZJ Fang: The first six months after surgery, I had to stay in bed. Fortunately my mother stayed with me for three months and she was able to take care of me and gave me mental and physical support. I went to English class and drama class, and I watched a lot of movies. I was hungry for inspirations. Acting class really helped me. This period turned out to be a good preparation for my artistic education. I not only learned to find a balance between life and work, but also developed my humanity insight. I became a better dancer because I knew how to act as the character.
BWW: Talking about acting, what was your first repertoire?
ZJ Fang: It was La Bayadere in 2004, as an apprentice. I danced in the Shades.
BWW: La Bayadere in LA was the closing repertoire of 2018 Met Season, and you said it was your first one after injury as well?
ZJ Fang: Yes, this show is so special to me. I remember vividly how difficult it was after I came back in 2011. Same scene of the Shades, I was breathing like a cow and my coworker in my front row literally had to tell me not to breathe so hard.
BWW: Did you ever think of giving up dancing during those two years?
ZJ Fang: In the beginning, yes. When I was able to travel, I went back to Shanghai for a while but the situation was worse. I found myself in the eyes of pity and sympathy, and everyone was expecting me to quit from ballet. So I came back to New York and decided not go back to China. I didn't want to give up dancing. I stayed in New York for four years without seeing my family. It was very difficult of course, but at the same time it was better for me. I got to focus on recovery, on ballet, on anything that helped me improve.
BWW: When you traveled again in 2013, did it mean you were recovered mentally as well?
ZJ Fang: Absolutely. From 2009 to 2013 I was my most vulnerable self. I was trying to build up a new life inside and out. When I went back to visit my family in 2013, I still felt very down. I felt that I failed my family and teacher, and I felt that I failed my country. But I gradually realized that I needed to find myself before I could make my country and everyone proud. I learned from my English class that when life throws you lemons, you make them into lemonade. Life after that was another circle of hard working until I was promoted to soloist this summer.
BWW: How do you keep your balance now? Do you know how to rest better?
ZJ Fang: I didn't intentionally look for balance but I certainly care more about life. Picasso once said everyone is born a natural artist, it depends on how you develop yourself. Life is an art, we are all artists. I want to be connected to the universe, I want to be a bridge connecting China, America and the world. My experiences are not perfect but overall they can be inspiring. I appreciate what ballet has been giving me. Like our director of American Ballet Theatre, he is an artist himself. He has experienced a lot, he is a good mentor of mine.
BWW: How excited were you when the director announced your promotion?
ZJ Fang: I couldn't stop crying, and my coworkers cried with me. They all stood up and cheered for me. It is such an American dream. But compared to the position itself, the more important part is that I gained my coworkers' respect. They saw how hard it was, and they saw how I overcame. I am very happy that I got this position nine years after my injury, not before the injury. Now this is the beginning. My career just started!
BWW: How far do you think you are from becoming a principal dancer?
ZJ Fang: I don't know. I very much look forward to the day. I will work harder to pursue that. Artistically, I think I am ready. There is one time we were rehearsing Nutcracker in 2012, my role was not that big and I was in the B cast, but because of my better acting on the character, the director moved me to the A cast. Certainly it hurt my coworker, and I was sorry for that. The original A cast dancer was very beautiful but that character also needed fearlessness, and the directors thought that I was a better fit. I knew the acting classes and the injury life made me better, but apparently I've never had time to think about how I can handle the role dances as a principal dancer yet. Technical details are probably what I need to focus on, if I want to be closer to becoming a principal dancer.
BWW: What are your favorite characters so far?
ZJ Fang: Characters for which I get to challenge my techniques and acting, like Mercedes in Don Quixote, Diana in Silvia, and Harlot in Romeo and Juliet. I myself am more like Giselle, a vulnerable little girl, so I want to be different.
BWW: Your friends call you the Queen of Hats; is that also part of being a different person? When did you develop this hobby?
ZJ Fang: I first discovered hats after I got injured. I went to a hat shop, and was fascinated by all the hats displayed. The owner of the shop told me she was inspired by different actresses when she was making the hats, she insisted I should try them on. I fell in love right away. How magical, hats can lift your soul when you are feeling very down. I felt protected by wearing a cool sophisticated hat, I felt free underneath a hat.
BWW: What is your most desired repertoire to dance?
ZJ Fang: The black and white Swan in Swan Lake and Giselle in Giselle. I look forward to that day!!
(photo credit: Rachel Neville)
Related Articles View More Dance

Stories