Naomi Serviss

Naomi Serviss is an entertainment/spa writer whose roots include covering Broadway. She has written for Newsday, The New York Daily News, The New York Times and numerous magazines and websites.

MOST POPULAR ARTICLES
LAST 30 DAYS
LAST 365 DAYS
BWW Interview: Now Holley Fain Does the Dazzling in THE FERRYMAN
Posted: Jun. 12, 2019


Interview: Erik Lochtefeld Takes His Lumps in KING KONG
Posted: Dec. 27, 2018



Interview: Chuck Cooper Preaches to the CHOIR BOY
Posted: Feb. 5, 2019



BWW Interview: Marylouise Burke Is a Conflicted Mom in TRUE WEST
Posted: Feb. 4, 2019


Interview: Criss Angel Appears on Broadway to Levitate Your Spirits
Posted: Jul. 1, 2019


Interview: Aneesa Folds Masters the Full-Contact Wordplay of FLS
Posted: Sep. 27, 2019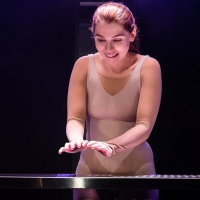 Interview: Milly Thomas's DUST Tackles Suicide With Wit
Posted: Aug. 19, 2019


BWW Interview: Tony Nominee Ruthie Ann Miles Holds Court in THE KING AND I

May 25, 2015

The story of Anna and the King of Siam returns in a majestic, multi-Tony-nominated revival.
---
BWW Interview: Veanne Cox Soars in AN AMERICAN IN PARIS

May 13, 2015

Inspired by the acclaimed 1951 movie starring Gene Kelly and Leslie Caron, this iteration plumbs emotional depths through music and romance in the City of Light.
---
BWW Interview: Mary Louise Wilson Boards THE 20TH CENTURY

May 7, 2015

Wilson plays a straight-laced goofball with a supposedly flush checkbook in Scott Ellis's revival of the screwball comedy.
---
BWW Interview: Sarah Stiles Is the Voice of Reason in HAND TO GOD

April 17, 2015

Two teenagers may be emotionally blocked, but their puppets are unhinged, and their X-rated, blasphemous outbursts, sort of a mash-up of AVENUE Q and THE BOOK OF MORMON, are outrageously funny.
---
BWW Interview: Dee Roscioli is LOVE/SICK

February 18, 2015

The follow-up to John Cariani's ALMOST MAINE delves deep into love and loss, as experienced by a motley bunch of lovers, old flames and strangers.
---
BWW Reviews: DEL FRISCO in NYC Feeds Carnivore Cravings in Grand Style

February 9, 2015

Visit Del Frisco's Double Eagle Steak House, the stylish restaurant in Midtown Manhattan for delicious fare.
---
Brunch Lovers: Chapter One in the West Village of NYC

January 31, 2015

Chapter One in the West Village of New York City pleases with a delicious, inventive brunch.
---
BWW Interview: Richard Thomas Ignites in Broadway's YOU CAN'T TAKE IT WITH YOU

February 1, 2015

The veteran actor joins the kooky Sycamore family and reunites with James Earl Jones in the play that's made audiences howl since the 1930s .
---
BWW Reviews: 1200 MILES: Worth the Trek

January 25, 2015

Walk through the doors of 1200 Miles, a year-old establishment in the Flatiron District, and your journey has begun.
---
BWW Reviews: GRAN MORSI for Great Bites, Big Flavors

January 8, 2015

A new Italian restaurant in TriBeCa offers creative fare with head-turning flavor, a relaxed vibe and living walls. And oh! that bread service.
---
BWW Interview: Anthony Heald's Double Duty in THE ELEPHANT MAN

December 31, 2014

A pair of 'juicy parts' opposite Bradley Cooper's John Merrick keep Heald fully engaged.
---
BWW Interview: Michelle Knight's DISENCHANTED Evening

December 23, 2014

Knight stars as Snow White in a raucous riposte to Disney's traditional darlings. They're fairy tale princesses who are 'a little peeved' at their public personas.
---
BWW Review: TRATTORIA BIANCA: Simple Italian Fare with Flair

December 3, 2014

Classic Italian dishes close enough to Madison Square Garden to put you in a New York state of mind.
---
BWW Review: There's a New Marshal in Town

November 26, 2014

The Marshal, a sliver of a restaurant in Hell's Kitchen, conjures up inventive farm-to-table goodness from a roaring wood oven.
---
BWW Interview: THE ILLUSIONISTS' Kevin James Will Fool You Now

November 24, 2014

Seven bewitching illusionists will go way beyond rabbit-out-of-a-hat magic when THE ILLUSIONISTS - WITNESS THE IMPOSSIBLE hits Broadway.
---
BWW Interview: Martha Plimpton's Balancing Act

November 20, 2014

Plimpton, though weaned on Edward Albee plays, "never had that kind of intimate thing with it," but now she's immersed as Julia in A DELICATE BALANCE.
---
Fogo de Chão: What's a Salad Bar Like You Doing in a Meat Paradise Like This?

November 17, 2014

A Brazilian steakhouse in Manhattan? Yes, please.
---
BWW Interview: BILLY & RAY & Sophie von Haselberg

November 12, 2014

Von Haselberg plays the sassy secretary who makes the collaboration of Billy Wilder and Raymond Chandler work.
---
BWW Reviews: URBO - A Haven of Food and Drink in Times Square

November 4, 2014

URBO, a new upscale (but not too fancy) establishment that opened in July at the frenetic intersection of West 42nd Street and Eighth Avenue, offers five food and retail choices and a welcome departure from the ubiquitous fast-food joints of Times Square.
---
BWW Interview: Enid Graham Talks THE CURIOUS INCIDENT OF THE DOG IN THE NIGHT-TIME

November 3, 2014

Graham plays the mother of an autisitc 15-year-old in a riveting play that shines a klieg light on the boy's perceptions of the near-unbearable reality around him.
---
5