Naomi Serviss

Naomi Serviss is an entertainment/spa writer whose roots include covering Broadway. She has written for Newsday, The New York Daily News, The New York Times and numerous magazines and websites.

MOST POPULAR ARTICLES
LAST 30 DAYS
LAST 365 DAYS
BWW Interview: Now Holley Fain Does the Dazzling in THE FERRYMAN
Posted: Jun. 12, 2019


Interview: Erik Lochtefeld Takes His Lumps in KING KONG
Posted: Dec. 27, 2018



Interview: Chuck Cooper Preaches to the CHOIR BOY
Posted: Feb. 5, 2019



BWW Interview: Marylouise Burke Is a Conflicted Mom in TRUE WEST
Posted: Feb. 4, 2019


Interview: Criss Angel Appears on Broadway to Levitate Your Spirits
Posted: Jul. 1, 2019


Interview: Aneesa Folds Masters the Full-Contact Wordplay of FLS
Posted: Sep. 27, 2019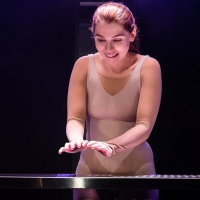 Interview: Milly Thomas's DUST Tackles Suicide With Wit
Posted: Aug. 19, 2019


BWW Interview: Frederick Weller's Extended Family Bonds

March 20, 2014

Weller stars in MOTHERS AND SONS, Terrence McNally's latest drama, about the lives that continued 20 years after a death from AIDS.
---
BWW Interview: ALL THE WAY'S Brandon J. Dirden Takes MLK the Distance

February 27, 2014

In playing the Rev. Martin Luther King Jr., Dirden is merely stepping into the shoes of the most towering figure in the American civil rights movement.
---
BWW Interview: Robert Cuccioli's Ordeal as BIKEMAN

February 18, 2014

Broadway veteran Robert Cuccioli plays the title role in Thomas F. Flynn's wrenching play about his experience as 9/11 observer and survivor.
---
BWW Interview: BEAUTIFUL's Jarrod Spector Is Not a Hypochondriac (He Only Plays One)

January 22, 2014

Spector portrays the renowned songwriter Barry Mann in BEAUTIFUL: The Carole King Musical.
---
BWW Interview: 'Inside' Mullingar With Peter Maloney

January 22, 2014

A veteran actor is touched by 'the tenderness in the writing' of John Patrick Shanley's OUTSIDE MULLINGAR, which has been called an Irish MOONSTRUCK.
---
BWW Interview: Michael McElhatton in a Searing NIGHT ALIVE

January 20, 2014

McElhatton, who portrays Roose Bolton in the HBO series GAME OF THRONES, is the innocent, slightly bewildered Doc in his third role in a Conor McPherson production.
---
BWW Interview: Shuler Hensley, Big Man on Broadway

December 18, 2013

Dual roles in classic plays with an acclaimed cast are keeping Shuler Hensley fully engaged on Broadway.
---
BWW Reviews: Historic Boston, a City for All Seasons

December 17, 2013

Enjoy a frosty drink in an ice bar, come back in the spring for the swan boats.
---
BWW Interview: Michael Stahl-David's Holiday in Pensacola

December 2, 2013

In the Commons of Pensacola, Stahl-David goes south for a Thanksgiving Madoff-style.
---
BWW Reviews: A Little North of New York, a Lot of Adventures Await

November 25, 2013

A quick getaway to Dutchess and Ulster Counties, just two hours north of Manhattan, puts you amid dazzling scenery, quaint villages and everything you've always wanted to know about FDR.
---
BWW Interview: Magician Derek DelGaudio Has Plenty to Hide

November 21, 2013

DelGaudio, one-half of the tandem in the evening of magic NOTHING TO HIDE, draws inspiration from Gene Kelly and Willy Wonka.
---
BWW Reviews: Spa Options and City Attractions for Busy NYC Travelers

November 1, 2013

An assortment of spas that will help you transition from the walking wounded to the newly restored.
---
BWW Interview: Evan Jonigkeit Takes Flight in THE SNOW GEESE

November 1, 2013

Jonigkeit plays the optimist in a family on the edge of a slide down the social ladder on the eve of America's entry into World War I.
---
BWW Interview: A Night With De'Adre Aziza (and Janis Joplin)

October 28, 2013

Backing up a blues-rock icon and impersonating some legendary women of the blues.
---
BWW Interview: Bobby Steggert Talks BIG FISH's Father-Son Themes

October 21, 2013

Bobby Steggert plays a young man whose feet are firmly on the ground while his father spins tales far larger than life.
---
Symphony Space Shines a Light on Musical Legends and Salon Performers

October 3, 2013

Krzysztof Penderecki, acclaimed as Poland's greatest living composers, headlines what promises to be an exciting season at Symphony Space.
---
BWW Interview: No Place Like FUN HOME For Judy Kuhn

October 1, 2013

Judy Kuhn, Tony nominee and award-winning singer and actress, plays the wife of a closeted gay man in a production based on Alison Bechdel's gripping graphic novel about her unconventional family.
---
BWW Interview: Will Van Dyke & Friends to Perform at 54 Below

September 30, 2013

The concert, which will include a number of Broadway luminaries, is a celebration of his new album, 'Writing Kevin Taylor: 2013 Concept Recording.'
---
BWW Reviews: Quebec City Beckons, a Quick Trip to Old Europe

September 20, 2013

The cradle of French civilization in North America, this city of inviting cobblestone streets, memorable restaurants and fascinating history is a mere hour-and-change by air from New York City.
---
BWW Interview: Brian J. Smith Answers the Call of THE GLASS MENAGERIE

September 16, 2013

Smith portrays The Gentleman Caller in a stunning new production, that is a new take on this heart-breaking story of a desperate family weaned on impossible dreams.
---
7