Naomi Serviss

Naomi Serviss is an entertainment/spa writer whose roots include covering Broadway. She has written for Newsday, The New York Daily News, The New York Times and numerous magazines and websites.

MOST POPULAR ARTICLES
LAST 30 DAYS
LAST 365 DAYS
BWW Interview: Now Holley Fain Does the Dazzling in THE FERRYMAN
Posted: Jun. 12, 2019


Interview: Erik Lochtefeld Takes His Lumps in KING KONG
Posted: Dec. 27, 2018



Interview: Chuck Cooper Preaches to the CHOIR BOY
Posted: Feb. 5, 2019



BWW Interview: Marylouise Burke Is a Conflicted Mom in TRUE WEST
Posted: Feb. 4, 2019


Interview: Criss Angel Appears on Broadway to Levitate Your Spirits
Posted: Jul. 1, 2019


Interview: Aneesa Folds Masters the Full-Contact Wordplay of FLS
Posted: Sep. 27, 2019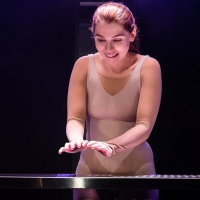 Interview: Milly Thomas's DUST Tackles Suicide With Wit
Posted: Aug. 19, 2019


BWW Interview: Ryan Molloy Is a Natural Jersey Boy

October 3, 2014

Molloy grew up a rock 'n' roll fan in northern England, and only when he began portraying Frankie Valli did he realize how many Four Seasons songs he knew.
---
BWW Interview: Crystal Dickinson Brings It to YOU CAN'T TAKE IT WITH YOU

September 30, 2014

Timing's the thing in this timeless, uproarious comedy by Moss Hart and George S. Kaufman.
---
BWW Interview: Lizbeth Mackay Checks In to The Wayside Motor Inn

September 24, 2014

Five stories intersect as 10 people inhabit a nondescript motel room in a revival of A.R. Gurney's 1977 play.
---
BWW Interview: Trae Harris Fights for Her Life in AND I AND SILENCE

September 2, 2014

The play sheds a powerful light on the unforgiving 1950s in the American South, through the lens of two young women who battle injustice and poverty.
---
BWW Interview: James Wirt Hits the Road to PHOENIX

August 15, 2014

Wirt co-stars with Julia Stiles in a dark and romantic contemporary tale with rat-a-tat dialogue whose themes zigzag around existence, time travel, parenthood and imperfect relationships.
---
BWW Interview: Guy Van Swearingen Squares Off With THE OPPONENT

August 12, 2014

As an aging but formidable gym owner and trainer, Van Swearingen trades barbs and punches with a wannabe contender while they try to hold on to a fragile trust.
---
BWW Interview: Danny Burstein's CABARET Love Story

July 26, 2014

Danny Burstein plays Herr Schultz, a Jewish shopkeeper in denial of Berlin's encroaching reign of terror.
---
BWW Interview: THE WHO & THE WHAT'S Tala Ashe Ignites the Stage

July 2, 2014

Ashe plays the more traditional of two Pakistani-American sisters in Atlanta in the searing new work by the Pulitzer Prize winner Ayad Akhtar.
---
BWW Interview: Hunter Foster Narrates PUMP BOYS AND DINETTES

June 30, 2014

The celebration of a simpler way of life, originally seen on Broadway in 1982, is back for new audiences.
---
BWW Interview: Cherise Boothe of WHEN WE WERE YOUNG AND UNAFRAID

June 18, 2014

A powerful feminist-driven play set in 1972 resonates like a hurricane even today.
---
BWW Interview: Patrick Neil Doyle Battles in MACBETH

June 6, 2014

Doyle is part of an ensemble led by Sir Kenneth Branagh that will stage that Scottish play in the vast drill hall of the Park Avenue Armory.
---
BWW Interview: Theodora Skipitares' Strings-Attached Version of THE CHAIRS

May 27, 2014

Visually arresting puppets make this production of the absurdist classic a memorable one.
---
BWW Reviews: Florida Keys to My Heart

May 14, 2014

The sea rules life in the Keys, a 120-mile-long island chain tethered to mainland Florida by U.S. 1.
---
BWW Interview: Andrea Martin, Times 3, in ACT ONE

May 6, 2014

Martin portrays three characters in is James Lapine's adaptation of the autobiography of the theater legend Moss Hart.
---
BWW INTERVIEW: IN YOUR EYES' Director Brin Hill

May 2, 2014

The high-concept romantic sci-fi take on true love, written by Joss Whedon, recently premiered at the Tribeca Film Festival.
---
BWW Interview: LOITERING WITH INTENT's Keith Kjarval

April 23, 2014

The mischievous story of two aspiring screenwriters' desperate effort to write a script premiered at the Tribeca Film Festival.
---
Rory Culkin Stars in GABRIEL, a Troubled Young Man

April 18, 2014

GABRIEL, which had its premiere at the Tribeca Film Festival April 17, tracks the troubled journey of a young man with an undiagnosed mental illness.
---
BWW Interview: Ray Mercer's Circle of Dance

April 17, 2014

When he's not performing eight shows a week in The LION KING, Mercer is choreographing commissions nationwide.
---
BWW Reviews: California Wine Country

April 2, 2014

A pleasant two-hour drive up the Pacific Coast Highway from Los Angeles brings you to the Santa Ynez Valley, the most bountiful wine country this side of Napa.
---
BWW Interview: Lance Horne Comes Home to Roost at Birdland

March 28, 2014

Horne's March 31 Birdland concert promises something for lovers of many musical genres.
---
6