Lauren Gienow - Page 8

Based out of Stratford, Ontario, Lauren is an Occupational Therapist working in mental health by day and a BWW Contributor by night (or by matinee). Lauren enjoys daring new productions, classic plays, and everything in between. She is particularly fond of Musical Theatre but also has a soft spot for Shakespeare - which she studied at the University level. Lauren holds a BA in Psychology and an MSc. in Occupational Therapy. She is a strong advocate for the benefits the Arts have on Mental Health. As much as she loves to perform (she is an alto sax player, and spent her youth working as a mascot), she takes great pleasure in sitting back and enjoying a good performance. Lauren has been a contributor for Broadwayworld since 2012, mainly covering the works performed at the prestigious Stratford Festival. She is very excited to share a variety of reviews and features with BWW readers. Follow her on Twitter and Instagram at @whatlaurenthinx
MOST POPULAR ARTICLES
LAST 30 DAYS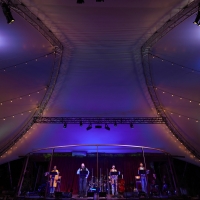 BWW Review: The Stratford Festival's FINALLY THERE'S SUN Cabaret takes Audiences on a Poignant Journey through the past 18 Months
Posted: Sep. 19, 2021


LAST 365 DAYS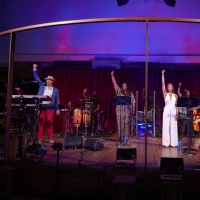 BWW Review: The FREEDOM CABARET at the Stratford Festival is a Stunning and Poignant Celebration of Black Music
Posted: Aug. 24, 2021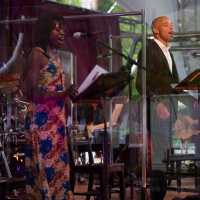 BWW Review: The Stratford Festival Explores WHY WE TELL THE STORY on its Instantly Classic Opening Night
Posted: Jul. 14, 2021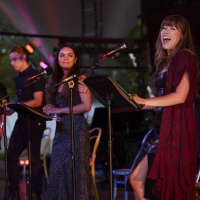 BWW Review: The Stratford Festival's PLAY ON! Cabaret is an Exhilarating Rock Concert with the Bard
Posted: Aug. 1, 2021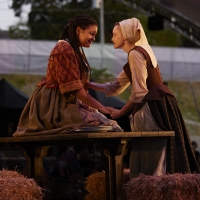 BWW Review: I AM WILLIAM at the Stratford Festival is a Thoughtful, Funny, and Important Re-Telling of History
Posted: Aug. 17, 2021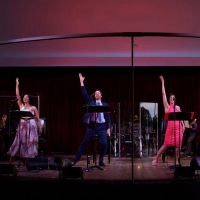 BWW Review: The Stratford Festival's YOU CAN'T STOP THE BEAT Cabaret Celebrates the Joy of Musical Theatre
Posted: Jul. 20, 2021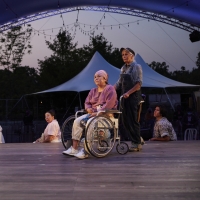 BWW Review: The Stratford Festival's THE REZ SISTERS Is a Poignant Exploration of Humanity and Grief
Posted: Jul. 30, 2021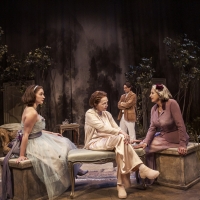 BWW Review: THREE TALL WOMEN at The Stratford Festival Offers a Memorable and Introspective day at the Theatre
Posted: Sep. 2, 2021


BWW Reviews: Stratford Festival's A Midsummer Night's Dream: A Chamber Play

August 2, 2014

From the moment the Stratford Festival production of A MIDSUMMER NIGHT'S DREAM: A CHAMBER PLAY begins, it is clear that it will be an experience unlike any production of 'Dream' you have ever seen before. In fact, it will likely be a new experience to most Stratford Festival audiences.
---
BWW Reviews: Stratford Festival's HAY FEVER

June 26, 2014

Following up on the success of last season's production of Noel Coward's Blithe Spirit, the Stratford Festival is presenting another Noel Coward favourite this year. HAY FEVER recently opened at the Avon Theatre, and judging from the raucous laughter it produced from the opening night audience, it is likely to be a hit among theatre-goers this season.
---
BWW Reviews: 'SOUTH PACIFIC' at the Huron Country Playhouse

June 15, 2014

Rodgers and Hammerstein's classic musical SOUTH PACIFIC (book by Hammerstein and Joshua Logan) is currently playing at Drayton Entertainment's Huron Country Playhouse in Grand Bend, Ontario, under the direction (and choreography) of MICHAEL LICHTEFELD and it is an absolute delight!
---
BWW Reviews: A MIDSUMMER NIGHT'S DREAM at Stratford Festival, is a Wild Ride

June 2, 2014

Director CHRIS ABRAHAM's production of A MIDSUMMER NIGHT'S DREAM at the Festival Theatre is sure to be the most talked-about production at Stratford Festival this season. This, in itself is a huge feat, as this season is full of brave and exciting productions. Not all of the talk will be positive (though much of it will be), but it will all certainly be passionate!
---
BWW Reviews: Stratford Festival's MOTHER COURAGE AND HER CHILDREN is an Important Play to See

June 1, 2014

MOTHER COURAGE AND HER CHILDREN, Directed by MARTHA HENRY, and set in the 30 years war that ravaged 17th century Europe, is as moving, upsetting, and as politically relevant as ever…which is likely exactly what playwright Bertolt Brecht intended when he initially wrote it as a response to the Second World War.
---
BWW REVIEWS: Stratford Festival's Man of La Mancha is the Perfect Escape

May 31, 2014

The theme this season at the Stratford Festival is Madness: Minds Pushed to the Edge and when it comes to choosing a musical to fit this theme, there is quite possibly no better choice than MAN OF LA MANCHA.
---
BWW Reviews: MAKING LOVE IN A CANOE is a Glorious Celebration of Canadian Musical Theatre

January 26, 2014

On a frigidly cold night in the middle of a long Canadian winter, a group of people gathered together in a cozy cafe to experience what is quickly becoming Canada's newest national treasure. MAKING LOVE IN A CANOE (which can also be experienced in album form) is a review of beautiful Canadian music theatre, created and performed by CanCon-loving duo Kyle Golemba and Adam White.
---
BWW Reviews: KAT'S CABARET is Rockin' and Eclectic and Fun...and I want more!

September 13, 2013

In a Canadian town like Stratford, Ontario that is known for formally presenting incredible live talent on a daily basis, it's always fun when some of those talented people involved (as well as their talented friends) come together for a less-formal celebration of all kinds of music (and even some dance). This is what current Stratford Festival performer Katrina Reynolds has put together for KAT'S CABARET; a series of cabarets that have taken place in Stratford this summer. Her more chilled, out, acoustic cabarets have been held at an intimate restaurant with a rustic feel (Montforte on Wellington), and for loud rock and roll themed cabarets, Molly Bloom's Irish Pub has been the venue of choice. The roster of performers is ever-changing and always impressive, allowing for a fun night out that no one should miss!
---
BWW Reviews: THE MERCHANT OF VENICE at Stratford Festival Should Not be Missed!

September 9, 2013

THE MERCHANT OF VENICE-arguably William Shakespeare's most controversial play, is being tackled this season at the Stratford Festival for the first time since 2007. Under the direction of (Artistic Director) ANTONI CIMOLINO, this production does not shy away from the controversial nature of many characters' anti-Semitic views, and in fact, highlights the danger of such views by placing this production in a timeline leading up to the Holocaust. The constant reminder of what is to come provides a dark and almost eerie backdrop to this production, creating a thought-provoking dark 'comedy' for the ages.
---
BWW Reviews: OTHELLO at the Stratford Festival is Tragic Yet Triumphant

August 27, 2013

Director Chris Abraham's production of OTHELLO opened to thunderous applause at Stratford Festival's Avon Theatre. The audience appeared so enthralled by this production that its devastatingly tragic nature seemed to cling to patrons as they exited the theatre. Simultaneously; however, there was a paradoxical sense of excitement and joy about what brilliance had just been witnessed.
---
BWW Reviews: Stratford Festival's World Premiere of Judith Thompson's THE THRILL

August 22, 2013

When one thinks of Stratford Festival, they might think of the classic productions that are often staged to great acclaim; but it is important that audiences are also aware of the bold new productions that are premiering at the festival. THE THRILL by Judith Thompson is one of these plays and it certainly should not be missed.
---
BWW Reviews: Stratford Festival's TAKING SHAKESPEARE is Heartwarming and Thought-Provoking

August 4, 2013

Tuesday night marked the opening of TAKING SHAKESPEARE at Stratford Festival's intimate Studio Theatre. This play, written by Canadian playwright John Murrell, and directed by Diana LeBlanc, tells the story of an unlikely bond that develops between a professor (Martha Henry) and a struggling university student (Luke Humphrey) as they explore Shakespeare's OTHELLO and slowly begin to learn more about one another in the process. This show not only provides a master class in acting, but a master class in OTHELLO as well. It is both poignant and funny and it is sure to leave the audience reflecting on important moments from their own lives (happy or sad) and the people who have left an impact on them over the years.
---
BWW Reviews: FIDDLER ON THE ROOF at Stratford Festival is an Ode 'To Life'

July 24, 2013

Stratford Festival's production of FIDDLER ON THE ROOF leaves very few human emotions un-experienced by its characters and the audience alike. It explores: human values, happiness in everyday life, newfound love, fear of changes-big and small, the agony and frustration that comes from ignorance and discrimination, and the internal conflict of trying to rectify what you believe with what that means for those you love. This musical is about tradition, joy, heartache, change, faith, family, and most of all…LIFE. FIDDLER is a beloved classic, and to say Director/Choreographer, Donna Feore's production does it justice, is an understatement. First class acting, singing, and dancing; beautiful music; clever set design, and…did I say DANCING? This timeless musical is sure to dazzle audiences of all ages.
---
BWW Reviews: MARY STUART is a Royal Success at the Stratford Festival

July 22, 2013

MARY STUART, directed by Stratford Festival Artistic Director, Antoni Cimolino; explores the complex relationship between Queen Elizabeth I of England and her cousin Mary Stuart, the former queen of Scotland-and, and in the eyes of some, a more rightful heir to the English throne. The play was originally written by Friedrich Schiller. This production is based on the adaptation written by Peter Oswald. This production is gripping from start to finish. LUCY PEACOCK and SEANA MCKENNA shine as the feuding cousins. Audiences will not want to miss this fabulous production.
---
BWW Reviews: Stratford Festival's WAITING FOR GODOT is a Must-See

July 15, 2013

Theatre-goers are going to be intrigued and delighted by Stratford Festival's production of WAITING FOR GODOT-directed by Jennifer Tarver, and featured on-stage at the Tom Patterson Theatre until September 26th. Excellent direction by Ms. Tarver, perfect set design by Teresa Przybylski and lighting design by Kimberly Purtell, and a superb cast bring to life Samuel Beckett's famous absurdist play where 'nothing' is said to happen. Something certainly happens inside the Tom Patterson Theatre; however. Something magical happens, and this reviewer encourages you to check it out before the sun sets forever on this glorious and thought-provoking production.
---
BWW Reviews: THE SOUND OF MUSIC at the Huron Country Playhouse Will Be One of Your 'Favourite Things!'

June 11, 2013

The 2013 Season of Drayton Entertainment's Huron Country Playhouse opens in a delightful way with Rodgers and Hammerstein's loveable classic: THE SOUND OF MUSIC! With some of the most beloved songs from the Rodgers and Hammerstein repertoire performed beautifully, and a well-known story told with spunk, freshness, and plenty of heart-it is very likely that THE SOUND OF MUSIC will be one of Grand Bend's "favourite things" this season!
---
BWW Reviews and Interviews: Cynthia Dale (In Concert)

May 27, 2013

As part of Stratford Festival's first annual 'Forum', performer Cynthia Dale offers an engaging concert at Stratford's Studio Theatre. BWW reviews the show and chats with Ms. Dale about how the concert came to be.
---
BWW Interviews: ONE NIGHT STAND's Producers/Directors Elisabeth Sperling and Trish Dalton!

February 6, 2013

BroadwayWorld's Lauren Gienow talks with ONE NIGHT STAND's Elisabeth Sperling and Trish Dalton, the producers and directors of the film, about the universality of the creative process, the simultaneous panic and excitement that go into the making of a 24 hour musical, and why Jesse Tyler Ferguson ('Modern Family') feels the need to 'birth' a musical at least once a year!
---
BWW Reviews: Ross Petty's SNOW WHITE: The Deliciously Dopey Family Musical

December 19, 2012

Currently playing at Toronto's Elgin Theatre until January 5th, is Ross Petty's Holiday Pantomime, 'Snow White: The Deliciously Dopey Musical' Snow White, Red Riding Hood, Pinnochio, and James Bond himself are all here for your entertainment. Music, dancing, audience participation...it all can be found here! There is something for everyone! The perfect family excursion!
---