THE LONGEST MINUTE - A Kicker Of A Time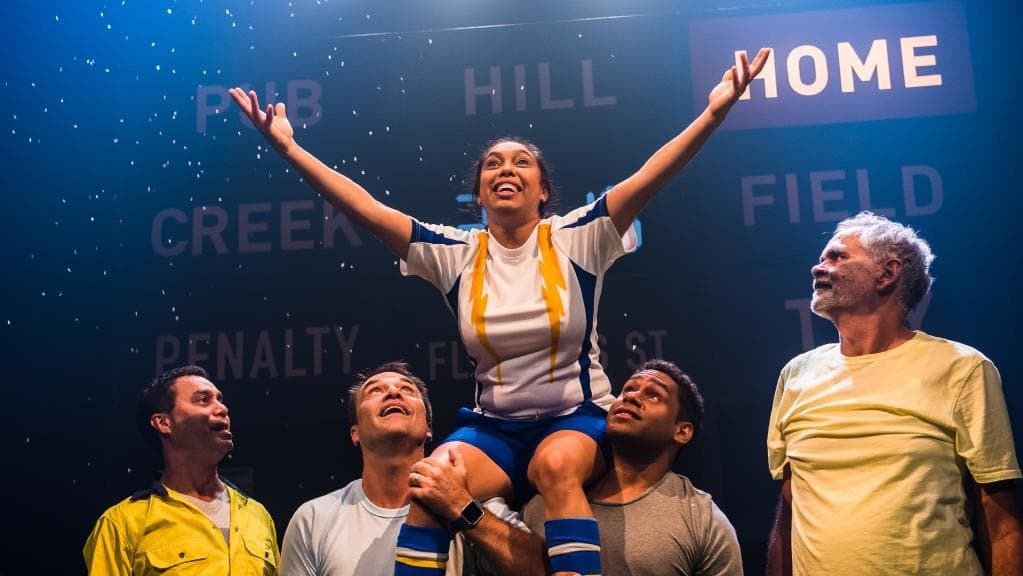 Never in my wildest dreams would I have believed you if you would have told me that on a Friday night I would be sitting in a theatre watching twenty-one years' worth of rugby league games on stage and that I'd be enjoying it. And I loved every bit of it. The show rendered me speechless; my eyes were glued to the action on stage. Eighty-five minutes went by in a minute and I was left wanting more. It made me laugh, it made me cry, it made me reflect on the world around me; on humanity, on my family, on my dreams. Did I mention that it was only eighty-five minutes?
Set on the night of the 2015 NRL Grand Final (and in a number of flashbacks), The Longest Minute tells the story of Jessica Wright (Chenoa Demal) who was born on the night of North Queensland Cowboys' first game in Townsville. As the daughter of Foley Shield legend Frank 'Black Flash' Wright (Mark Sheppard), she's thrown into the world of footy from a young age and soon developed a life-long passion to play and rightly so. She is by far the best in her age group, even better than the players older than her, with her quick skills and flash like speeds. But Jess is a girl in a male-dominated sport and hence, she faces her fair share of derogatory, sexist comments and knockbacks so to speak, just like the luckless Cowboys. However, the most disgusting comments made at her are the ones relating to her skin colour, with one comment, in particular, tearing her family apart and making her have to experience loss at a very young age.
But as always, the play doesn't just follow one story. Frank's story is often in the spotlight and his struggles watching his team getting ripped to shreds week by week, year by year. His image of himself flying down the field as the Black Flash starts to fade and so he pushes his son Laurie to follow in his footsteps, oblivious to how Laurie (Jeremy Ambrum) would rather be learning about his cultural roots than playing football professionally and Jess's labours to get him to notice her talent on the field. When Frank finally notices, he calls Jess's dreams of becoming a rugby league great ridiculous and tells her to go play a womanly sport.
Firstly, the acting is brilliant. Even with the costume change, each actor transitioned so flawlessly to and from each character they play in both their movement and in their voice. Each actor was fantastic in their roles and they all had such impeccable comedic timing, especially David Terry, who had me in the palm of his hand from before the show started when the cast was interacting with the audience. The relationship between Demal and Ambrum's characters was raw, full of love and real, a contract to the relationship between Lafe Charlton (Uncle Gordon) and Sheppard, which was full of tension which the audience was yearning to be resolved. Louise Brehmer (Margaret Wright) was the funniest character and held the heart of the audience throughout the piece.
Secondly, the creative team were the most spectacular storytellers, with designers Simona Cosentini and Simone Tesorieri, alongside award-winning lighting designer Jason Glenwright creating such an impactful atmosphere through simplicity and focus. The set consists of the scoreboard with a set of locations on it, with different aspects of the board illuminated in each scene, establishing the time and space. The hill in front of the scoreboard also works wonders; and lets the characters talk directly at the audience, making the audience feel even more immersed in the piece. A big congratulations is also in order for director Bridget Boyle, for piecing everything together so tightly and for finding the small moments shared between the different couplings of characters and making them big.
I lower my hat to writers Robert Kronk and Nadine McDonald-Dowd for creating such a magnificent concept for a play and for pushing for it to be put on stage and for making me laugh and have fun at a football game.
Show: The Longest Minute
Season: 26th May - 23rd June
Director: Bridget Boyle
Tickets: http://www.queenslandtheatre.com.au/Shows/18-The-Longest-Minute