Photos: WBT Presents 'MESHUGGAH-NUNS'- The Ecumenical Nunsense
Westchester Broadway Theater is Proud To Present Dan Goggin's "MESHUGGAH-NUNS!" The Ecumenical Nunsense from February 12 - MARCH 21, 2009 with Book, Music, Lyrics & Direction by Dan Goggin.
With the 'Nunsense' shows, the creator, Danny Goggin, has lifted the human spirit as he has made millions laugh. Meshuggah-Nuns, is the fifth variation in the popular "Nunsense" series. For the last 26 years, the Little Sisters of Hoboken have entertained audiences in theatres around the globe, making "Nunsense" an international household name.
Meshuggah-Nuns, has The Sisters aboard the ship Golden Delicious on a "Faiths of All Nations" cruise. Due to rough seas, the actors of the onboard musical, Fiddler On The Roof, succumb to sea sickness. Miraculously, the nuns survive the rolling waters unscathed, after Sister Julia put Dramamine in the brownies! The ship's captain, knowing of the Sisters' show-business savvy, urges them to concoct a variety show with Howard, who plays Tevye, the only actor who still has his sea legs. The four singing nuns now become an ecumenical, co-educational quintet. The show has a variety of music, with songs ranging in style from pop to country to gospel blues. Many of the jokes are delivered in the Laugh- In comedy format. There are sing-alongs, and even a puppet named Sister Mary Annette who performs a saucy
Mae West
number. It promises to be a laugh-filled funfest, with a mix of musical madcap, sprinkled with saintly sight gags and ubiquitous jokes. From the rousing opening number, "Anchors Aweigh", to the hysterical, "Say it in Yiddish", and "Matzo Man," to the touching, "A Love Like This", the show will lift your spirits. It is a sweet natured celebration of Catholic and Jewish traditions. Nunsense, the first show in the series of the wacky religious parodies was first produced in Manhattan in1983. The show has become an international phenomenon, receiving four Outer Critics Circle awards including Best Musical. Over the 26 year span, it has seen seven different reincarnations, including Nunsense II, the country style, Nunsense Jamboree; the Christmas show, Nuncrackers, Nunsense A-men, with misters playing the sisters and the Vegas Act, Nunsensations! The Nunsense franchise has become one of the most prolific musical revues in community, college, stock and professional companies across the country and around the world.
Photos of Meshuggah-Nuns! at WBT by John Vecchiolla

The Full company of Meshuggah-Nuns!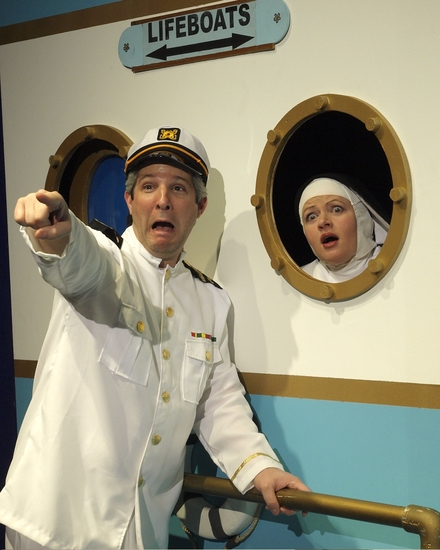 Ron Rogell (as The Captain) and Jeanne Tinker (as Sister Amnesia)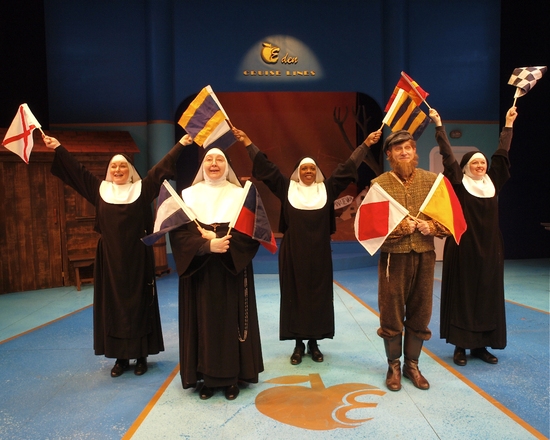 The cast performs "Anchors Away" (L to R: Deborah Del Mastro, 
Bonnie Lee, Bambi Jones, David Edwards and Jeanne Tinker)

Bonnie Lee (As The Mother Superior) and David Edwards (as Howard)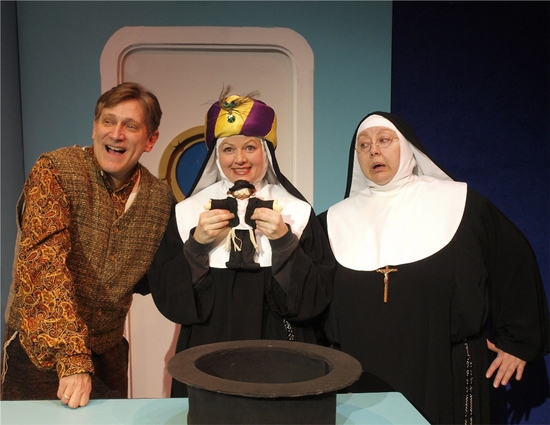 David Edwards (as Howard) Jeanne Tinker (as Sister Amnesia) and Bonnie Lee (as The Mother Superior) in a magic show!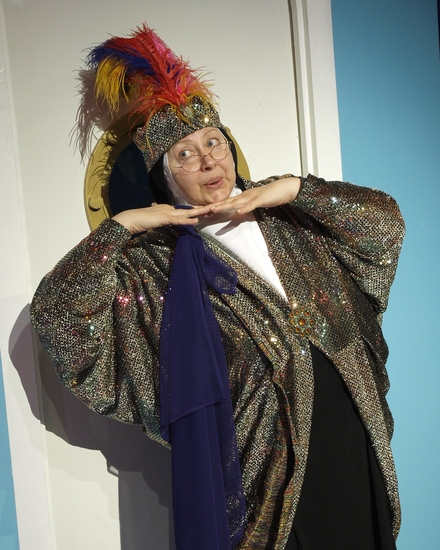 Bonnie Lee (The Mother Superior) vamping as Sophie Tucker!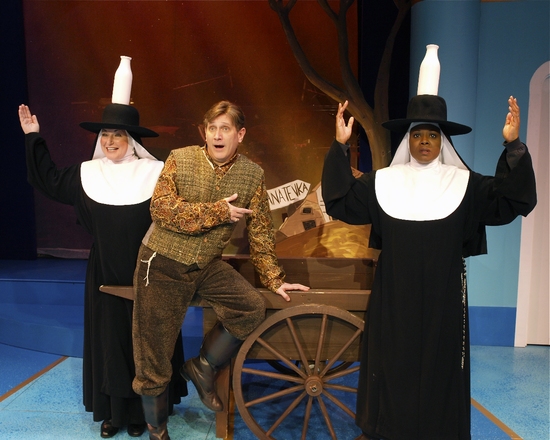 Deborah Del Mastro (Sister Robert Anne), David Edwards (as Howard)
 & Bambi Jones (Sister Hubert) in Meshuggah-Nuns!