Tickets on Sale Now for SISTAS ON FIRE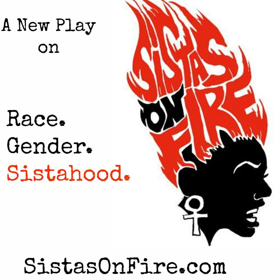 The personal becomes the political when four passionately-opinionated African American women speak their minds on the aftermath of Hurricane Katrina, Black Lives Matter, missing women and girls, racial stratification on Long Island, sexual exploitation, black-on-black crime, and male/female relationships in a soul-stirring mix of song, dance, spoken word poetry, and prose. The interrelated dramatic monologues range from tragedy to comedy in a musical revue that examines pressing social issues from an African-American female perspective. Sistas on Fire! uses theatre to provoke thought, encourage social activism, and build bridges that cross race, class, gender and culture. In short, it's For Colored Girls on steroids.
Sistas on Fire! was written by Marcia McNair and Anissa D. Moore, two professors at Nassau Community College. Moore is the first African American woman to be elected to the Long Beach City Council. A former assistant editor at Essence Magazine, McNair is also the producer of the play. Director AhDream Smith is an actress known for the films Nomad: The Legendary Fighter and Emotional Intelligence. Music contributions provided by Nat "Ne' Richa" Richmond, the founder of LiteShado Productions, Canitra Billups, Tiffany Thompson, Linda Browne, Katherine George, Desi Waters and AhDream Smith.

The Sistas on Fire cast and production includes:
Cast Members
Katherine George
Linda Browne
Desi Waters
Canitra Billups
Tiffany Renee Thompson
Chorus Ensemble Members
Monique Siaw
Yvette Bedgood
Vickie Carson Clemons
Ashley Alexandra
Jennifer Mosby
Joya Richmond
Ashley Taylor Greaves
Production Members
Oleander Furman, Stage Manager
Toni Nicole, Sound Tech
About the Playwrights
Marcia L. McNair was an assistant editor at Essence Magazine and is currently an Associate Professor of English, Journalism, and Women's Studies at Nassau Community College. She is the former coordinator of the NCC African American Read-In and a current member of the Black History Month Committee and the Secretary for the Black Women's Initiative (a student retention program). In addition, she was an adjunct professor of English at Molloy College, where she taught African American Literature, for over five years. She served on the Uniondale Community Council Executive Board for two years. She has lived in both Harlem and Queens, but has resided on Long Island for over twenty years.
In 2006 and 2007, she received a grant from the Long Island Council for the Arts for her collaborative performance, Diary of a Mad Black Feminist, now known as the award-winning Sistas on Fire! Her poem Long Island Just Isn't Long Enough is featured in Seasoned Women (QuadraSoul, 2008), an anthology of women's poetry and performed by Composer Leonard Lehrman at the opening of Hofstra University's Suburban Conference on Diversity in 2009. An excerpt from her first novel, E-Males (Aya Press, 2007), was performed at the Schomburg Center for Research in Black Culture in 2009.
She is also the Executive Director and Founder of Long Island Girl Talk, a program for teen girls interested in media, and a co-host on Café Long Island, a public access television series. McNair's essay, It Takes a Lioness to Raise Young Lions, appears in Issues in Feminism/ An Introduction to Women's Studies/Fifth Edition (Mayfield, 2001). Her creative nonfiction story, Before We Were Gangstas, won honorable mention in the National New Millennium Writers Creative Nonfiction contest in 2003 and appears in the anthology, Memoirs in the Light of Day (Lamberson Corona Press, 2008).
Anissa D. Moore, a Brooklyn native, attended Hunter College, City University of New York where she received her Master of Arts degree in Communications/ Media Studies. Anissa joined the full-time Communications faculty at Nassau Community College, State University of New York in 1996. She was the first African American to secure a tenured position in the Communications Department. In July 2006, she was elected Chairperson of the Communications Department. She is the first African-American woman to serve as the Academic Chairperson. In January 2011, Prof. Moore was appointed as the Dean of Social & Behavioral Sciences at Nassau Community College. She is the first African American woman to serve in this administrative position. Anissa is currently a Full Professor at Nassau.
Anissa is a playwright, poet and choral director. Ms. Moore's creative works include the collaboration: Sistas on Fire! a drama newsical regarding the African-American woman experience. Furthermore, she served as a Contributor for the Judson Press book: Women at the Well: Meditations for Quenching Our Thirst Vol. 2. She recently completed Mad Girl: Reflections on Race, Class and Gender, a collection of personal essays which will be released in Fall 2017. Anissa is a recent recipient of the John L. Kearse Trailblazer Award granted by the Economic Opportunity Commission of Nassau County for her outstanding leadership in Nassau County. On November 3, 2015, Anissa D. Moore became the first African-American woman elected to the Long Beach City Council. Anissa Moore embraces the motto of her shero, Shirley Chisolm: "I am and always will be a catalyst for change."
Performance Dates & Time (60 Minutes):
Wednesday, July 19th at 8:30 PM EST
Friday, July 21st at 6:30 PM EST
Sunday, July 23rd at 5 PM EST
Venue: Main Stage, 312 W. 36th Street, New York, NY
You can purchase tickets HERE
More information: www.SistasonFire.com
Facebook | Instagram | Twitter | YouTube
Related Articles
More Hot Stories For You
Confirmed: Billy Porter Will Play the Fairy Godmother in Upcoming CINDERELLA Film
BroadwayWorld recently reported on a rumor that Billy Porter would be joining the cast of the upcoming Cinderella film from Sony, starring Camila Cabe... (read more)

Breaking: MRS. DOUBTFIRE Will Open on Broadway in Spring 2020 at the Stephen Sondheim Theatre
This just in! Mrs. Doubtfire, the new musical based on the film of the same name, will open on Broadway this coming spring at the Stephen Sondheim The... (read more)

HAMILTON's Miguel Cervantes and Family Mourn Passing of Three Year-Old Daughter, Adelaide
BroadwayWorld is saddened to report that Miguel Cervantes, who plays Alexander Hamilton in Chicago's Hamilton, and his wife, Kelly,  have confirmed th... (read more)

Ben Platt Reveals Further Details About Upcoming MERRILY WE ROLL ALONG Film
Further details have been revealed for the upcoming Merrily We Roll Along film, starring Ben Platt and Beanie Feldstein.... (read more)

Photo Flash: First Look at Jonathan Groff & More in LITTLE SHOP OF HORRORS
LITTLE SHOP OF HORRORS, starring Jonathan Groff, Tammy Blanchard and Christian Borle, opens October 17 at The Westside Theatre (407 W. 43rd St, NYC), ... (read more)

Photo Flash: First Look at Renee Fleming, Dove Cameron, Brian Stokes Mitchell, and More in THE LIGHT IN THE PIAZZA
L.A. Opera presents The Light in the Piazza! Get a first look at the production in the photos!... (read more)