The Adelphi Orchestra Kicks Off Its 66th Season With SLAVIC MASTERS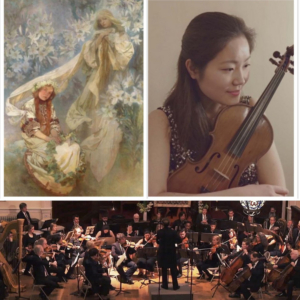 The Adelphi Orchestra kicks off its 66th season of "Music for All", with Slavic Masters on Friday, November 1, 2019, at 7:30 pm at River Dell Regional Middle School Auditorium In NJ and Sat November 2, 2019, at 7:00 PM at
Good Shepherd Faith Presbyterian Church NYC. Under the baton of Music Director & Conductor Richard Owen, the concert features violin virtuoso Hikaru Yonezaki, (First Prize winner of the 2019 Adelphi Orchestra Competition) in the Prokofiev's Concerto for Violin no 2 in G minor. The program opens with Borodin's In the Steppes of Central Asia and concludes with Dvorak's masterpiece Symphony no 7 in D minor.
This program has been made possible in part by a grant administered by the Bergen County Department of Parks, Division of Historical and Cultural Affairs from funds granted by the New Jersey State Council on the Arts.
Highlights of its ambitious 66th season, include collaborations with exceptional young soloists: Hikaru Yonezaki, Violin (First Prizewinner of the Adelphi Orchestra Competition), Nathan Meltzer Violin, (Recipient of the "Ames, Totenberg" Antonio Stradivari, Windsor Festival and Adelphi Orchestra (2016) competitions), Leland Ko Cello, Umi Garrett Piano, in Beethoven Triple Concerto. Our concluding concert will feature symphonic works of Shostakovich and Debussy. Collaborations will include JulieDance's Nutcracker Ballet and Romantic Revolutionaries with ArsMusica Chorale.
The Adelphi Chamber Ensemble will be performing chamber music concerts throughout New Jersey and New York. Visit Events for more information on our 2019-20 season.
Related Articles
More Hot Stories For You
VIDEO: On This Day, July 9- Lin-Manuel Miranda, Phillipa Soo, Ariana DeBose, and Leslie Odom, Jr. Say Goodbye to HAMILTON
On this day in 2016, original Hamilton cast members, Leslie Odom Jr., Phillipa Soo, and Ariana DeBose along with the musical's star and composer, Lin-...

Broadway League Approves 15-Second COVID-19 Test For Actors and Crew; League President 'Cautiously Optimistic' About Early 2021 Return
Broadway League President Charlotte St. Martin told the New York Post that for the first time, she feels 'cautiously optimistic' about Broadway being ...

BROADWAY AT HOME on PBS Continues With GREAT PERFORMANCES: SHE LOVES ME & More
Beginning July 24, GREAT PERFORMANCES will continue to keep the performing arts alive with Broadway at Home, broadcasting a theatrical favorite every ...

Actors' Equity Files Grievance Against Walt Disney World for Retaliating Over Request for Testing at Disney World
With days until Walt Disney World's scheduled reopening, Actors' Equity Association has filed a grievance against Disney for retaliating against membe...

QUIZ: Spend a Day at North Shore High and We'll Tell You Which Mean Girls' Plastic You're Most Like!
Are you a Cady, Regina, Karen, or Gretchen? Take our quiz to find out which of the North Shore plastics are you!...

Will Broadway Be Back in Early 2021? Charlotte St. Martin is 'Cautiously Optimistic'
As the Broadway League continues to work with city and state officials as well as leaders in science, technology, and medicine to formulate the best p...