TKTS Will Now Display Ticket Prices at Discount Booths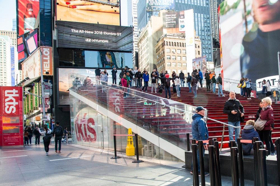 TDF, the not-for-profit service organization for the performing arts, has just announced that it is piloting a new way of posting available shows for sale at its Times Square and South Street Seaport TKTS by TDF Discount Booths. Beginning today, Monday, October 1, the boards listing the Broadway and Off Broadway shows will display the discounted ticket price rather than the percentage of the discount. TDF is introducing this change to help its patrons have all the information they need as they choose their productions. The price displayed on the board and on the TKTS app will be the discounted price (50-20% off full price) with all service charges included, so the patron can see exactly what the tickets cost. The prices will also be displayed on the TKTS app, and at www.tdf.org/tktslive.
"As ticket pricing has become more complex over the past few years, just having the percentage discount listed was not providing sufficient information to the many tourists and New Yorkers who use the booths," saidVictoria Bailey, TDF's executive director. "By having the prices displayed, individuals and families can not only decide on which shows they'd like to see, but which best fits their budget."
TDF has been testing this new way of displaying show information at TKTS Lincoln Center since August 1, and it has thus far proven to be helpful to TDF patrons, so this manner of displaying information will now be expanded to all 3 booths. Some shows provide seats at different price levels, so for those productions, the boards will display the range of ticket prices.
TDF operates three TKTS by TDF Discount Booths: TKTS Times Square (Broadway and 47th Street); TKTS Lincoln Center (in the David Rubenstein Atrium at 61 West 62nd Street) TKTS Seaport (190 Front Street, corner of Front and John Streets). Shows available for sale can be seen in real time through the TKTS app or online at: www.tdf.org/tktslive. For hours and TKTS tips, go to: www.tdf.org/tkts.
Now in its 50th year of service, TDF is a not-for-profit service organization for the performing arts, dedicated to bringing the power of the performing arts to everyone. TDF's mission is to sustain live theatre and dance by engaging and cultivating a broad and diverse audience and eliminating barriers to attendance.
TDF fulfills its mission with a variety of programs that expand access, cultivate communities, and support the makers of the performing arts. Best known for its theatregoing programs (including the TKTS Discount Booths and TDF Membership Program), net revenue generated by TKTS helps support TDF's accessibility (including open captioned, audio described and Autism Friendly performances), school (serving over 10,000 New York City students annually), community engagement and information programs - as well as the TDF Costume Collection Rental and Research Programs - and have introduced millions of people to the theatre and helped make the unique experience of theatre available to everyone.
TDF envisions a world where the transformative experience of attending live theatre and dance is essential, relevant, accessible and inspirational. To learn more about TDF, go to: www.tdf.org. Follow TDF on FB, Instagram and Twitter @TDFNYC.
TKTS opened for business in Duffy Square on June 25, 1973, and quickly became a mecca for theatregoers from all over the world. Making theatre affordable with same-day discount tickets and providing an urban fellowship of theatre lovers on Duffy Square (47th Street and Broadway) has helped turn TKTS into one of New York City's most photographed landmarks. The current TKTS Booth, housed under red glass steps, opened in 2008 and has garnered over a dozen international design awards. The glowing red staircase above TKTS became the first public space in Times Square, and it quickly became a popular respite for locals and visitors 365 days a year. With satellite booths at the South Street Seaport and Lincoln Center, TKTS has distributed over 66 million tickets to Broadway and Off Broadway productions since it first opened for business on June 25, 1973. These tickets represent over $2.5 billion in revenue from these same-day sales to thousands of stage productions. The small per-ticket service charge ($5.00 per ticket) is used to operate the booths and to help fund TDF's myriad of education, access, and service programs. The free TKTS app for iOS and Android devices shows in real time what's available for sale at the TKTS Booths. Follow TKTS on FB: @OfficialTKTS; Instagram and Twitter: @TKTS.
Photo Credit: Jennifer Broski