#TBT: SPAMALOT Finds Its Grail on Broadway!
Fourteen years ago today, Monty Python officially came to Broadway with the opening of SPAMALOT at the Shubert Theatre! In honor of the occasion, we're looking on the bright side of life and throwing it back to the show's 2005 Tony Awards performance featuring Sara Ramirez in the role that won her a Tony! Check out the footage below to find your grail!
Monty Python's SPAMALOT opened on Broadway on March 17, 2005 to rave reviews and went to win the 2005 Tony Award® for Best Musical, the 2005 Drama Desk Award for Outstanding Musical, and the 2005 Outer Critics Circle Award for Outstanding Musical. By the time Monty Python's SPAMALOT closed on Broadway, it had grossed over $175,000,000 and had been seen by more than 2 million people. The show played its last pair of coconuts on Sunday, January 11, 2009 after 1,574 performances and 35 previews.
Cathleen McGuigan in Newsweek called Monty Python's SPAMALOT "hilarious," and went on to say "SPAMALOT'S infectious, irrepressible energy is contagious." In the New Yorker, John Lahr proclaimed the show "An exhilarating, no-holds-barred smash hit!"
Monty Python's SPAMALOT features a book and lyrics by Eric Idle, music by John Du Prez and Eric Idle, direction by Mike Nichols, choreography by Casey Nicholaw and is based on the screenplay of Monty Python and the Holy Grail by Monty Python creators Graham Chapman, John Cleese, Terry Gilliam, Eric Idle, Terry Jones and Michael Palin, with an entirely new score with two songs from the 1975 film and the Python classic "Always Look On The Bright Side of Life" from 1979's The Life of Brian.
In addition, to the Tony Award® for Best Musical, Monty Python's SPAMALOT received the Tony Award® for Best Direction of a Musical (Mike Nichols) and Best Featured Actress in a Musical (Sara Ramirez).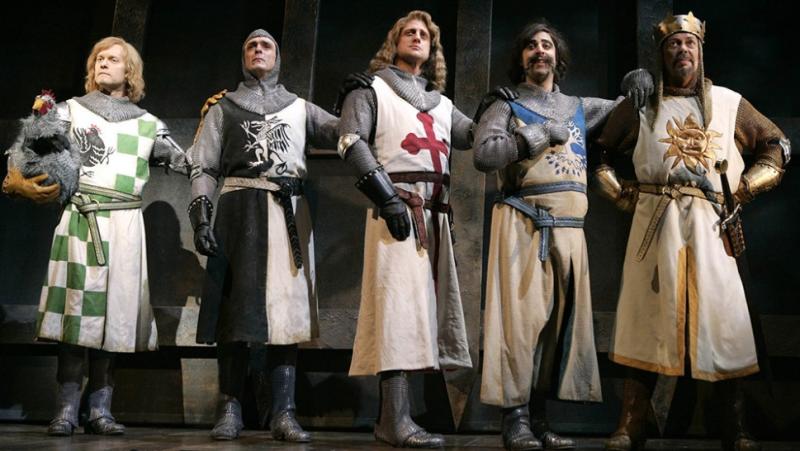 In addition to the myriad legitimate theatrical awards with which Monty Python's SPAMALOT has been honored, it also holds The Guinness World Record for "World's Largest Coconut Orchestra" which was set on April 23, 2007 when 5,567 fans gathered in Trafalgar Square and accompanied original Python members Terry Jones and Terry Gilliam to "Always Look On The Bright Side of Life."
Telling the legendary tale of King Arthur and The Knights of the Round Table, and their quest for the Holy Grail, Monty Python's SPAMALOT features a chorus line of dancing divas and knights, flatulent Frenchmen, a killer rabbit and one legless knight.
Related Articles