Click Here to Visit the College Center

Blogs are the opinions of the authors and do not necessarily reflect the opinions of BroadwayWorld. BroadwayWorld believes in providing a platform for open and constructive conversation.

Student Blog: Please Stop Dancing Until You Drop
Taking breaks helps us progress as artists and can do more good than bad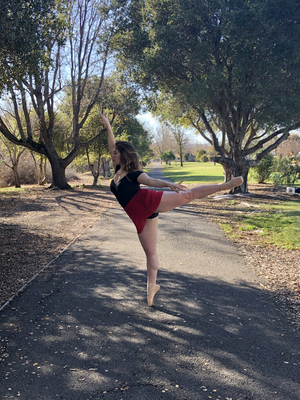 "Miss one dance class you will notice, miss two classes your teacher will notice, and miss three classes the audience will notice."
This was a phrase that was repeatedly drilled into my mind growing up as a ballet dancer. Missing class or taking a break was severely frowned upon and when I say taking breaks was severely frowned upon I don't mean taking breaks from dancing during rehearsal to get water or such. I mean taking breaks from dancing for two or sometimes three weeks at a time.
The idea of packing every moment of your spring, summer, and winter breaks with workshops and intensives is often promoted to young artists in an effort to encourage them to be the best and to be constantly bettering their artistry and technique, but what we don't seem to realize is how this in reality romanticizes overworking yourself and ultimately causes burnout. In other words if you aren't dancing every minute you possibly can, you aren't doing enough to stay in shape and be the best you can be.
Throughout the formative years of my dance training my summers were filled with many dance classes through my studio and in addition to our own required five week studio intensive we were also encouraged to dance at other places. When we were supposed to be on a break there were always 'stay-in-shape' classes offered that were, I guess you could say, an unspoken requirement, so it wasn't actually a break. It wasn't until I attended UC Irvine as a dance performance major that I not only had real breaks, but taking breaks was encouraged.
Now don't get me wrong, I absolutely think attending dance programs during breaks are a phenomenal way to grow yourself as a dancer and as an artist especially outside of your normal class routine, but just know that allowing yourself a break is ok too. As dancers we put our bodies through endless hard work and feel guilty for resting our bodies even at the slightest. We glorify working ourselves until we burnout and at times find ourselves flexing the fact that we haven't taken a break in months, forget to eat, sleep the least, or that we have the craziest schedule out of all of our peers, sometimes myself included.
But why is this facade of dancing until you drop so idealized in the dance community? The idea that if you aren't absolutely dead inside and not caring for yourself at all you aren't doing enough? We are essentially romanticizing a level of burnout that makes you contemplate if you should still be pursuing dance and no one should ever get to that point because that's when the flame has gone out and your passion for dancing has died.
Everyone needs a break sometime. Your body and mind need to heal after a heavy season, after a hard quarter in college, or after you've finished a competition or a show. And I'm not talking about a one day break or even a weekend, I'm talking about taking more than a week or 2 away from dance and the studio for yourself. Taking time to reset and rest won't make you lose every ounce of technique you possess. Will you feel the break after your first class back? Of course, but you will be right back where you were in a couple of weeks with the dedication and drive every dancer has.
We need to encourage dancers to take breaks and create a culture where self care is praised as well as taking well deserved breaks when needed. I promise you will be a lot happier, healthier and a stronger, more mindful dancer when you listen to your body and give it what it needs.