Stars Celebrate SLEEPING BEAUTY DREAMS At The Guggenheim Museum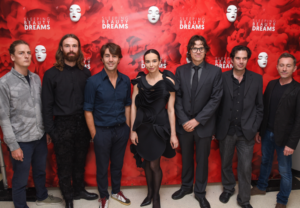 Mick Jagger and Melanie Hamrick, Amy Fine Collins, Guy Trebey, and Angela Goding were among those celebrating Sleeping Beauty Dreams last Thursday.

The evening began with New York influencers gathering at The Guggenheim Museum to meet the artists creating Sleeping Beauty Dreams; a new production combining live theater, art, and technology. Prima Ballerina Diana Vishneva (principal dancer), Tobias Gremmler (digital artist), Thijs de Vlieger (composer) Edward Clug (choreographer), Bart Hess (costume design) and Laurent Fort (light artist). Hosts for the evening included Desiree and Oliver Berggruen, David Hallberg, Theresa Khawly, Lesley Stahl, Allyson Tang and Thomas Widemann, and Dustin Yellin.

Sleeping Beauty Dreams is a retelling of The Brothers Grimm fairytale, exploring the untold story of Princess Aurora's 100 years of dreams. Diana opened the evening announcing that the role of her Prince would be danced by Marcelo Gomes. This will be their first time reunited on stage since leaving American Ballet Theatre. Tobias Gremmler explained the creation of digital avatars that will dance alongside the Prince and Princess, and how they'll react to the dancers movements in real time. Costume designer Bart Hess said "My work is known for using materials that are not usually considered for fashion like silicon, latex, plastic, foil, and metals. Some of the costumes and installations I've designed in the past, employ completely not wearable materials like shaving foam or iron or like the 'slime dress' for Lady Gaga."

Filmmaker Andrei Severny premiered two films about the artists; Bart Hess: Colliding Opposites and Tobias Gremmler: Digital Demons and showed his award winning film, Gravitation: Variation in Time and Space, featuring Diana Vishneva.

An afterparty took place at the Fifth Avenue duplex of Susan Gutfreund. Guests included Yanna Avis, Delaney Buffet, Sharon Bush, Amy Fine Collins, Angela Goding, Judith Hoffman, Sleeping Beauty Dreams creative producer Rem Khass, Kristina Allegra Kingston, Margo Morton Langenberg, Guy Trebay, Adrienne and Gianluigi Vittadini, and Victoria Wyman.

Sleeping Beauty Dreams will premiere in Miami at The Adrienne Arch Center on December 7th and 8th and then comes to New York's Beacon Theater December 14th and 15th. Tickets can now be purchased at www.ticketmaster.com.