Songs From FREEDOM RIDERS: THE CIVIL RIGHTS MUSICAL Released For Streaming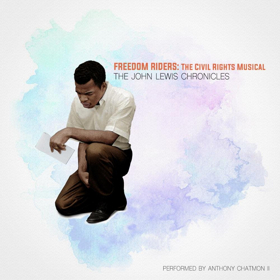 On Sunday three songs from FREEDOM RIDERS: The Civil Rights Musical were released in a compilation album that the show creators, Richard Allen and Taran Gray, named 'The John Lewis Chronicles'. The three choices from the musical are all songs that the character John Lewis sings in the show. The recordings are sung by Anthony Chatmon II who recently played John Lewis in the 2017 New York Musical Festival production of FREEDOM RIDERS: The Civil Rights Musical.
"We've had a lot of people asking when the soundtrack for our show will be available," says show creator, Richard Allen (book, music/lyrics), "while we can't offer a cast recording yet, we wanted to at least give our fans something special for helping us to continue to build our show. The songs of John Lewis was a perfect choice. His songs are messages of struggle, perseverance, and hope for the future."
'The John Lewis Chronicles' is available to stream now exclusively on Spotify. The track list includes: "You Are The Wind (feat. Meagan Flint)", "Upside", and "Put Here For".
FREEDOM RIDERS: The Civil Rights Musical won the BETA AWARD in 2016 from the New York Musical Festival and the following year won the award for OUTSTANDING MUSIC and the Social Relevance and Impact Award from the New York Musical Festival in 2017.
Richard Allen is a film/tv writer/director and producer. He has worked in the film and television industry for over ten years. Mr. Allen is currently working on a new tv show, K-POP, and a new feature film based on the life of Frederick Douglass. He has worked with Universal, Warner Brothers, and Disney/Maker Studios as a SPARK Fellow.
Taran Gray is a Songwriter/Music Producer from San Diego. The son of two long-time Lambs Players Theater professionals, Taran is honored to give back a piece of what the theater community instilled in him. As co-writer of FREEDOM RIDERS: The Civil Rights Musical and BAYARD, the privilege to create a show that is not only entertaining but also socially necessary is a wonderful responsibility. Taran Gray is currently producing and working on his debut solo album.