Click Here for More Articles on She Believed She Could
She Believed She Could: Lynn Ahrens Succeeds One Step At A Time
There's a fairly good chance that Lynn Ahrens wrote one of your favorite songs. Over the past few decades, she's written songs for beloved titles such as Schoolhouse Rock, Anastasia, Once on This Island, Seussical, and Ragtime. Alongside longtime collaborator Stephen Flaherty, she's been part of pretty much every theatre lover's life.
Ahrens's lyrics are a bridge between modern musical theatre and a more classic style that honors the traditions of Rodgers and Hammerstein and Sondheim. Her training at the famous BMI Lehman Engel Musical Theatre Workshop - where she and Flaherty met and began collaborating - as well as early mentorship by the likes of Sondheim, Harnick and others - shines through in her craft.
"I love the precision of words, I love perfect rhymes and witty turns of phrase. I love trying not to repeat the same rhyme once in a whole show... it's pleasing to the ear, you can say what you're trying to say much more clearly." Ahrens describes the style of lyrical craft that she espouses with incredible attention to detail and precision as a means of conveying the emotion and truth of a song. But, she observes, newer writers are starting to move away from this particular style of songwriting.
"Pop writers have entered the scene, and they write the way they write. Their voices are very important! We're in a transitional stage right now, I think, and eventually, although the finesse of the [musical theatre] craft might be diminished, that might be fine... [they're doing] some big, brash, bold, exciting new things." Even so, she cites David Yazbek's score of The Band's Visit as a favorite of last season for her, for combining perfectly-finessed structure with a very specific, unique voice. The influx of new voices into musical theatre has certainly opened up more avenues and styles of songwriting for theatre, but nevertheless, Ahrens and Flaherty continue as beacons of a contemporary, classic style that has given the theatre some of its most beloved works.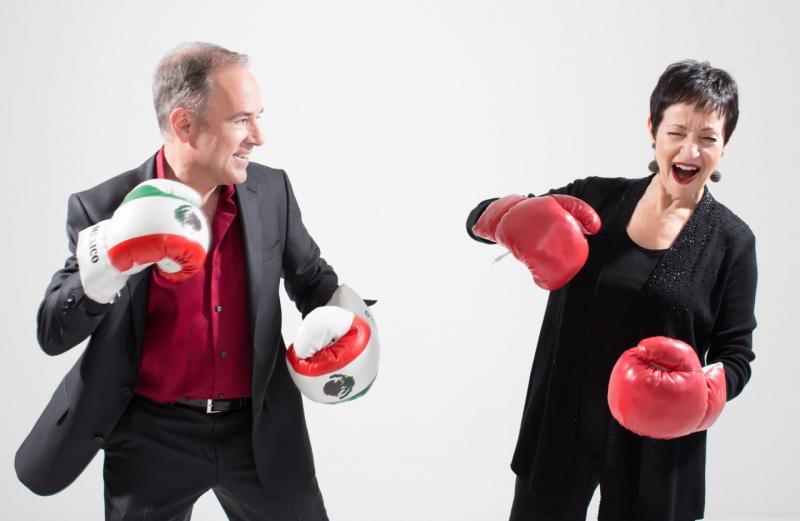 2017 was a very special year for Ahrens, as two of those beloved works both hit Broadway in the same year. Anastasia, the adaptation of the much-loved 1997 animated film, hit Broadway in March 2017, while the immersive (and eventually Tony-winning) revival of Once on This Island began performances that November. Ahrens and Flaherty also made history that same month as the first writers to have two shows perform in the same Macy's Thanksgiving Day Parade. Though very different in style and subject matter, both shows have a fairytale quality to them as they follow strong, earnest heroines on their quests for identity and love.
"This year was such a surprise, such a gift, and winning the [best revival] Tony for Once on This Island was the cherry on top," she says. "To see the reaction of those audiences, the whole journey has been extraordinary."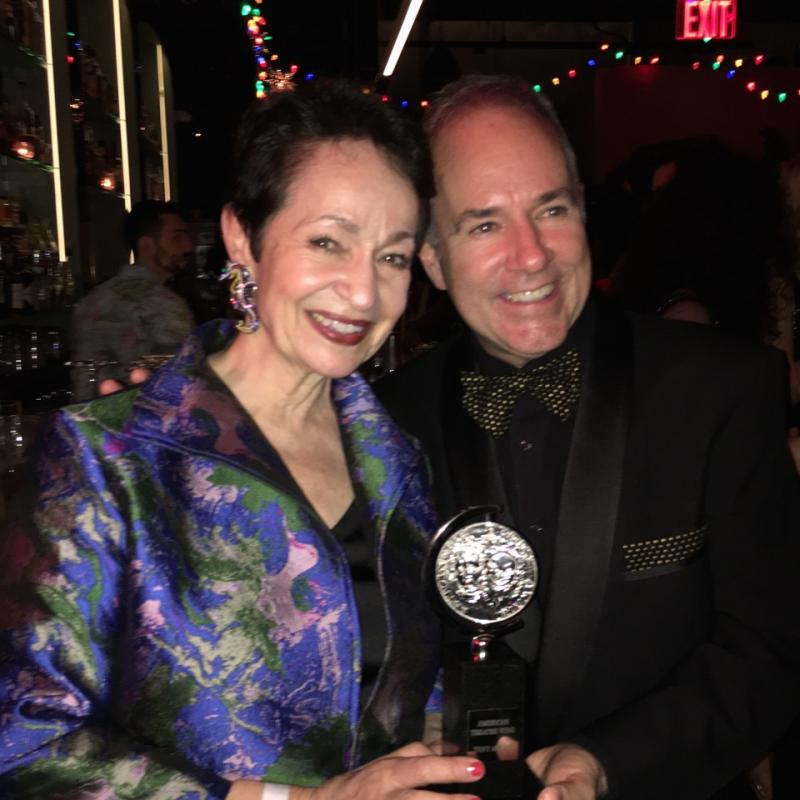 Referencing a question from earlier in our interview, she adds, "This was probably the year where I really thought, 'oh, this is a pretty great career!' I stopped for a minute to take it in instead of just moving forward."
While Ragtime and Once on This Island may have had the lion's share of critical acclaim, the work of Ahrens's that holds an exceptionally special place in audience's hearts is Anastasia. The 1997 animated musical is a classic for multiple generations (this writer included!), and according to Ahrens, she and Flaherty knew from day one that it would make a great stage show. The only problem? The infrastructure wasn't in place yet to make it happen.
"We had called [the people at] Twentieth Century Fox and said, 'Can we do this as a stage musical?' and they didn't have a department or a handle on doing that at that point." Years down the line, Stage Entertainment (who had previously partnered with Ahrens and Flaherty on the musical adaptation of Rocky) expressed an interest in adapting Anastasia and was able to secure the rights from Fox.
While writing the lyrics for the stage version of Anastasia, Ahrens made the choice to not rewatch the original animated film.
"I just felt I didn't want to watch until much later, because I knew it would color the way I approached the characters... I wanted to have a fresh line. We didn't want to slavishly repeat the animation on stage; we wanted to make it more mature and more moving and let some of the other characters sing. It's a reimagined story - the same basic premise, but a fresh emotional take. "
The process of revisiting a previous work for a New Medium (a process Ahrens describes as "a lucky break") was a new horizon for the duo - which Ahrens points out is actually something they strive for.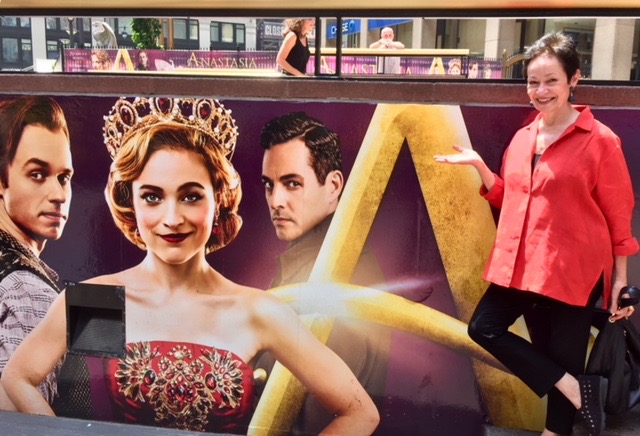 "We try to tell stories from different points of view and different narrative techniques. We like to do things we haven't done before. Every story we've done is set in a different world, a different time frame - one show is very different from the next." Case in point: Ahrens and Flaherty's next show, Little Dancer, is their first wholly original story with no source material other than a famous sculpture that inspired the concept. The show will begin previews next February at Seattle's Fifth Avenue Theater, directed and choreographed by Susan Stroman. Ahrens also shared a bit of news with me: by the time the show opens, it may have a new title!
Although Ahrens's career has turned out to be quite high-profile and successful, it didn't start out quite so glamorous. Her first job in New York was as an assistant in an advertising agency's copy department.
"I would bring my guitar in to work and I would sing and play on my lunch hours. One day, one of the creative directors stopped by, and I thought he was going to tell me to shut up and put it away!" she laughs. "But he instead invited me to try writing a song for Schoolhouse Rock. It was being in the right place at the right time. And they started using my songs regularly and promoted me to copywriter."
After leaving the agency, Ahrens worked freelance as a songwriter, writing for children's television and commercial jingles (among them the famous "What Would You Do For a Klondike Bar") until she migrated over to the theatre industry through the BMI Workshop and fell in love with "writing for character and story."
Telling stories that audiences can connect to and take something away from is at the core of the advice Ahrens gives to young writers, but so is a practical approach.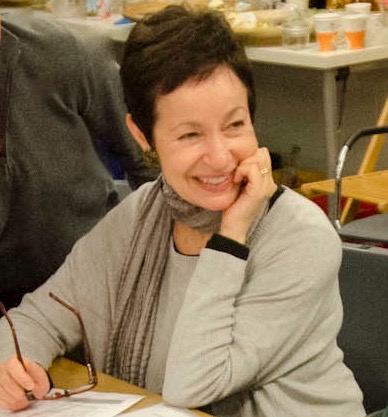 "See as much as you can, listen to show albums, immerse yourself in the world of musical theatre, meet as many people as you can." Theatre is a community, and having that peer group is crucial for anyone - and so is learning from "the ones who came before you". (I know I am definitely grateful to those who have come before and been generous enough to share their knowledge!)
Even more crucial, Ahrens says, is being prepared for the ups and downs, learning to be confident in your voice but also willing to learn. That's the note we end our discussion on:
"You have to be a little bit intrepid. You have to steel yourself against disappointment because it will be inevitable, but it doesn't really matter. If you just put the next foot forward, something is going to happen for you. The more you write, the more you grow and the better you get, and eventually you will succeed."
Related Articles