See All-Queens Based Art, Music, And Dance At The Historical Flushing Town Hall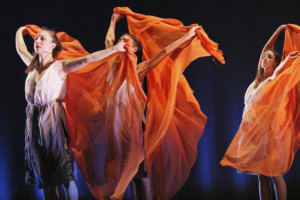 FOR IMMEDIATE RELEASE
Two Long Island City arts organizations premiere together September 7th at Flushing Town Hall
One-night-only event of all Queens art, music, and dance
August 20, 2018, Flushing, Queens-In one spectacular Queens-centric evening Friday September 7th at Flushing Town Hall (137-35 Northern Blvd), visitors will be able to enjoy Long Island City Artist's (LIC-A) opening of their FLUSHING BOUND arts exhibition, groove to the sounds of Cambria Heights jazz band Since When?, and see dance performances of the LIC-based Queensboro Dance Festival, featuring various Queens dance companies. The evening begins with the FLUSHING BOUND gallery opening reception at 5:00 PM, directly followed by a live jazz set by Since When? at 7:00 PM, and culminating with diverse dance performances presented by The Queensboro Dance Festival at 8:00 PM. Flushing Bound is free to attend. Tickets to the pre-show jazz performance and Queensboro Dance Festival performance are $20, $12 for Flushing Town Hall members, and free for teens. Tickets are available online at www.flushingtownhall.org/events.
The two organizations of LIC-A and Queensboro Dance Festival (QDF), both based in Long Island City, have joined forces for this serendipitous evening, coming to Flushing Town Hall to offer the Eastern Queens community an all-encompassing, all-Queens arts experience.
The FLUSHING BOUND exhibition was curated to introduce Long Island City Artists (LiC-A) and its artists to the Flushing community, and to encourage conversations between artists and the viewing public, which will increase understanding of the creative process. FLUSHING BOUND will showcase a wide variety of work, including figurative and abstract paintings, photography, works on paper and mixed media assemblages.
The Queensboro Dance Festival has been touring Queens' parks, plazas, libraries, streets, and theaters since May, presenting a total of 26 different cultural and contemporary dance companies all from Queens. Their tour stop at Flushing Town Hall will be one night only, before going back to perform in QDF's home neighborhood in Long Island City. Scheduled to perform at Flushing Town Hall are companies Sheep Meadow Dance Theater (from Long Island City), NSquared Dance (from Astoria), NY Hung Sing Kwoon Lion Dance (from Flushing), Dugal Dance Projects (Woodside), Sector Dance (Astoria), Barbara Mahler (Jackson Heights), SUNPROJECT (Astoria), and festival featured guest Calpulli Mexican Dance Company (East Elmhurst).
Long Island City Artists Inc. (LIC-A) is a not-for-profit arts advocacy group, proud to be supporting artists in western Queens since 1986. The Queensboro Dance Festival, launched in 2014, has a mission to strengthen the dance community in Queens and garner a greater appreciation for Queens dance. Each year, QDF tours Queens from May to October, bringing vibrant dance performances and audience engagement activities to neighborhoods across the borough. QDF strives to represent a slice of Queens dance each season, and make dance programming more accessible in underinvested Queens communities.
For more information about these LIC organizations and their seasons, please visit:
Long Island City Artists Inc.: www.licartists.org
Queensboro Dance Festival: www.queensborodancefestival.com
***