Rialto Chatter: BAT OUT OF HELL - The Musical Cancels National Tour?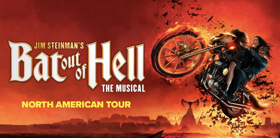 Just days after announcing a run of Bat Out of Hell - The Musical in New York City at City Center, which would come on the heels of its national tour, cast members are now sharing on social media that the tour has been suddenly canceled.
Cast members for the show, currently in Toronto, were told before Thursday evening's show that the show will instead close suddenly on Saturday night after its final performance in Toronto. The company was about to embark on the national tour which was to travel to multiple markets including Detroit, Salt Lake City, San Francisco, Las Vegas, Los Angeles, Denver, Boston, St. Louis, Philadelphia, Washington, DC, Dallas and other major cities through mid-2019 before a NY run and continuation of the tour. Multiple cast members have shared stories with BroadwayWorld and local media in markets are also reporting that the show has been canceled.
Bradley Dean, set to star as Falco, shared in a public Facebook post "Well... I sit here in my Bat Out of Hell dressing room in total shock. The year long tour which I turned down King Kong for and for which I and the rest of the cast gave up their homes and packed up their lives is stopping on Saturday in Toronto before the tour even begins. It defies belief that people can play so recklessly with peoples' lives, but I guess that is the world in which we find ourselves, devoid of empathy or compassion and run by utter fools."
The tour was also removed last evening from the show's web site at https://batoutofhellmusical.com and replaced with just a listing for Toronto's final shows.
Update 11/2 - A spokesperson for the production said, "The show is being postponed and everyone involved is working on rescheduling" and adds that City Center has not been postponed.
A similar situation arose in 2014, when cast members of a 50-stop arena tour of Andrew Lloyd Webber and Tim Rice's rock opera "Jesus Christ Superstar", also produced by Michael Cohl, were shocked to be notified of that tour's cancelation during a run through performance.
Under the direction of Jay Scheib, the cast includes Andrew Polec who thrilled London and Toronto critics with his powerhouse performance as Strat. Mr. Polec was joined by co-stars Emily Schultheis as Raven, Bradley Dean as Falco, Lulu Lloyd as Sloane, Avionce Hoyles as Tink, Harper Miles as Zahara, and Tyrick Wiltez Jones as Jagwire. The ensemble for Bat Out Of Hell - The Musical includes Will Branner, Samantha Pauly, Zuri Washington,Kayla Cyphers, Erin Mosher, Emilie Battle, Kaleb Wells, Nik Alexander, Adam Kemmerer, Michael Milkanin, Lincoln Clauss, Alex DeLeo, Paulina Jurzec, Nick Martinez, and Tiernan Tunnicliffe.
Bat Out Of Hell - The Musical premiered in 2017 at the Manchester Opera House and then played a wildly successful engagement at London's Coliseum, winning the Evening Standard Award for Best Musical, before rocking Canadian audiences with a run at Toronto's Mirvish Theatre.
The production is currently playing an extended engagement at London's Dominion Theatre where it will end its critically acclaimed engagement this January. Since spring 2017, Bat Out Of Hell - The Musical has sold more than 650,000 tickets.
The three Bat Out Of Hell albums have sold a staggering 100 million copies globally. The first album, released in 1977, is one of the best-selling albums of all time and in 2003 was named one of "Greatest Albums of All Time" by Rolling Stone. Sixteen years later, Mr. Steinman scored again with Bat Out Of Hell II: Back Into Hell, which contained the massively successful single "I Would Do Anything For Love (But I Won't Do That)" which reached number one in 28 countries and earned a Grammy® Award. The final album in the trilogy, Bat Out Of Hell III: The Monster Is Loose, debuted on Billboard's Top 10 list, was a top-selling album in 14 other countries, and includes Meat Loaf's hit version of the Steinman classic "It's All Coming Back To Me Now."
For the stage musical, the legendary and award-winning Mr. Steinman has incorporated iconic songs from the Bat Out Of Hell albums, including "You Took The Words Right Out of My Mouth," "Bat Out Of Hell," "I Would Do Anything For Love (But I Won't Do That)," and "Two Out Of Three Ain't Bad," as well as two previously unreleased songs "What Part of My Body Hurts the Most" and "Not Allowed to Love."
In Bat Out Of Hell - The Musical, the electrifying rock songs of Mr. Steinman propel an epic story of rebellious youth and passion as Strat, the immortal leader of The Lost, has fallen in love with Raven, the beautiful daughter of the tyrannical ruler Falco.
Bat Out Of Hell - The Musical is produced by David Sonenberg, Michael Cohl, Randy Lennox, Tony Smith, features book, music, and lyrics by Mr. Steinman, direction by Mr. Scheib, choreography by Emma Portner, with musical supervision and additional arrangements by Michael Reed, set design by Jon Bausor, costume design by Mr. Bausor &Meentje Nielson, lighting design by Patrick Woodroffe, video design by Finn Ross, sound design by Gareth Owen, orchestration by Steve Sidwell, fight direction by Ryan Bourque, and musical direction by Ryan Cantwell.For additional information, please visit www.batoutofhellmusical.com