Click Here for More Articles on THE BAND'S VISIT
Review Roundup: The Critics Weigh-In on THE BAND'S VISIT on Broadway!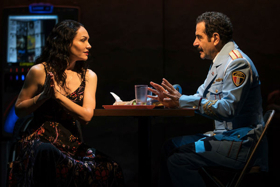 The critically acclaimed new Broadway musical THE BAND'S VISIT opens tonight, November 9, 2017, at the Ethel Barrymore Theatre (243 West 47th Street).
After a mix-up at the border, an Egyptian Police Band is sent to a remote village in the middle of the Israeli desert. With no bus until morning and no hotel in sight, these unlikely travelers are taken in by the locals. Under the spell of the desert sky, their lives become intertwined in the most unexpected ways. THE BAND'S VISIT celebrates the deeply human ways music, longing and laughter can connect us all.
THE BAND'S VISIT features music and lyrics by three-time Tony Award nominee and Drama Desk Award winner David Yazbek, a book by NY Drama Critics Circle, Lortel and Outer Critics Circle awards winner Itamar Moses, based on the screenplay by Eran Kolirin, and is directed by Drama Desk, Lortel, Joe A. Callaway and Obie Award winner David Cromer.
The Broadway company of THE BAND'S VISIT includes Katrina Lenk, Tony Shalhoub, John Cariani, Ari'el Stachel, George Abud, Etai Benson, Adam Kantor, Andrew Polk, Bill Army, Rachel Prather, Jonathan Raviv, Sharone Sayegh, Kristen Sieh, Alok Tewari, Pomme Koch, Ahmad Maksoud, Madison Micucci and James Rana. Musicians include Andrea Grody, Alexandra Eckhardt, Ossama Farouk, Philip Mayer, Sam Sadigursky, Jeff Theiss, Harvey Valdes and David Garo Yellin.
Let's see what the critics had to say!
Ben Brantley, The New York Times: Breaking news for Broadway theatergoers, even - or perhaps especially - those who thought they were past the age of infatuation: It is time to fall in love again. One of the most ravishing musicals you will ever be seduced by opened on Thursday night at the Barrymore Theater. It is called "The Band's Visit," and its undeniable allure is not of the hard-charging, brightly blaring sort common to box-office extravaganzas.
Michael Dale, BroadwayWorld: Though richly textured dramatically, the mood of the piece is largely introspective until a lively closing jam session that unites the actor/musicians with their non-acting musical colleagues. While THE BAND'S VISIT never preaches its message of human fellowship beyond hostile borders, this final moment is a joyous expression of unity.
Matt Windman, amNY: While there is little plot or character development, one by one the players open up in song and dialogue, revealing that they are suffering from emotional paralysis and the monotony of everyday life. The integration of David Cromer's intimate and sensitive direction; David Yazbek's Middle-Eastern flavored score, much of which is performed onstage by cast members; and Itamar Moses' book, which hews closely to the original screenplay, is so seamless that it is virtually impossible to pick apart. They have turned a slight, short, quiet tale into an urgent, realistic and relatable portrait of vulnerable individuals from different cultures who are able to make an unexpected human connection, often just through a shared appreciation for music.
Dana Schwartz, Entertainment Weekly: The Band's Visit is understated, probably better described as charming than life-altering, but its scale reinforces the moral themes of the musical itself. Nothing very important happens, no. A boy learns how to talk to girls, a woman recognizes the ways in which she's become stuck, a couple breaks apart and comes together again. Some of these humans who have lost things and who are lost themselves happen to be Arab, and some happen to be Israeli. It's a quiet, beautiful thing The Band's Visit does, and while I wished there had been more something - more emotional payoff, or catharsis - I also recognize that that's sort of the point. A-
David Rooney, The Hollywood Reporter: One of the small miracles of The Band's Visit is that this wistful new musical - in which themes of waiting, yearning and inertia play a significant part - weaves such seduction out of ephemeral encounters unfolding over a single uneventful night. As soothing as a cool breeze across desert sands, this gorgeous, minor-key show won a deserved cluster of awards in its premiere late last year at the Atlantic Theater Company. It transfers to Broadway with its delicate alchemy intact, borne aloft by the intoxicating Middle-Eastern rhythms of David Yazbek's original score, and by the soulful performances of an exemplary ensemble.
Steven Suskin, The Huffington Post: There's music in the air at the Barrymore: sweetly lush, jasmine-scented melody which bathes the stage-and the audience-in an evening of enchantment. The Band's Visit is the title, from composer/lyricist David Yazbek, bookwriter Itamar Moses and director David Cromer. A uniquely unconventional musical told in a new manner, it follows pretty much in the steps of Fun Home, Hamilton and Dear Evan Hansen: which is to say, it is another musical which tracks a new, different and exciting path.
Michael Schulman, The New Yorker: "The Band's Visit" doesn't quite shake its cinematic roots-you can still sense the understated quirkiness of an indie film-but it succeeds on the strength of its cast and creators, who know exactly what, and when, to hold back. We're left wondering what significance the orchestra's time in Bet Hatikva will have for the characters, but one thing is certain: they'd never fess up to it. "Once, not long ago, a group of musicians came to Israel, from Egypt," Dina says after the band departs, retreating back to her café and her poker face. "You probably didn't hear about it. It wasn't very important."
Peter Marks, The Washington Post: Beautiful music, beautiful story, beautiful acting. To quote the Emcee in "Cabaret": Even the orchestra is beautiful. In this case, it consists of eight actor-musicians, portraying the members of a ceremonial police band from Alexandria, Egypt, who have been invited to play a good will concert in Israel. Except they arrive in the wrong town, a desert backwater where the blasé residents can't be shaken easily out of their arid torpor. Not even by the sudden appearance in their midst of courtly, uniformed fellows from a neighboring if culturally distinct country, bearing clarinets and cellos and the enticing hints of the world beyond.
Jordan Hoffman, The Times of Israel: After a fruitful run Off-Broadway, "The Band's Visit" has moved to the Great White Way and it is a tremendous success. Though certain aspects of the film can never be replaced, like the deadpan imagery in some of its cinematography and the marvelous performance by Sasson Gabai, the stage version takes a small cinematic curiosity and enlarges it to something bold and unforgettable.
Adam Feldman, Time Out New York: When we meet the Israelis, they are adrift on the central turntable of Scott Pask's set, waiting for anything to happen-"just something different." Bittersweet and built for adults, The Band's Visit is certainly different from most modern musicals. Will Broadway audiences be willing to take its journey? That's the challenge this production offers, a line drawn gently in the shifting sand.
Jeremy Gerard, Deadline: Feed your soul: Go see The Band's Visit. Now that this exquisite musical has moved uptown to Broadway - it opened tonight at the Ethel Barrymore Theatre - I can make that recommendation with only one caveat, which is to spring for center orchestra seats, but more about that later. The rare film-to-musical adaptation that enhances the source material, The Band's Visit has stayed with me in the year since it opened off-Broadway at the Atlantic Theater Company, like a dream from which I never wanted to awaken.
Tim Teeman, The Daily Beast: The 95-minute musical, directed by David Cromer and first performed last year off-Broadway at the Atlantic Theater Company, is such a contrary enterprise in many ways, not just in terms of the bright lights and brassiness one associates with Broadway musicals (it has none), but also in the story it does tell, and how that too proves to be nothing you would expect from it.
Joe Dziemianowicz, The Daily News: "The Band's Visit" takes place in the desert and, like a mirage, it shimmers. But better. Because this hushed, heart-melting musical is real - and truly magical.
Marilyn Stasio, Variety: The set's a bit grander and the music sounds richer, but success hasn't spoiled this embraceable musical fable about the surprising friendships that bloom in the middle of a political desert. In this Broadway transfer of an Off Broadway hit, human error sends an Egyptian military band to a depressed Israeli outpost in a desert wasteland - and human connections bring Arabs and Israelis together on common ground.
Sara Holdren, Vulture: Director David Cromer, book writer Itamar Moses, and composer/lyricist David Yazbek are clearly unified in their pursuit of the specific and the humane over the grandiose. Together they've created a play of deep integrity - funny, generous, sweet without sentimentality, poignant without melodrama, and emotionally expansive even as it insists upon its own smallness.
Chris Jones, Chicago Tribune: "The Band's Visit' is only 90 minutes. For some, it will seem like a strange and esoteric Broadway musical, which is not wrong. There is no mention of any macro Arab-Israeli conflict whatsoever. No need. This is a remarkable and boundlessly compassionate and humanistic piece of theater. It lets us know that that is as absurd an enmity as all the other things about which we fight.
Christopher Kelly, NJ.com: Yet having now seen "The Band's Visit" twice, I'm still not able to shake the feeling that it doesn't add up to much -- and that it certainly doesn't stick to the ribs. (When I saw it again last week, I barely remembered anything of the off-Broadway production, despite only ten months having passed.) Director David Cromer and lighting designer Tyler Micoleau keep the light low and dreamy. Voices, too, are rarely raised, even when the characters are supposed to be angry with one another. The show is so low-key, so determinedly un-flashy that it occasionally seems in danger of sliding right off the stage.
Barbara Schuler, Newsday: Performances and staging are finely crafted throughout, but the brilliance of this piece is truly in the music and lyrics of David Yazbek. In a departure from his work on shows such as "The Full Monty" and "Dirty Rotten Scoundrels," he perfectly brings all these stories to life with rich ballads, smooth jazz, a touching lullaby, even some klezmer.
David Cote, What Should We Do?: Distortion is the danger when a small show moves to Broadway...Rejoice then: The Band's Visithas made the leap with dignity and pure, intense beauty intact...Throughout, under David Cromer's exquisitely controlled, subtle direction, the characterizations are rich and layered. Scenes blend effortlessly into songs. The staging's both utterly theatrical and finely realistic. This world, while it spins on a turntable and musicians keep the beat with Yazbek's score for Arabic and Western instruments, is real and relatable...Yazbek's masterly score draws on classical Arabic sounds and Israeli pop, mixed with forays into Chet Baker-like jazz crooning and the composer-lyricist's own funky-New Wave vibe.