Review Roundup: Michael Urie in Shakespeare Theatre Company's HAMLET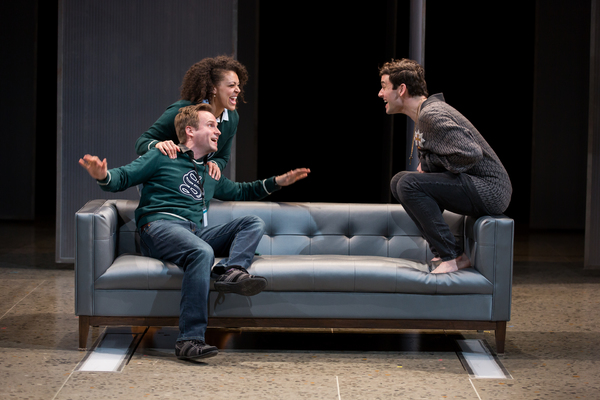 The critics are weighing on on Shakespeare Theatre Company's production of HAMLET, directed by STC Artistic Director Michael Kahn and featuring acclaimed actor Michael Urie as the tortured Danish prince.
Urie is joined by an international, award-winning cast including Oyin Oladejo (Star Trek: Discovery) as Ophelia; Robert Joy (King Charles III) as Polonius; Alan Cox(Translations on Broadway) as Claudius; Federico Rodriguez as Horatio; Madeleine Potter (An Ideal Husband on Broadway) as Gertrude and STC Affiliated Artist Keith Baxter as the Ghost.
In the wake of his father's abrupt death, Hamlet returns home from university to find his personal and political world changed as he never imagined it could-his mother remarried, his uncle on the throne and a world seemingly gone insane. When his father's ghost appears and demands vengeance, the increasingly desperate Danish prince must decide: submit or resist. Accept or avenge. Live or die.
Shakespeare's most celebrated tragedy runs January 16-February 25, 2018 at Sidney Harman Hall. For tickets and more information visit shakespearetheatre.org.
Let's see what the critics have to say!
Ben Brantley, NY Times: There are also smartphones galore. Hamlet and Ophelia text each other their messages of love. And a game Claudius photobombs a selfie being taken by Hamlet's college chums, Rosencrantz (Ryan Spahn) and Guildenstern (Kelsey Rainwater).
Peter Marks, Washington Post: Virtually no one in Elsinore, not Cox's Claudius, nor Madeleine Potter's Gertrude, nor Oyin Oladejo's Ophelia, offers anything approaching a galvanizing counterbalance to Urie. We're apparently supposed to glean all of the play's menace from John Coyne's set of cold steel, because none emanates from the flesh-and-blood participants. Doing treble duty as Ghost, Player King and solo Gravedigger (the other digger's been cut), Baxter is in these various guises suitably spectral, elegant or grizzled. But two great showcase roles for young tragedians, Horatio and Laertes, are here portrayed by Federico Rodriguez and Paul Cooper to all-too-modest impact. Even Robert Joy, terrific last season as the British monarch in Mike Bartlett's "King Charles III," comes across here as a wan and not especially endearing Polonius.
Benjamin Tomchik, BroadwayWorld: As the title character, Urie is thrilling to watch! Quick-witted and sly, when his Hamlet goes "mad" we are constantly left guessing about just how far he'll go. It's the type of performance that keeps you in as much suspense as the royal court in wondering 'what happened to the young prince?' Building on that is Urie's command of the script's inherit humor and Hamlet's constant state of turmoil over his father's fate. It is this inner doubt that fuels Urie as he drives this epic production.
Tim Treanor, DC Theatre Scene: The comedy, of course, is not simply a product of Urie's performance but is integral to the production. Kahn, having elected to make this a modern-dress Hamlet, sets it in a sleek, high-security skyscraper (John Coyne's set is equal to this task, and is impressively adaptable to the needs of each scene). Bernardo (Chris Genebach) and Francisco (Brayden Simpson), the guardsmen who open the play, are wearing security guard uniforms, and they watch screens which monitor the area surrounding the building. When Marcellus (Avery Glymph) comes in with Hamlet's close friend Horatio (Federico Rodriguez) he also comes in with Starbucks for everybody. When the ghost of Hamlet's father (Keith Baxter) appears, it is not on some distant rampart, but on one of the screens; the accompanying electrical storm knocks out the other screens, and most of the lights as well, and he is truly the ghost in the machine.
Sophia Howes, DC Metro Theater Arts: Most of the minor roles are performed with style and energy: the guards in the first scene; Lise Bruneau as the Player Queen/Cornelia, David Bryan Jackson as Voltemand, Chris Genebach as Lucianus, and Gregory Wooddell in his expanded role as Osric. Hamlet's scenes with Rosencrantz (Ryan Spahn) and Guildenstern (Kelsey Rainwater) work especially well.
Related Articles

More Hot Stories For You