Click Here for More Articles on Mamma Mia 2
Review Roundup: Did the Critics Lay All Their Love on MAMMA MIA! HERE WE GO AGAIN?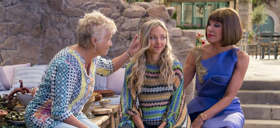 Get ready to sing and dance, laugh and love all over again! Ten years after Mamma Mia! The Movie grossed more than $600 million around the world, you are invited to return to the magical Greek island of Kalokairi in an all-new original musical based on the songs of ABBA. With the film's original cast returning and new additions including Lily James, the musical comedy will open on July 20, 2018.
As the film goes back and forth in time to show how relationships forged in the past resonate in the present, James will play the role of Young Donna. Filling the roles of Young Rosie and Young Tanya are Alexa Davies and Jessica Keenan Wynn Young Sam will be played by Jeremy Irvine, while Young Bill is Josh Dylan and Young HARRY is Hugh Skinner.
Reprising their roles from Mamma Mia! The Movie are Meryl Streep as Donna, Julie Walters as Rosie and Christine Baranski as Tanya. Amanda Seyfried and Dominic Cooper reunite as Sophie and Sky, while Pierce Brosnan, Stellan Skarsgård and Colin Firth return to play Sophie's three possible dads: Sam, Bill and Harry.
Let's see what the critics had to say...
---
Leslie Felperin, The Hollywood Reporter: Indeed, the movie's biggest failing is that so much of its soundtrack, the very engine that propels it, is made up of far too many actual B sides, or at least lesser-known tunes from the back catalogue of Benny Andersson and Bjorn Ulvaeus, the two Swedish singer-songwriters who made up half of the 1970s pop quartet ABBA.
Peter Bradshaw, The Guardian: But something in the sheer RELENTLESS silliness and UNCOMPROMISING RIDICULOUSNESS of this, combined with a new flavour of self-aware comedy, made me smile in spite of myself: there are funny, campy performances from Cher, Christine Baranski, Julie Walters and also Alexa Davies as Walters's younger self, and some very good lines. People are always running absurdly around a Greek island waving their arms in the air like they just don't care and it's always sunny, except when - gasp! - there's a storm and plans for the relaunch of a tourist hotel are briefly and unimportantly derailed.
Owen Gleiberman, Variety: "Here We Go Again" uses a few of the same songs that "Mamma Mia!" did, such as the title number and a virtual restaging of "Dancing Queen," with a chorus running through the woods and winding up on that same beach, where they perform what amounts to a slightly less awkward version of a group dance number out of a '70s TV variety show. Yet since ABBA's greatest hits were basically strip-mined for the first film, most of the songs here are less high-profile ABBA gems, and that means that the movie conjures a more reflective, downbeat mood. That's not a bad thing.
Emily Yoshida, Vulture: The main twist is that, having exhausted most of the most universal ABBA hits in the original musical, writer Catherine Johnson and the rest of the filmmakers must dig deeper in the crates, and do contortions around less instantly recognizable fare. But the selections end up being more Broadway-esque hits than much of the original's soundtrack, perhaps more believable as show tunes than "Gimme! Gimme!" or "Dancing Queen" (the latter of which of course gets a reprise here).
Geoffrey Macnab, The Independent: If you don't like ABBA, spandex or glitter, you won't much enjoy the Mamma Mia sequel. The producers warned the audience as much before the film's premiere in Hammersmith on Monday night. Fans of good-natured kitsch, however, will relish the movie, even if it does have more than its share of toe-curling moments. The reboot benefits from an ingenious storyline (co-written by Richard Curtis) which unfolds in two parallel worlds at once.
Richard Lawson, Vanity Fair: There's not really a point, exactly, to Mamma Mia! Here We Go Again,the sequel to the smash-hit 2008 film arriving in theaters on July 20. But why would there need to be? The pleasures of Ol Parker's film are simple and sensual, its riot of color and sweet, nostalgic songs proving wholly agreeable even without much of a plot to hold it all together. I went into the movie a bit of a skeptic-about jukebox musicals, about unnecessary sequels, especially ones without the original's main star-but left entirely won over, cheered and a little teary. HERE WE GO AGAIN is uncomplicated joy in complicated, despairing times.
David Sims, The Atlantic: There are few who could argue that the first Mamma Mia! really needed a follow-up; after all, it used almost all of the best ABBA songs. So, to justify Here We Go Again's existence, there's Cher and García singing "Fernando" to each other. I say that's enough.
Kate Erbland, Indie Wire: Half sequel, half prequel, and almost entirely disconnected from the film being sold by its trailers, Ol Parker's "Mamma Mia! Here We Go Again" is an amiable, energetic followup to the 2008 smash hit. It's also missing its biggest star, Meryl Streep as Donna Sheridan, and her absence is keenly felt. Thank goodness then for Lily James, whose performance as a young version of Streep's irrepressible heroine finally seems like the one to catapult the actress to the next level of her career, while also keeping the dizzy (and dizzying) musical afloat.
Scott Mendelson, Forbes: But if you came just to see the show, the movie puts on a hell of a show. Here We Go Again is a bright, cheerful, colorful, large-scale musical montage of gorgeous people singing and dancing to mostly happy tunes. You might even say that it's everything you ever want, everything you ever need, right in front of you.
Stephen Whitty, The New York Daily News: "Mamma Mia! Here We Go Again" is the name of the movie and boy, you're telling me. And it's what you'll be telling yourself, quietly, as one corny scene follows another. It's a movie that has nowhere to go and takes forever to get there.
Simon Thompson, IGN: As with the first Mamma Mia! a decade ago, there's a target audience for this movie who would lap it up regardless of quality but the people behind this haven't rested on their laurels. What they've done is make a concerted effort to deliver something that's worth their time and money and they've succeeded. They could have just pushed out a straight-up cash grab but they haven't.
Katie Walsh, Chicago Tribune: The sequel/prequel hybrid "Mamma Mia! Here We Go Again" arrives a decade after the bonkers filmed adaptation of the stage musical "Mamma Mia!" Vehicles for ABBA's songs, the films perfectly reflect the music: guileless, emotionally raw and unabashedly cheesy, wrapped in miles and miles of colorful synthetic fabric.
Nicholas Barber, BBC: The film could have been subtitled When Donna Met Harry (and Sam and Bill). Its main difference from Mamma Mia! The Movie is that instead of presenting us with frolicking 50-somethings with wine glasses surgically attached to their hands, it offers a succession of shirtless 20-something men, along with James in a bikini top, so what you lose in boozy bad behaviour you gain in youthful freedom, optimism and toned abs. There aren't many lightweight, feel-good romantic comedies around these days, so Parker deserves credit for whipping up such a fluffy cloud of cinematic candy floss.
Leah Greenblatt, Entertainment Weekly: A shiny-bright jukebox musical with a heart of gold and a plot of pure polyester, Mamma Mia! Here We Go Again works hard to be the feel-giddy movie experience of the summer.
Johnny Oleksinski, New York Post: The film's highlight - try not to fall off your platform shoes! - has Cher donning a platinum wig, landing at the taverna by helicopter, announcing her presence as if it's even required, singing "Fernando," saying a few words and leaving.
It's so cheesy, you'll need crackers.
Alan Jones, RadioTimes: Most of Abba's back catalogue of crown jewels were used in Mamma Mia!, although there are also reprises of that title song, Dancing Queen (which gets an epic seafaring treatment), I Have a Dream and Super Trouper, which all the cast croon over the end credits. Subsequently, the sing-along material is provided by Knowing Me, Knowing You, The Name of the Game and Waterloo, the latter a raucous routine staged in a Paris café. But it's such lesser-known gems as When I Kissed the Teacher, One of Us and Why Did It Have to Be Me? that really resonate and inject much-needed energy into the flat proceedings. In the case of Angel Eyes and I've Been Waiting for You, both sung by the trio of Baranski, Walters and Seyfried, Parker's journeyman direction is transcended by pure star power, with further heights reached by James's gorgeous rendition of Andante, Andante.
Jamie East, The Sun: The song links are tenuous at best, it occasionally struggles to get its head around a plot based on three random holiday quickies and some appearances are baffling. But there are also some proper belly laughs, Lily James is incredible, the tunes and positivity are irresistible and by the end the audience were SCREAMING for more.
Brian Truitt, USA Today: Characters oddly meander right into songs, and fluid transitions between the two stories are pretty nonexistent. At the same time, there's a bubblegum sweetness the movie embraces that's appealing despite its faults.
Nicholas Barber, The Wrap: As for the writer-director, Ol Parker, he doesn't come up with any urgent artistic reasons for the existence of its follow-up,"Mamma Mia! Here We Go Again," but he does make it surprisingly watchable, and he manages to overcome some mountainous obstacles. For one thing, the first film, directed by Phyllida Lloyd, was shot on the Greek island of Skopelos, whereas this one has moved to a less idyllic - and less sunny - Croatian location. Parker has to resort to a lot of tight framing - and, by the look of things, a lot of green screen - to disguise the fact that the characters aren't where they were 10 years ago.
Related Articles