Playlight Theatre Company Presents Staged Reading of McGURK'S SUICIDE HALL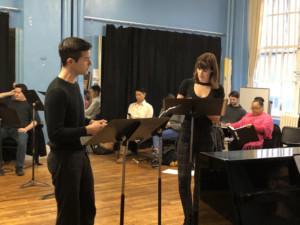 Playlight Theatre Company (Artistic Director, Ben Tostado) is presenting a staged reading of a new dark musical, McGurk's Suicide Hall on December 10 at 7:30PM at the Tada! Theater, 15 West 28th Street.
Book and lyrics are by actor Evan Edwards and music is by singer/songwriter Jeneen Terrana. Michael Liepper is music directing; Callie Stribling is stage managing.
The story is a "fictional account of actual events" centered around the seedy world of New York City's most notorious dive bar in 1902 featuring Amy Jo Phillips (Show Boat, B'way), Brian Childers (The Danny Kaye Musical), and Julia Goretsky (The Producers, Nat'l Tour).
Rounding out the cast are Matthew Borchers, Amy Connerley, Roger Gilbert Crane, Thomas Dieter, Timothy Ford, Austin Ku, Mary Lauren, Jesse Manocherian, Scott Moss, Tommy Mosqueria, Erika Odegard, Jackson Perrin, Nathaniel Rothrock, Chris Russell, and Mark Weatherup, Jr.
McGurk's Suicide Hall was part of Playlight Theatre Company's music series "Songwriters Night" earlier this year.
For an invite, visit www.playlighttheatre.com