Pigeonholed Theater Presents THE GLASS MENAGERIE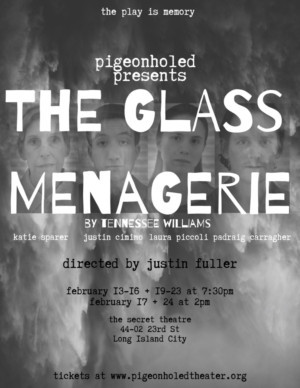 Pigeonholed presents the classic play, The Glass Menagerie by Tennessee Williams from February 13-24 at the Secret Theatre, 44-02 23rd St, Long Island City New York, 11101. Tickets are $20 and available at https://www.artful.ly/store/events/17019.
Join us for this timeless story of family, dreams, and disenchantments. The Glass Menagerie was the play that announced the arrival of one of the great 20th century American artists, Tennessee Williams, and it still stands as a searing and brilliant exploration of how to translate pain into art.
The themes that run through The Glass Menagerie remain as relevant today as ever. The tension between individual identity and family obligation, caught within the greater forces at work in society. How to make sense of our experiences. How to break free from our past, from the ghosts that haunt us. The play uses lyrical prose, lavish with humor and pathos to ask its questions. How and why do we live the lives that we do? This production of The Glass Menagerie strips the stage drama to its barest and most essential elements, and through its unforgettable characters continues to bring clarity and meaning to the world.
Directed by Justin Fuller, the cast features Katie Sparer ("The Sopranos", Awake and Sing!)* as Amanda, Wingfield, Justin Cimino as Tom Wingfield, Laura Piccoli as Laura Wingfield, and Padraig Carragher as Jim O'Connor. *denotes member of Actors Equity Association
The production is Stage Managed by Lindsey Zinbarg; Costume Design by Victoria Narayan; Set and Properties Design by Chen-Wei Liao, Lighting Design by Sammy Jelinek, Sound Design by Matthew Steward, Dramaturgy by Jessica Owens, Original Music by Ceighton Irons. Produced by Sasha Lazare.
Founded in December 2016 by Justin Cimino and Sasha Lazare, Pigeonholed creates a space for actors to break away from being labeled, typecast, and stuck. Pigeonholed aims to create opportunities for theater artists to make the kind of work that inspires them and their collaborators, rather than the kind of work the industry imposes on them. Pigeonholed produces work that is thought-provoking, telling stories that are socially relevant and spark vital conversations, all with the aim to find original and fresh avenues for theater to engage with the world. Pigeonholed's first two seasons included Detroit by Lisa D'Amour at the IATI Theater, and Not Clown by Steve Moore and Carlos Treviño at the Robert Moss Theater. Pigeonholed's third season began with an all-female production of Mary Stuart by Friedrich Schiller and adapted by Mike Poulton, and will conclude with the debut of Graduation Day, a new play by Emily Daly, currently in development with the company. The Glass Menagerie marks Pigeonholed's second show of the season.
For more information, visit www.pigeonholedtheater.org.