Photos: Netflix Shares New MATILDA THE MUSICAL Movie Stills
Matilda the Musical will begin streaming on Netflix December 25.
Ahead of it's premiere at the BFI London Film Festival today, Netflix has shared new photos from its upcoming film adaption of Matilda the Musical.
A brand new take on the Tony and Olivier award-winning musical. Roald Dahl's Matilda the Musical tells the story of an extraordinary girl, with a vivid imagination, who dares to take a stand to change her story with miraculous results.
Matilda the Musical will begin streaming on Netflix December 25. The film will also be released in select theaters on December 9. Watch the teaser trailer for the upcoming film here.
Netflix will release the film across the world in all countries excluding the UK and Ireland. Sony Pictures U.K. and Tristar Pictures will release the film in UK and Ireland exclusively in cinemas on December 2, 2022.
Matilda Wormwood (Alisha Weir) is a little girl with big curiosity, a sharp mind and a vivid imagination - and the worst parents in the world. While her parents (Stephen Graham and Andrea Riseborough) content themselves with trashy TV and dodgy money-making schemes, she loves to lose herself in the pages of her beloved books. Where they are loud, selfish and unkind she is a quiet observer, thinking up small and cheeky acts of rebellion and revenge.
On meeting her inspirational teacher, Miss Honey (Lashana Lynch), Matilda is encouraged and begins conjuring her own fantastical tales. Excited to attend Crunchem Hall, Matilda is surprised to find the school is an ominous and oppressive place led by the huge and villainous Miss Trunchbull (Emma Thompson).
As well as kind Miss Honey, the bright lights among the meanness are story-loving librarian, Mrs. Phelps (Sindhu Vee), and Matilda's newfound school friends. Filled with an overwhelming sense of justice, Matilda dares to take a stand for what is right and teach Trunchbull a lesson she won't forget.
Roald Dahl's Matilda the Musical is an inspirational musical tale of an extraordinary girl who discovers her superpower and summons the remarkable courage, against all odds, to help others change their stories, whilst also taking charge of her own destiny. Standing up for what's right, she's met with miraculous results.
Directed by Tony Award-winning director Matthew Warchus (Matilda The Musical), the film is produced by Eric Fellner and Tim Bevan for Working Title, Jon Finn (Billy Elliot), and Luke Kelly of The Roald Dahl Story Company. Screenwriter Dennis Kelly adapts the Royal Shakespeare Company's production for the big screen, with original music and lyrics by Tim Minchin.
Photos Courtesy of Dan Smith/Netflix

Lashana Lynch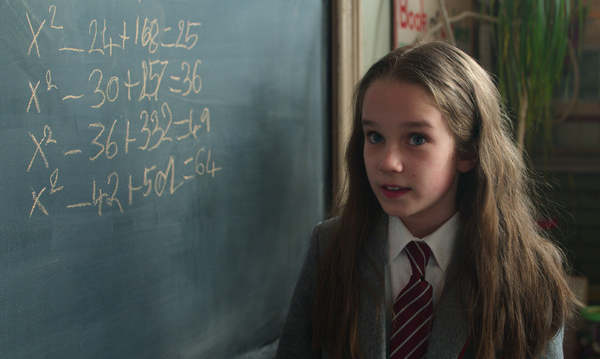 Alisha Weir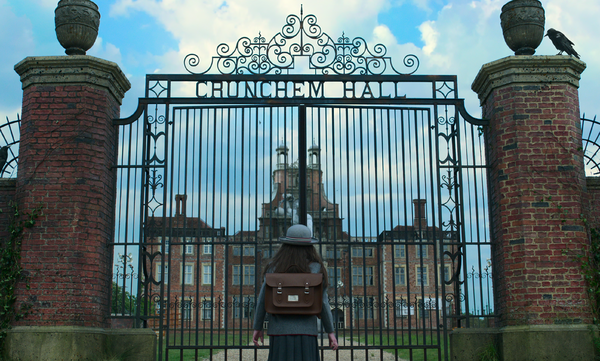 Alisha Weir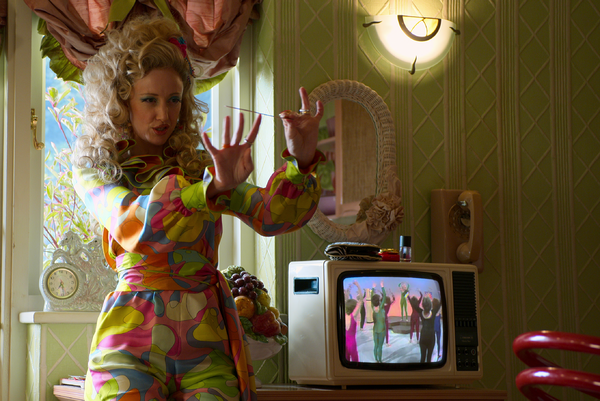 Andrea Riseborough

Emma Thompson

Stephen Graham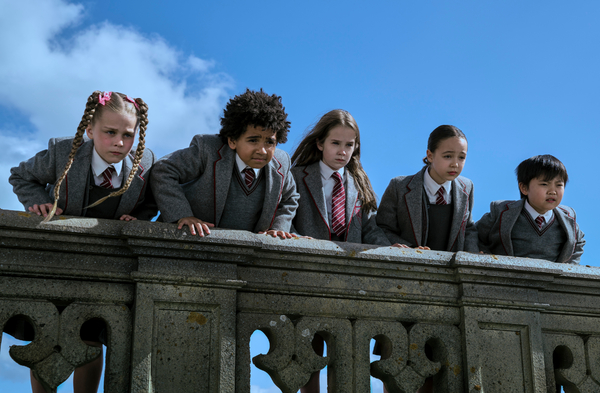 Winter Jarrett-Glasspool as Amanda Thripp, Ashton Robertson as Nigel, Alisha Weir as Matilda, Rei Yamauchi Fulker as Lavender, Andrei Shen as Eric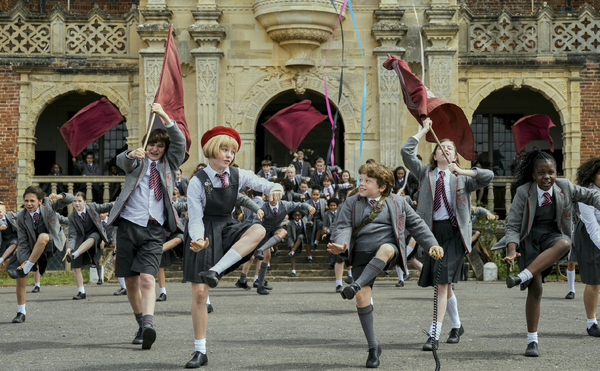 Meesha Garbett as Hortensia, Charlie Hodson-Prior as Bruce Bogtrotter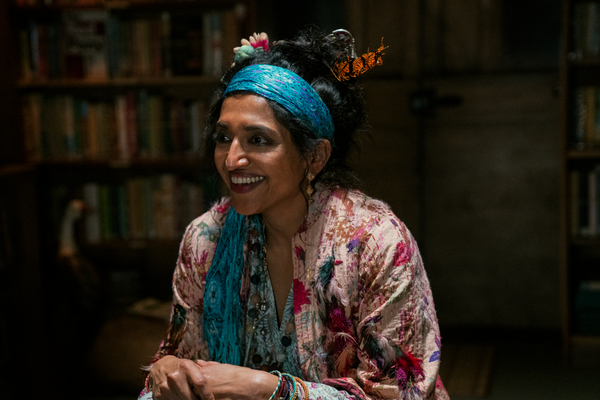 Sindhu Vee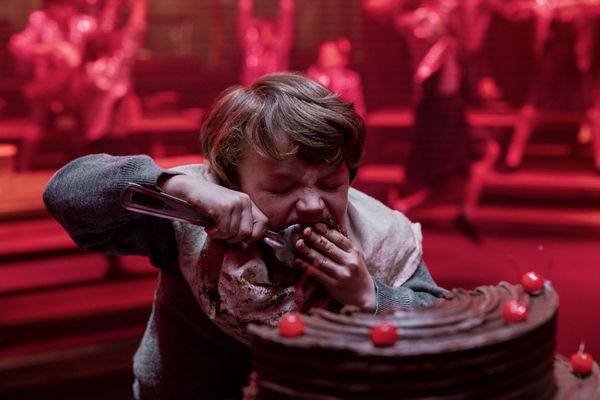 Charlie Hodson-Prior
Related Stories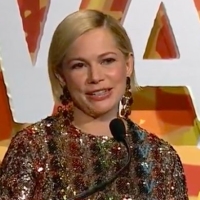 VIDEO: Michelle Williams Honors Mary Beth Peil During Gotham Award Acceptance Speech

November 29, 2022

Last night, Michelle Williams received a Performer Tribute Award at the 2022 Gotham Awards. During her speech, Williams honored Tony nominee Mary Beth Peil, who she had met while filming Dawon's Creek. Watch a video clip from Williams' Gotham Award acceptance speech now!
---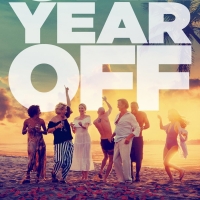 Jeff Fahey & Nathalie Cox Star in Rom-Com ONE YEAR OFF

November 29, 2022

Best friends come together to find love at an irresistible beach resort in the West Indies in the romantic comedy ONE YEAR OFF, starring Jeff Fahey ('Lost,' Alita: Battle Angel), Nathalie Cox (Miss Willoughby and the Haunted Bookshop, Clash of the Titans) and Chad Michael Collins (Sniper series). Watch the new video trailer now!
---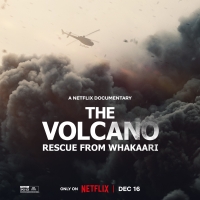 VIDEO: Netflix Shares THE VOLCANO: RESCUE FROM WHAKAARI Trailer

November 29, 2022

In the tense and gripping documentary feature THE VOLCANO: Rescue From Whakaari, Academy Award-nominated filmmaker Rory Kennedy tracks the minute-by-minute unfolding of the tragic volcanic eruption off the coast of New Zealand in December of 2019, ultimately claiming 22 lives. Watch the new video trailer now!
---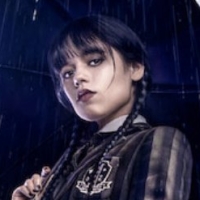 WEDNESDAY Breaks English TV Streaming Debut Record

November 29, 2022

Wednesday, the supernatural mystery charting Wednesday Addams' years at Nevermore Academy, debuted in the #1 spot. Starring Jenna Ortega as Wednesday with a big cast of characters, directed and executive produced by Tim Burton, with creators/showrunners Al Gough and Miles Millar, the series was #1 in 83 countries — tied with Stranger Things 4.
---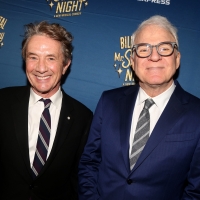 Steve Martin & Martin Short to Host SATURDAY NIGHT LIVE

November 29, 2022

Steve Martin and Martin Short will co-host "SNL" together. They currently star in Hulu's "Only Murders in the Building" and resume their "You Won't Believe What They Look Like Today!" tour next year. Brandi Carlile will return for her second time as musical guest. Upcoming hosts also include Keke Palmer and Austin Butler.
---