Photo Flash: VH1 President Tom Calderone Honored at 2012 IMNF Music Has Power Awards
Music industry innovator and VH1 President
Tom Calderone
was honored tonight by the Institute for Music and Neurologic Function (IMNF) with its 12th annual Music Has Power Award. The award was presented by IMNF Board Member
Nick Stern
at a musical fete at Feinstein's at Loews Regency, hosted by
Michael Feinstein
. Check out photos from the event beow!
The Music Has Power award is presented annually to recognize individuals in the arts, sciences and business communities whose contributions advance the IMNF's groundbreaking music therapy research, programs and treatments.
"Our work in music therapy has always enjoyed the support, commitment and energy of our friends and colleagues in the music industry and
Tom Calderone
is a prime example of that vital, shared relationship," stated IMNF Executive Director Dr.
Concetta Tomaino
. "His work on our Board of Directors and his leadership of VH1 and its sibling music networks – VH1 and Palladia – are prime examples of this crucial collaboration."
Legendary jazz diva and cabaret star
Marilyn Maye
joined Feinstein on stage and added her voice and style to the celebration of music's power to help and heal people with serious neurological diseases and conditions. Among the evening's highlights was a musical tribute to the late composer and performer
Marvin Hamlisch
. In addition to his extraordinary body of musical works, Hamlisch was also a former member of the IMNF's board of directors.
Previous recipients of the Music Has Power Awards include world renowned neurologist and author Dr. Oliver Sacks, Grateful Dead percussionist Mickey Hart, the late Henry Z. Steinway, president of the iconic piano company
Steinway & Sons
, drum pioneer Remo Belli, and film director/producer
Jim Kohlberg
.
The Institute for Music and Neurologic Function is a not-for-profit, 501(c)(3) organization and a member of CenterLight Health System. Founded in 1995, the IMNF is driven by 35 years of clinical observations on the actual effects of music on different types of physical and neurological trauma. Directed by renowned music therapist Dr. Concetta
M. Toma
ino, with medical guidance from distinguished neurologist Dr. Oliver Sacks, its distinctive setting allows researchers to not only apply their theories, but to follow patient rehabilitation in the long term. The Institute actively collaborates with researchers and practitioners at other leading organizations to advance world progress in understanding and applying the power of music to promote healing and wellness. Some of the Institute's most promising research has been in the areas of music and language, memory, and recovery from nerve injury – leading to groundbreaking discoveries as to how music therapy can heal. For more information, visit
musictherapy.imnf.org
.
Formerly the Beth Abraham Family of Health Services, CenterLight Health System is a national leader in providing and coordinating residential, home and community-based long term care for chronically ill and disabled adults throughout the New York metropolitan area. Our continuing care services include residential health care, subacute medical care, rehabilitation, home care, HIV/AIDS home care, comprehensive care management, adult day health care and independent housing facilities for the elderly and disabled. For more information visit CenterLight at
www.centerlight.org
. Feinstein's at Loews Regency, the Nightclub of New York, was named "Best of New York" by
New York Magazine
and heralded as "an invaluable New York institution by the New York Post. The club was created by
Michael Feinstein
and the Tisch family to provide an elegant return to the classic era of New York nightlife. Since it opened in 1999, the club has presented such jazz stars as
Rosemary Clooney
, George Shearing,
Marilyn Maye
and Dame
Cleo Laine
; Broadway royalty including
Chita Rivera
,
Brian Stokes Mitchell
and
Patti LuPone
; pop/country artists like
Glen Campbell
, Crystal Gayle and
Jimmy Webb
; and celebrities like
Tony Danza
,
Susan Lucci
and
Peter Gallagher
. BNY Mellon Wealth Management is among the nation's leading wealth managers. It has more than two centuries of experience in providing investment management, wealth and estate planning, and private banking services to financially successful individuals, families, businesses and nonprofits. It is among the top 10 U.S. wealth managers with more than $171 billion in private client assets and an extensive network of offices in the U.S. and internationally.
Photo credit:
Ken Brown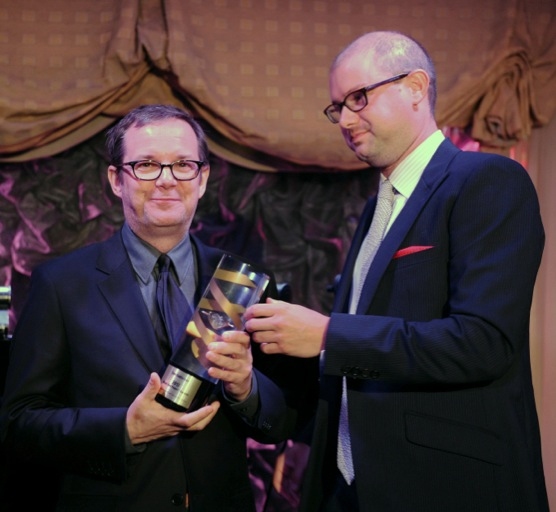 VH1 President Tom Calderone (L) accepts the 2012 Music Has Power Award from Institute for Music and Neurologic Function Board Member Nick Stern.

Michael Feinstein and Marilyn Maye turn in a tour de force finale at the Institute for Music and Neurologic Function's 12th Annual Music Has Power Awards.

VH1 President Tom Calderone, recipient of the 2012 Music Has Power Award, flanked by IMNF Board Chairman Ed Stern and IMNF Executive Director and co-founder Dr. Concetta Tomaino.
VH1 President
Tom Calderone
displays his 2012 Music Has Power Award, flanked by IMNF
Board Chairman
Ed Stern
; legendary jazz diva
Marilyn Maye
; IMNF Executive Director and co-founder Dr.
Concetta Tomaino
; New York cabaret icon
Michael Feinstein
, and IMNF Board Member
Nick Stern
.

Related Articles
More Hot Stories For You