Click Here for More Articles on NEW YORK CITY
Photo Flash: Playwright Jonathan Rand Visits Actors Connection's LAW & ORDER: NRU at 777 Theater
Jonathan Rand is among the most popular contemporary playwrights writing today, his plays having been performed over 19,400 times in all 50 states and in 59 countries. Last Saturday, Actors Connection Kids & Teens premiered his latest play, Law & Order: NRU at the 777 Theater. Rand flew in to watch the performance and treated the cast and audience with a special Q&A plus meet-and-greet after the show. Scroll down for photos!
A four-time Heideman Award finalist, Rand's work is published by Random House, Stage Partners, Playscripts, Smith & Kraus, and Dramatics magazine.
Law & Order: NRU takes place in the nursery rhyme criminal justice system. Citizens are represented by two separate yet equally ridiculous groups: the nursery rhyme police who investigate nursery rhyme crime, and the nursery rhyme district attorneys who prosecute the nursery rhyme offenders. A cast of fresh faces played the classic characters in this spoof on the familiar police drama.
Director Walid Chaya heads the production, part of a Scholarship Program established by Actors Connection Kids & Teens to recognize outstanding students in acting who show potential for a career in the entertainment industry. 18 were cast from nearly a thousand submissions and received funding to attend AC's Performing Arts Camp, New York's leading professional summer program featuring events with 12 Casting Directors, Talent Agents and Broadway Stars in one jam-packed week.
Chaya, an Associate Member of the Stage Directors & Choreographers Society, has directed several of Rand's plays in NYC including Hard Candy, How To Succeed in School Without Really Trying and Check Please which according to an independent survey of American schools, was the #1 most-produced play every season for the last 12 years.
"I performed Rand's hilarious one-act Hard Candy back in high school and he's been one of my favorite playwright's since...years later I'm thrilled and honored to premiere his work Off-Broadway and share my joy for the stage with a group of up-and-coming young performers," says Director Chaya.
Rand's productions are available for licensing worldwide; see the full list at www.jonathanrand.com. Actors Connection Kids & Teens will hold auditions for their next Scholarship production in the fall. For more information about AC's performance opportunities or celebrated Performing Arts Camp, visit www.actorsconnection.com/kids.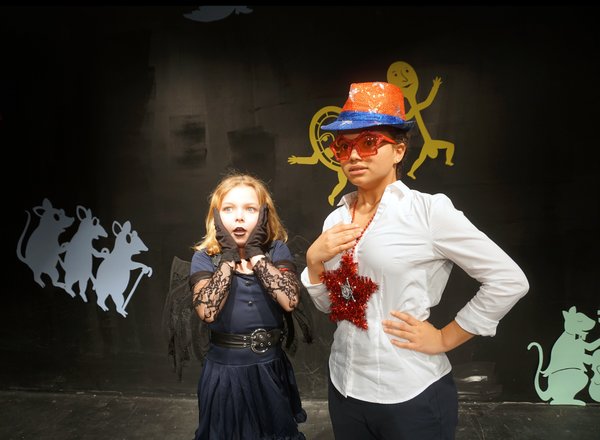 Detectives Winkle and Itsy discover a new crime in LAW AND ORDER: NRU, a spoof by Jonathan Rand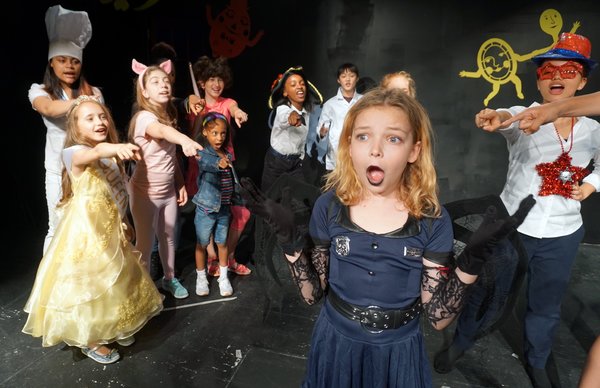 Detective Itsy is accused of stealing Peter Piper's peppers

The Nursery Rhyme Citizens shocked to discover their lead suspect

Director Walid Chaya gifts playwright Jonathan Rand an autographed production poster following Rand's Q&A with the cast and audience

The cast of LAW AND ORDER: NRU show off their scholarships to the Performing Arts Camp after their bows, joined by playwright Jonathan Rand
Related Articles