Photo Flash: OMOTENASHI JOURNEY Takes Part in Mensa Third Thursday Lecture Series
"OMOTENASHI Journey," the new musical project written and directed by Noriko Sunamoto (Japanese Production of "The Phantom of the Opera," "Wicked," "Mamma Mia!," Off-Broadway's "The Jackie Mason Musical") collaborated with an intellectual lecture event hosted by The New York Greater Mensa last night, on July 21st. BroadwayWorld has photos from the event below!
The production featured
Tomo Watanabe
(as a role of Japanese Princess, Off-Broadway's Alice in Wonderland), Jemel André Alston (as a role of Princess's boyfriend), Logan Jo (as a role of King), Sayaka Aiba (Tokyo Disney), Chia Yi Chan, Yui Hasegawa, Chih-Heng Liao, Yuki Maeda, Darby Puckett, Radcliff E Reid, and Mayu Yamashita.
On the creative team were: Writer, Composer, Musical Director: Noriko Sunamoto; Script Advisor, Lyricist: Kristina Coia; Additional Lyricist: Kat Liz Kramer; Director: Tomo Watanabe; Co-Director: Mio Nakanishi; Choreographers: Atsushi Eda, Chris "Chrisy" Kakurai; Co-Choreographers: Mio Nakanishi (Japanese Traditional Dance), Mayu Yamashita (Street Jazz), Mai Nishioka (Ninja Dance), Yuki Maeda (African Dance), Yui Hasegawa (Ballet); Recording Artists: Trevor Bachman, Mary Lauren, Christopher Morriss, Kevin Necciai, Jillian Schiralli, Tomo Watanabe; Associate Musical Director: Trevor Bachman; Sound Engineer: Ian Wehrlel; General Manager: Leslie Nicole Ivery; Hair/Kimono Dresser: Mio Nakanishi; and PR Advisor: Makoto Okubo.
"OMOTENASHI" means warmth, understanding, respect, gratitude and kindness, and is also known as the slogan for the 2020 Olympic Games in Japan. The musical project aims to introduce the hospitality of the Japanese culture to the world through the diversity.
Co-Director,
Mio Nakanishi
has been performing for OMOTENASHI Journey since they first performed for Japan Day 2015 at Central Park. She says, "I am glad to be an original member to develop and explore this Omotenashi project with talented actors and corroborators together. I am mainly in charge of Japanese traditional theme parts in this show and also be in the show. As a Co-Director, especially, I care about manners and movement of actors who is wearing Kimono. Japanese Traditional Dance that I choreographed is at the center of Omotenashi sprit and important part of the show. I am happy to hear that the American Audience made the comments to love this part. This made me think they got to deepen understanding of beauty and wonderfulness of Japanese traditional culture." Sunamoto's "OMOTENASHI Journey" has performed for the annual Japan Day 2015 and 2016 at Central Park festival, as an opening act of the Off-Broadway Musical Comedy 702 Punchlines and Pregnant: The
Jackie Mason
Musical at
St. Luke's Theatre
, and Kajiki's Artist Show at
Carnegie Hall
in 2015. They also won the Second Prize at New York's Got Talent Season 2. They performed for a charity event to support people affected by the recent Kumamoto Earthquake. Their performance was supported by Consulate General of Japan in New York and the collected funds was donated to Kumamoto prefecture through Consulate General of Japan in New York. Their dream is to perform at the Epcot center in the Japanese Pavilion in
Walt Disney
World. The Mensa Third Thursday Lecture Series is free and open to all, and held on the second floor of the Microsoft Flagship Store on 677 5th Avenue in Manhattan. Mensa is the largest and oldest high IQ society in the world. It is a non-profit organization open to people who score at the 98th percentile or higher on a standardized, supervised IQ or other approved intelligence test. For more information about OMOTENASHI Journey, go to
norikosunamoto.com
.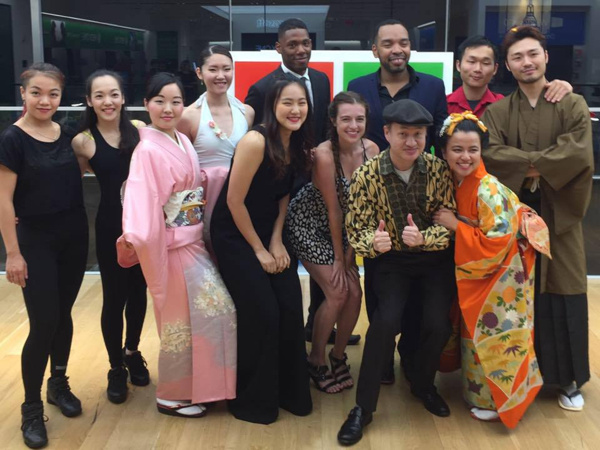 OMOTENASHI JOURNEY Performers and Mr. Okubo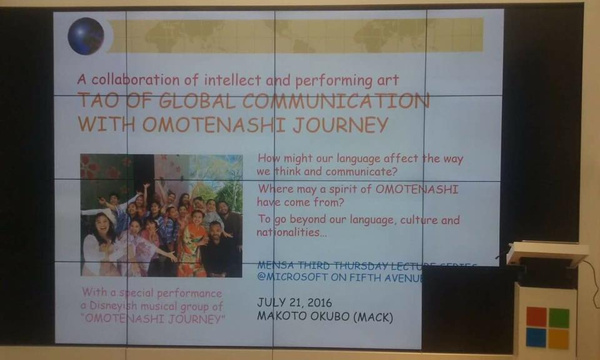 A COLLABORATION OF INTELLECT AND PERFORMING ART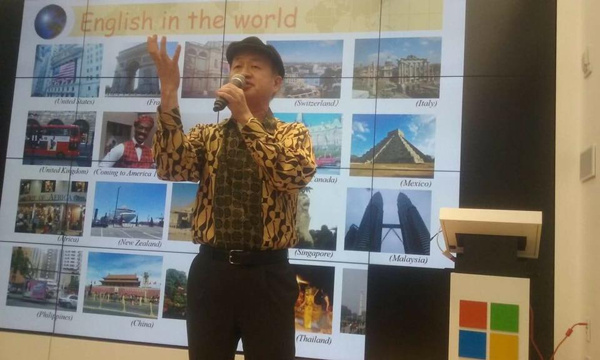 Mr. Okubo

Audience

Mensa Staff, Microsoft Staff, Mr. Okubo and OMOTENASHI JOURNEY Performers