Photo Flash: NYMF's Desperate Measures
The NYMF show Desperate Measures, which sets Shakespeare's Measure for Measure in the Wild West, opened on September 12 and runs through September 24, 2006 at the 45th Street Theatre (354 West 45th Street). Performances on Wednesday, September 20 at 1PM and Friday, September 22 at 4PM were recently added to the sold-out run.
Desperate Measures
features book and lyrics by Tony-nominated Peter Kellogg (
Anna Karenina, Chasing Nicolette
) and music by Barrymore Award Winner
David Friedman
(
Chasing Nicolette)
; it is directed by Tony-nominated Eleanor Reissa (
Those Were the Days
). The cast includes:
Merwin Foard
(Bway's
Sweeney Todd, La Cage Aux Folles, Assassins
),
Patrick Garner
(Bway's
Gypsy, …Forum, Smell of the Kill, Laughter on the 23rd Floor, Front Page
),
Ginifer King
(Bway's
Gypsy
),
Jenny Powers
(Bway's
Little Women
),
Max von Essen
(Bway's
D
ance of the Vampires, Les Miserables, Jesus Christ Superstar
), and
Nick Wyman
(Bway's
Les Miserables, Phantom of the Opera
(original cast),
My Fair Lady, On the Twentieth Century,
and
Sly Fox
).The show "tells the tale of Johnny Blood, a hotheaded young cowboy, sentenced to hang for killin' a man in a bar fight. When his sister, Susanna, a novice nun in a nearby Franciscan mission, pleads for his life, the Governor offers to pardon Johnny – if Susanna will sleep with him. What to do? The sheriff suggests Susanna say yes and then, under cover of darkness, switch places with o­ne of the saloon girls. What happens next makes for a desperate mix of comedy, suspense, and romance
,
" according to press notes. For tickets or more information, visit
www.nymf.org
.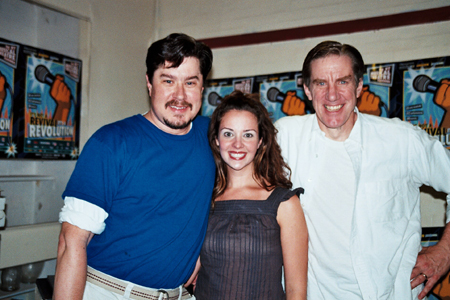 Merwin Foard (Sheriff Griggs), Ginifer King (Susanna/Sister Helena) and Nick Wyman (Governor Mueller)
Patrick Garner
(Father Burns),
Merwin Foard
and
Max von Essen
(Johnny Blood)

Nick Wyman, Ginifer King, Patrick Garner, Jenny Powers (Bella Rose), Merwin Foard and Max von Essen

Related Articles