Photos: Layton Williams Debuts as Billy Elliot
On February 26, twelve year old Layton Williams made his West End stage debut in the title role in the multi award-winning Billy Elliot the Musical, alternating the role of Billy alongside Leon Cooke, Dean McCarthy and Travis Yates.
Elton John and Lee Hall's multi award-winning Billy Elliot The Musical, directed by Stephen Daldry, has been playing at the Victoria Palace Theatre since March 2005 where it continues to break box office records and has now taken over £50 million.
Billy Elliot the Musical is set in the North East and is a funny, heart-warming and feel-good celebration of one young boy's dreams. This new staging of Billy Elliot The Musical is an adaptation of one of the most adored British films of the last decade which broke box office records across the world and was nominated for 3 Oscars and 13 BAFTA Awards.
The show is written by Lee Hall and directed by Stephen Daldry. The score has been composed by music legend Elton John, the most celebrated UK singer songwriter of the last 30 years, choreography is by Peter Darling, designs are by Ian MacNeil with sound by Paul Arditti and lighting by Rick Fisher.
Williams had this to say:
"My name is Layton Williams, I am 12 yrs old and I live in Bury with my Mum Michelle, my Step Dad Curtis, my two brothers Joshua and Regan and my sister Renee. My hobbies are dancing and singing and I also love all types of sport, which I do a lot of at my school St Paul's Primary. I had never done any ballet or tap before my audition for Billy Elliot, so I was thrilled to get through the intensive training and attend the Academy in Leeds. I struggled at first but now I have found that tap and street dance are my favourite types ofdance. I had street dance and drama lessons at Carol Godby's theatre workshop in Bury and I performed singing and dancing roles in a few shows. I also went to Center Pointe in Manchester to learn Ballet.
I love singing and dancing in front of an audience, so when I found out I had been given the part of Billy in the West End, I was ecstatic, my dreams have finally come true! I want to thank my Mum, my step Dad Curtis and all my family that have helped me to achieve this, especially all the dance teachers that have taught me."
Billy Elliot The Musical is produced by Working Title and Old Vic Productions plc.
Visit www.billyelliottthemusical.com for more information.
Photos by Alistair Muir

Layton Williams and Isaac James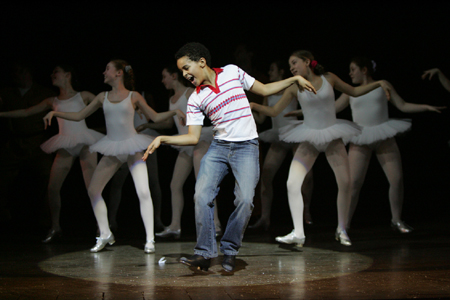 Layton Williams

Sally Dexter and Layton Williams