Click Here for More Articles on BWW ETC ETC ETC
Photo Flash! Get A Look At TONYA & NANCY: THE ROCK OPERA
See Tonya Harding and Nancy Kerrigan rock out!
The new NYMF musical based on the true-life sports stories of Olympic figure skaters Tonya Harding and Nancy Kerrigan titled TONYA & NANCY: THE ROCK OPERA is currently playing as part of the New York Musical Theatre Festival and an extensive new look at the production is now available to view.
Last week, Tracy McDowell posted a photo of herself alongside co-star Jenna Leigh Green in character as the protagonists in honor of the 10 day countdown to the show, as well, writing, "10 day countdown! And we already got an extension ! #teamtonya #tonyanancymusical - with Jenna Leigh Green."
Follow Tracy McDowell on Facebook Jenna Leigh Green on Facebook here.
The official description of TONYA & NANCY: THE ROCK OPERA is as follows: "Book and lyrics by Elizabeth Searle; Music by Michael Teoli, Direction by David Alpert; Musical direction by Henry Aronson; Choreography by Marc Kimelman. Cast stars Tracy McDowell (Broadway: MOTOWN, RENT) as Tonya Harding and Jenna Leigh Green (Broadway: Wicked. TV: "Sabrina the Teenage Witch) as Nancy Kerrigan, Nancy Liz McCartney (Broadway: Ever After, Annie, South Pacific) as Mom, Tony LePage (Broadway: Rock of Ages) as Jeff Gillooly, with Andrew Aaron Berlin (National Tour: A Christmas Story), Heidi Friese (National Tour: How the Grinch Stole Christmas), Chase Kamata (Regional: Miss Saigon), Tatiana Lofton (Regional: Little Shop of Horrors), Ryan MacConnell (TV: "Smallville," "Battlestar Galatica"), and Dwayne Washington (UK: RENT). Creative team includes: Starlet Jacobs (Scenic & Properties Designer), Vanessa Leuck (Costume Designer), Rui Rita (Lighting Designer), Alex Hawthorn (Sound Designer). Stage Management by Kelly Martindale, and Casting by Daryl Eisenberg.
The rock opera is based on the one-act chamber opera Tonya & Nancy: The Rock Opera, which premiered to a media whirlwind at the American Repertory Theater's Zero Arrow Theater. It was selected as one of the top three new one-act operas by Opera Vista in Houston in 2007. In 2010 and in 2014, a full production of the opera was produced company in Minneapolis/St. Paul. In 2008, Elizabeth Searle and Michael Teoli, began to expand the opera into a rock opera and was produced in Portland, Oregon. The show opened in Portland to strong reviews ("Brilliant and touching"; the Portland Mercury). Tonya Harding, a Portland native, enthusiastically attended the opening night performance. It was nominated for two Portland Area Music awards. Since its initial run, the show has been re-worked and further developed, with songs showcased at a Boston Cabaret and selected for performance at the L.A. Playwrights' Arena, Hot Night in the City, in May, 2010. In 2011 a new 'club version' of the show premiered at American Repertory Theater's Oberon theater in Boston in January 2011 and drew enthusiastic sold-out audiences during two consecutive snowstorms. Since then, Tonya & Nancy: The Rock Opera has been a finalist in NYC's NAMT musical competition. The show was most recently performed in Feb. of 2014 sold-out club dates in Hollywood, produced by the Los Angeles Rock Opera Company in association with Harborside Films, LLC. The chamber opera version of the show was also playing in Feb. of 2014 in MN."
More information on TONYA & NANCY: THE ROCK OPERA is available at the official site here.
View the new photos for TONYA & NANCY: THE ROCK OPERA below. Photo Credits: Robert Pushkar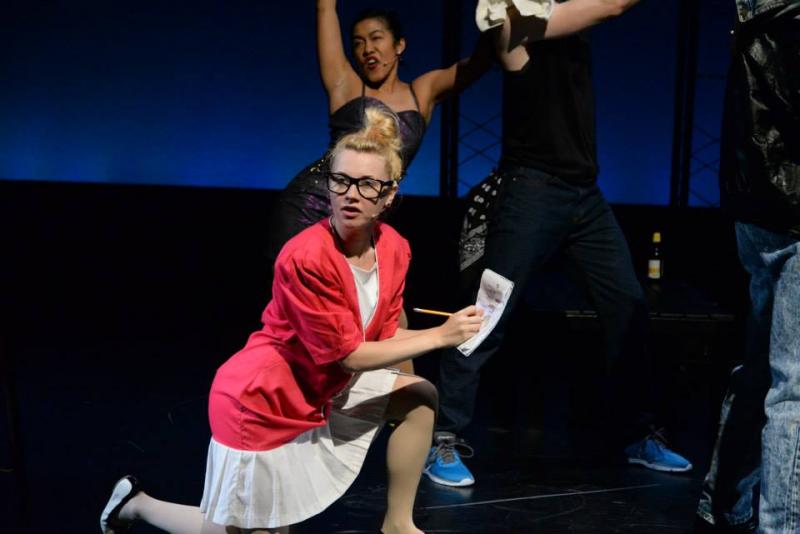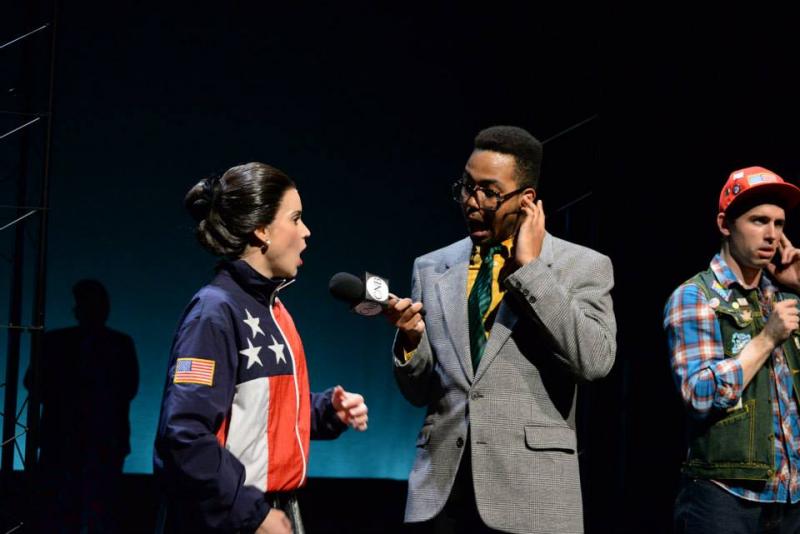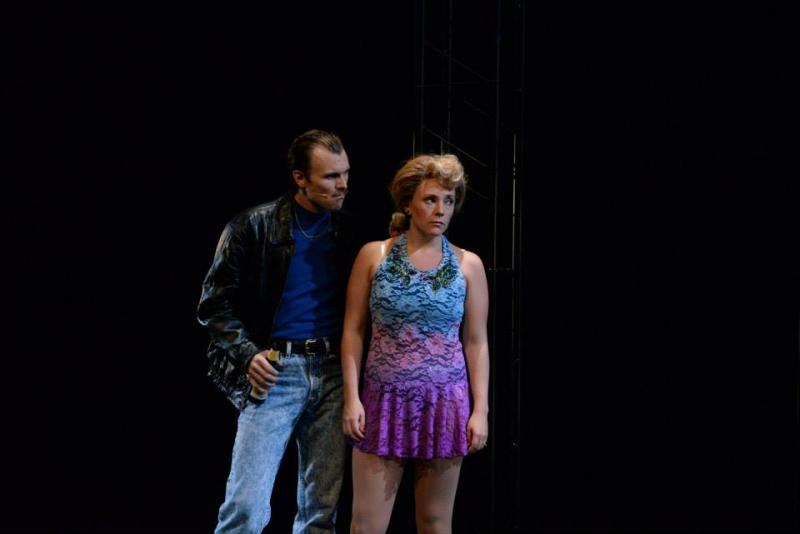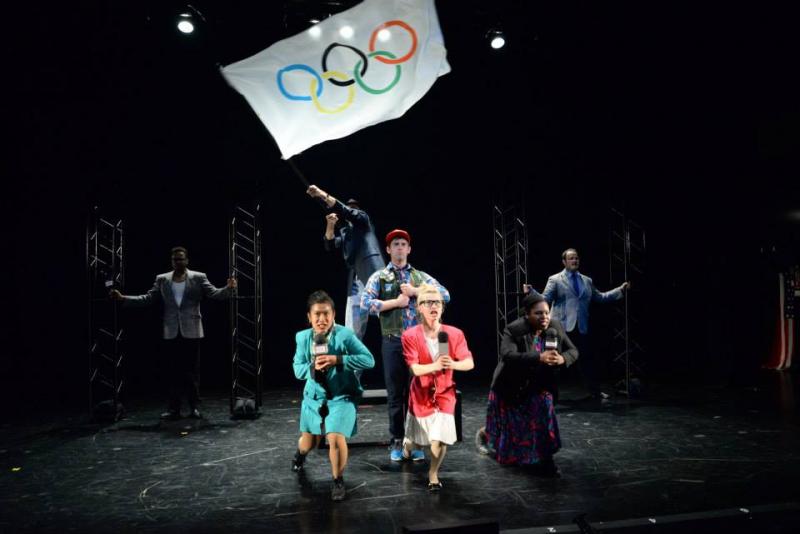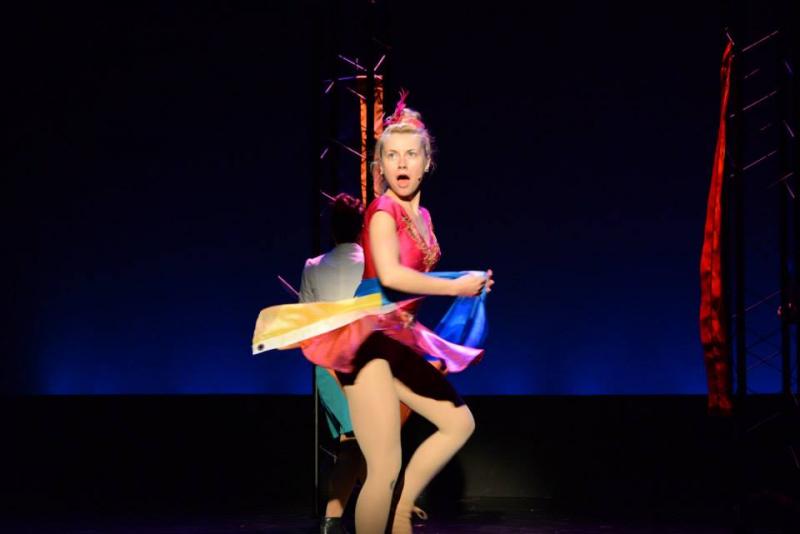 Related Articles
Pat Cerasaro contributes exclusive scholarly columns including InDepth InterViews, Sound Off, Theatrical Throwback Thursdays, Flash Friday and Flash Special as well as additional special features, (read more...)