Photo Flash: First Look - Darren Criss, Jeremy Jordan & More in SUPERGIRL/FLASH Musical Crossover
Last week, The CW officially released the episode description for the SUPERGIRL and THE FLASH musical crossover episode which will feature Broadway's Jeremy Jordan, Jesse L. Martin and Darren Criss in a guest starring role as The Music Meister. In addition, the episode will feature the original song "Runnin' Home to You," penned by the Oscar-winning songwriting team of Benj Pasek and Justin Paul (LA LA LAND, DEAR EVAN HANSEN). GLEE's Grant Gustin will perform the number. The episode will also include the original song "Super Friends" penned by CRAZY EX-GIRLFRIEND creator and star Rachel Bloom and performed by Gustin and Melissa Benoist.
The Flash/Supergirl musical episode titled "Duet," airs on Tuesday, March 21st and is described as follows: "Barry (Grant Gustin) and team are surprised when Mon-El (guest star Chris Wood) and Hank Henshaw (guest star David Harewood) arrive on their Earth carrying a comatose SUPERGIRL (guest star Melissa Benoist) who was whammied by the Music Meister (guest star Darren Criss). Unable to wake her up, they turn to Team Flash to save her. However, the Music Meister surprises THE FLASH and puts him in a similar coma, one that Team Flash can't cure. Kara and Barry wake up without their powers in an alternate reality where life is like a musical and the only way to escape is by following the script, complete with singing and dancing, to the end."
The CW has released the first teaser for the 'Duet' episode as well as first look images - check them all out below!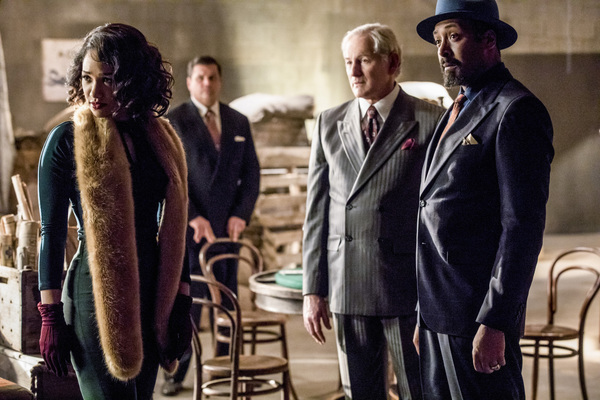 Pictured (L-R):
Candice Patton
as Iris West,
Victor Garber
as Professor Martin Stein and
Jesse L. Martin
as Detective
Joe West
-- Photo: Jack Rowand/The CW
Pictured:
Jeremy Jordan
as Winn Schott -- Photo: Jack Rowand/The CW
Pictured (L-R):
Grant Gustin
as Barry Allen and
Melissa Benoist
as Kara -- Photo: Jack Rowand/The CW
Pictured (L-R):
Grant Gustin
as Barry Allen and
Melissa Benoist
as Kara -- Photo: Jack Rowand/The CW
Pictured (L-R):
Melissa Benoist
as Kara,
Grant Gustin
as Barry Allen and
Darren Criss
as Music Meister -- Photo: Jack Rowand/The CW
Pictured (L-R):
Darren Criss
as Music Meister and
Jeremy Jordan
as Winn Schott -- Photo: Jack Rowand/The CW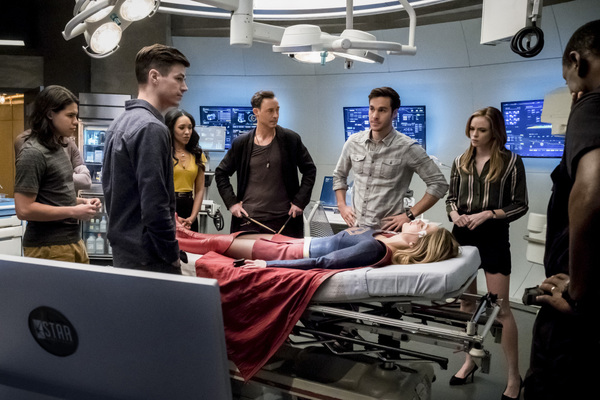 Pictured (L-R):
Carlos Valdes
as Cisco Ramon,
Grant Gustin
as Barry Allen,
Candice Patton
as Iris West,
Tom Cavanagh
as Harrison Wells,
Chris Wood
as Mike,
Melissa Benoist
as Kara/Supergirl,
Danielle Panabaker
as Caitlin Snow, and
David Hare
wood as Hank Henshaw -- Photo: Katie Yu/The CW
Pictured (L-R):
Chris Wood
as Mike,
Melissa Benoist
as Kara/Supergirl and
David Hare
wood as Hank Henshaw -- Photo: Katie Yu/The
CW
-- © 2017
The CW
Network
Related Articles