Photo Flash: Evil Dead The Musical
Evil Dead The Musical will come alive at New World Stages when it opens on November 1st at 7 PM. The show began previews on October 2nd.
"A 'dis-arm-ingly' riotous musical comedy based on Sam Raimi's 80s cult-classic horror films,
Evil Dead the Musical
unearths the old familiar story: boy and friends take a weekend getaway at abandoned cabin, boy expects to get lucky, boy unleashes ancient evil spirit, friends turn into Candarian Demons, boy fights until dawn to survive. As musical mayhem descends upon this sleepover in the woods, "camp" takes on a whole new meaning. Buzzing chainsaws and dancing demons add to the frenzy, slaying audiences with a tale of lust, love and dismemberment," as the show is described in press notes.Directed by three-time Tony Award-winner
Hinton Battle
and Christopher Bond,
Evil Dead the Musical
includes book and lyrics by George Reinblatt, music by Frank Cipolla, Christopher Bond, Melissa Morris and George Reinblatt with music supervision by Frank Cipolla and choreography by
Hinton Battle
.

 For more information, visit
www.EvilDeadTheMusical.com
.
Photos by Carol Rosegg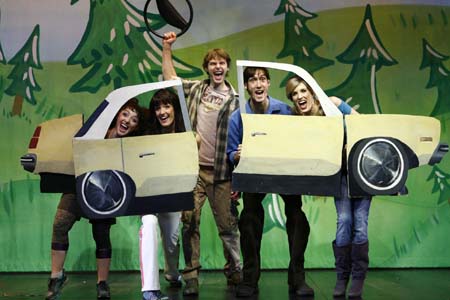 Jenna Coker, Jennifer Byrne, Brandon Wardell, Ryan Ward, Renée Klapmeyer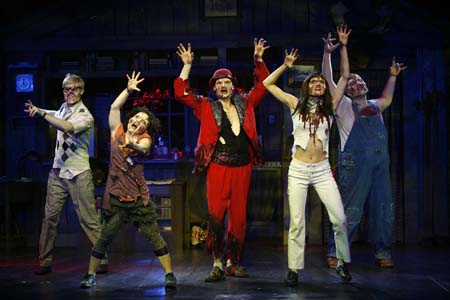 Tom Walker, Jenna Coker, Brandon Wardell, Jennifer Byrne, Darryl Winslow