Photo Flash: Broadway For All Kicks Off Third Annual Summer Conservatory with Kristolyn Lloyd and More
Broadway For All launches its third annual Summer Conservatory with a host of Broadway faculty artists, culminating in one-night only showcase at New World Stages. Scroll down for a sneak peek at the students in workshops with HEATHERS' Kristolyn Lloyd and Troy Woodcroft!
Broadway For All's Summer Conservatory provides middle and high school students from diverse backgrounds an opportunity to train for theatre and musical theatre in a summer conservatory led a faculty of Broadway artists. The program culminates with the performance of a new one-act play and one act musical in Midtown.
The Broadway Faculty for 2014 includes Joyce Chittick (Anything Goes), Dustyn Gulledge (Lucky Guy), Veronica Kuehn (Avenue Q), Kristolyn Lloyd (Heathers: The Musical), Chelsea Packard (Hands on a Hardbody), Geoff Packard (Matilda), Jeff Pew (Cinderella), Courtney Reed (Aladdin), Troy Woodcroft (Mamma Mia!), and Leah Zepel (Mamma Mia!).
The 2014 Conservatory Showcase will be Wednesday, August 13, 2014, 8:00 PM, at New World Stages. The performance will include the play Fire God Shows You The Ropes (by Andy Boyd, directed by Dustyn Gulledge) and the musical Detention (by Elijah Guo, directed by Troy Woodcroft). Fire God Shows You The Ropes puts a contemporary twist on the Greek myth of the worlds beginning. When Prometheus seizes fire from the almighty gods, he unleashes both the wrath of the gods and the human power to create. In Detention, a torrential storm hits Manhattan with only a moment's warning, stranding a group of high school and middle school misfits. When faced with the longest detention of their lives, they find they have more in common than they might have thought.
Broadway For All is a NYC-based non-profit with an emphasis on social justice and public service. It strategically aims to build bridges between various communities and to promote the development of creative relationships across cultural and socio- economic boundaries with the goal of the American stage and screen one day truly reflecting the America in which we live.
Tickets will go on sale Friday, August 1 at www.broadwayforall.org.
Photo Credit: Corey Lubowich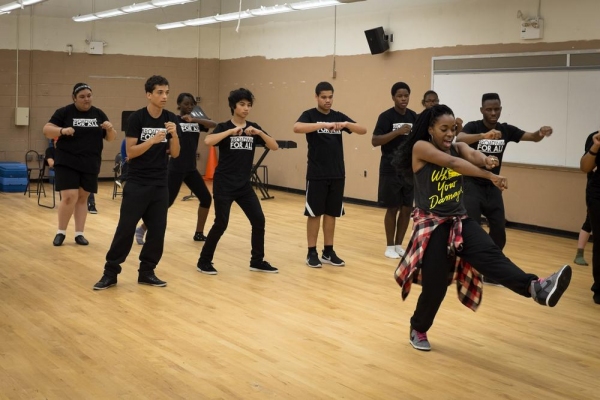 Faculty member Kristolyn Lloyd (Heathers: The Musical) teaches a dance combination to Ariana Grande's ''Problem''.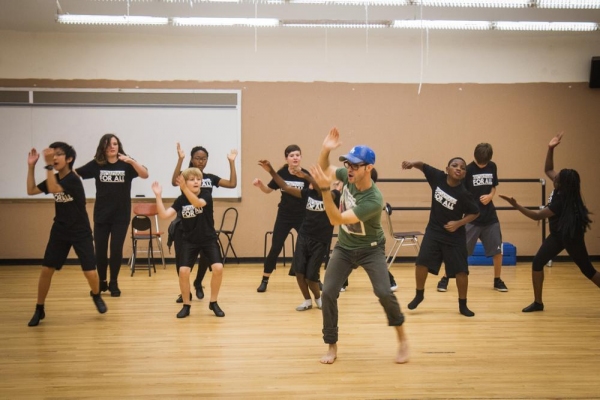 Faculty member TRoy Woodcroft (Mamma Mia!) leads student artists in a dance/choreography workshop.