Photo Flash: A Class Act NY Presents HIGH SCHOOL MUSICAL JR
A Class Act NY, Manhattan's award-winning acting studio for kids and teens, put on four main-stage productions of Disney's smash hit stage play, HIGH SCHOOL MUSICAL JR, over the holidays at the York Theatre in Manhattan. HIGH SCHOOL MUSICAL JR was produced by Artistic Director, Jessica Rofé, and directed by Broadway's Sarah Amengual (Maria in WEST SIDE STORY), with music direction by Philip de la Cal. BroadwayWorld has photos of the cast in action below!
MTI's website states this about the show, "It's the first day after winter break at East High. The Jocks, Brainiacs, Thespians and Skater Dudes find their cliques, recount their vacations, and look forward to the new year. Basketball team captain and resident jock Troy discovers that the brainy Gabriella, a girl he met singing karaoke on his ski trip, has just enrolled at East High. They cause an upheaval when they decide to audition for the high school musical, led by Ms. Darbus. Although many students resent the threat posed to the "status quo," Troy and Gabriella's alliance might just open the door for others to shine as well."
There were two casts and each will performed in two shows. The casts featured: James Borelli, Juliana Caputo, Corey Dubin, Evan Lilienthal, Samantha Streit, Abigail Calabrese, Victoria Rivard, Abbigail Schultz, Jack Richman, Miranda McKeon, Melody Leibner, Annalisa D'Aguilar, Ashlie Spencer, Sonja Rose Bogolubov, Sarah Shamoon, Erica Cipoletta, Imogen Harwood-Matthews, Mary Leigh Montgomery, Andrea Laisure, Sophia Choi, Juia Schnipper, Olivia Coronel, Katelyn Schnoor, Raelyn Santiago, Sky Levy, Meaghan Doogue, Katherine Calabrese, Darby Steininger, Diamond Brisset, Emily Reischer, Samantha Popovics, Alyssa Seminario, Payton Courtmanche, Charlotte Jones, Amanda Roit, Joy Lynn Pringle, Samantha Joia, Victoria Zacharski, Caitlin Beirne, Tommy Joia, Melissa Lewyn, Elena Cacho, Bella Fisher, Emma Chase, and Matthew Malloy.


Charlotte Jones as Gabriella and James Borelli as Troy

Joy Lynn Pringle, Charlotte Jones, Sophia Choi, Victoria Rivard, Darby Steininger and Victoria Zacharski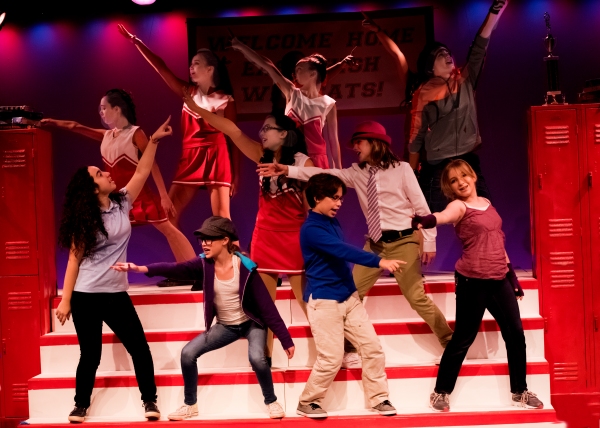 Emily Reischer, Skye Levy, Olivia Coronel, Andrea Leisure, Alyssa Seminario, Jack Richman, Melissa Lewyn, Miranda McKeon, Tommy Joia and Emily Kapustin

Charlotte Jones as Gabriella and Joy Lynn Pringle as Taylor

Victoria Rivard as Sharpay and Jack Richman as Ryan

Evan Lilienthal as Zeke and Victoria Rivard as Sharpay

Juliana Caputo, Amanda Roit and Samantha Joia

Skye Levy, Samantha Popovics, Katherine Calabrese, Payton Courtmanche and Katelyn Schnoor

The cast of HIGH SCHOOL MUSICAL

The cast of HIGH SCHOOL MUSICAL

Related Articles
More Hot Stories For You