Photo Coverage: BroadwayWorld Remembers Ernest Borgnine
As BroadwayWorld previously reported, Oscar-winner, Emmy-nominated film and television star and Broadway actor Ernest Borgnine died of renal failure on July 8, 2012. He was 95. BroadwayWorld salutes the iconic actor with photos from his career below.
Borgnine made his Broadway debut as the hospital attendant in Harvey in 1949, followed by the role of Nelson in Mrs. McThing in 1952. His very first stage role was for Virginia's Barter Theatre production of State of the Union, which led to him to the role of the Gentleman Caller in Barter's production of The Glass Menagerie by Tennessee Williams.
In Borgnine's breakout film, From Here to Eternity (1951), he played Sergeant "Fatso" Judson opposite Frank Sinatra. A well-known character actor, Borgnine also starred in the films Johnny Guitar, Vera Cruz, Bad Day at Black Rock, Marty (for which he won the Academy Award for Best Actor), The Vikings, The Flight of the Phoenix, The Dirty Dozen, Ice Station ZEbra, The Poseidon Adventure, The Black Hole, Escape from New York, The Wild Bunch and many more. He more recently appeared in the movie Red.
On television, Borgnine appeared in McHale's Navy, Captain Video and His Video Rangers, Short Short Dramas, Waterfront, The Lone Wolf, Fireside Theatre, Laramie, The Blue Angles, Run for Your Life, Little House on the Prairie, The Love Boat, Magnum, P.I., Highway to Heaven, Murder, She Wrote, Walker, Texas Ranger, Touched by an Angel, and ER, for which he was nominated for an Emmy Award in 2009.
The Screen Actors Guild honored Borgnine with its annual Life Achievement Award in 2011.
Photo credit: RD / Orchon / Retna Digital


Earnest Borgnine at a promotion for his new movie 'Deadly Blessing' in New York City. August 13, 1981.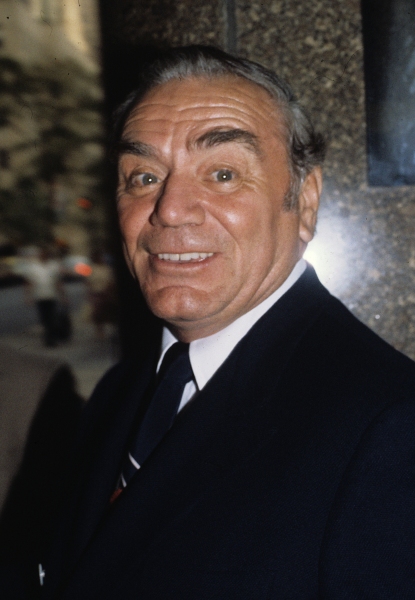 Ernest Borgnine pictured in New York City in 1981.

Ernest Borgnine pictured in New York City in 1985.

Related Articles